The online voting for the 2017 Michigan Rock and Roll Legends Internet Hall of Fame and Legendary Michigan Songs concluded at midnight on June 1st.
The MRRL Hall of Fame Class of 2017 includes three Historical Inductees that were announced earlier in the year. Motown's Edwin Starr charted 14 songs on the Billboard Hot 100, including the # 1 hit "War" in 1970. The Excels from Marquette, Michigan, recorded with the legendary Ollie McLaughlin on his Carla label in Detroit. The Spinners from Ferndale, Michigan, recorded for Motown but had greater success on the Atlantic label where they charted seven Top Ten hits on the Hot 100.
The Galaxies, a rockabilly band formed in the late 1950s in the Upper Peninsula town of Ironwood, Michigan, finished first in the online voting. They were followed by two Detroit bands, the White Lines and the Sunday Funnies. The Galaxies received 601 votes, the White Lines were second with 171, and the Sunday Funnies had 120. The Wilson Mower Pursuit finished in fourth place with 96 votes. The six 2017 inductees bring the total number of artists and individuals in the MRRL Internet Hall of Fame to ninety-seven.
The ten recordings that were added to Legendary Michigan Songs in 2017 increased the total of those honored to 120. Topping this year's list in the online vote was "Mercy Mercy Me (The Ecology)" by Marvin Gaye. It was followed by Madonna's first # 1 hit, "Like A Virgin", then "All Along The Watchtower" by the Detroit progressive rock band Savage Grace, Nolan Strong and the Diablos' recording of "The Wind" released on Detroit's Fortune label, and "You Haven't Seen My Love" by Danny Hernandez and the Ones from Lansing, Michigan.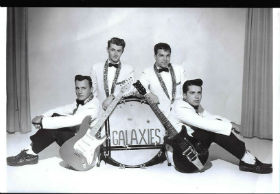 The Galaxies topped the 2017 online vote.
Historic Michigan Recordings is a new designation that makes its debut in 2017. The first five classic recordings to be named Legendary Michigan Songs in this category were all issued by Detroit artists: "Work With Me, Annie" by the Midnighters on Federal Records – 1954, Little Willie John's "Fever" on King Records – 1956, Marv Johnson's "Come To Me" on Tamla Records – 1959, "The One Who Really Loves You" by Mary Wells on Motown Records – 1962, and "Cool Jerk" by the Capitols on Karen Records – 1966.