Details
In order to keep Michigan Rock and Roll Legends advertisement-free, the site has been supported by the rock and roll history classes that I teach through the Osher Lifelong Learning Institute at Saginaw Vallley State University in Michigan and Rutgers University in New Jersey. Rock and roll classes have also been presented in the past at Sunrise Side Lifelong Learning in Tawas City. These noncredit courses are open to the general public and offer discounted class fees for OLLI members.
Presented in January and February 2018 at Saginaw Valley State University OLLI in Michigan, and in March and
April 2018 at Rutgers OLLI in New Jersey:
Bruce Springsteen: Thunder Road
Bruce Springsteen has been America's most important and successful rock and roll artist for more than four decades. Renowned for his poetic song lyrics and energetic stage shows, his unique and cinematic songs have managed to capture the hearts and travails of common everyday people all across the land. Springsteen has sold over 120 million records worldwide and has been inducted into the Songwriters Hall of Fame and the Rock and Roll Hall of Fame. In a time of national mourning, Springsteen was the artist that American relied on to best address the tragic events of 9-11.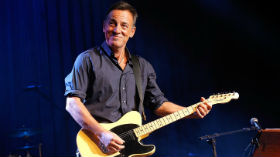 Using a wealth of performance footage, professional videos, song lyrics, and hundred of Power Point slides, this dynamic and fun course will offer an in-depth, behind the scenes look at the life and music of one of rock and roll's most important and influential artists. The class will cover the arc of Springsteen's career starting with his upbringing in a lower middle-class family in New Jersey, through early experiences in teenage garage bands, his struggles to get a foothold in the music business, the formation of the E Street Band, his classic recordings, his eventual international fame, his struggles with depression, and ending with his critically acclaimed one-man show, Springsteen On Broadway.
Instructor is Gary (Dr. J) Johnson. The cost for the class at both SVSU and Rutgers is $40 for OLLI members. The SVSU course will meet in the OLLI classroom at Curtiss Hall on Monday mornings from 10:00 a.m. until 12:00 noon on Janurary 29, February 5 (cancelled because of weather), 12, 19, and 26 (make-up date). The Springsteen course at Rutgers will meet at the OLLI parlour classroom at the Reformed Church in Higland Park on Wednesday afternoons from 1:00 to 2:30 p.m. on March 14, 21, 28, and April 4th and 11th.
Presented in May 2018 at Saginaw Valley State University in Michigan and coming in October 2018 to Rutgers OLLI in New Jersey:
The Everly Brothers - Heartaches and Harmonies (Revised)
Among the first ten inductees into the Rock and Roll Hall of Fame, the Everly Brothers were the artists most closely associated with country music. The Kentucky-bred duo grew up performing on the family country radio show all over the South and Midwest in the 1940's before becoming early rock and roll stars in 1957 with their classic recordings on the Cadence label. Don and Phil Everly's main musical contribution was their keening, knife-like harmonies that would become important models for later harmony-based rock and roll acts such as Simon and Garfunkel, the Beatles, the Bee Gees, and the Hollies.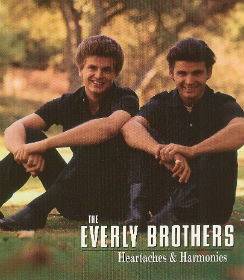 This fun and informative four-session course will use a wealth of vintage video, photos, and even some early radio broadcasts to examine the amazing career of Don and Phil Everly. The class will also examine the rise of country music in America during the 20th century and its impact on the Everly Brothers, one of the most important country-based recording artists in the history of rock and roll.
Instructor is Gary (Dr. J) Johnson. It will meet in the OLLI classroom at Brookdale Junior College in Freehold on Thursday afternoons from 1:00 to 2:30 P.M. on Octobeer 4th, 11th, 18th, 25th, and November 1st.