Details
In order to keep Michigan Rock and Roll Legends advertisement-free, the site has been supported by the rock and roll history classes that I teach through the Osher Lifelong Learning Institute at Saginaw Vallley State University in Michigan and Rutgers University in New Jersey. Rock and roll classes have also been presented in the past at Sunrise Side Lifelong Learning in Tawas City. These noncredit courses are open to the general public and offer discounted class fees for OLLI members.
Coming June 5th through June 26th, 2017, to Saginaw Valley State University in Michigan
Rock 'N' Roll Hitmakers: Songwriting Teams of the Brill Building Era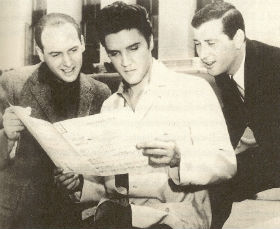 This class will focus the on the brilliant songwriting partnerships whose hit songs dominated Billboard's Hot 100 during rock and roll's first decade.
Mike Stoller, Elvis Presley, and Jerry Leiber.
Using a combination of audio, video, and Power Point slides, the course will examine the lives and careers of several Hall of Fame collaborators including: Jerry Leiber and Mike Stoller, Carole King and Gerry Goffin, Barry Mann and Cynthia Weil, Jeff Barry and Ellie Greenwich, Doc Pomus and Mort Shuman, and Neil Sedaka and Howard Greenfield, along with many of the artists they helped make famous with their songs.
The classes will be held on Monday afternoons from 1:00 to 3:00 p.m. on June 5, 12, 19, and 26 in the OLLI classroom at # 129 Curtiss Hall. Cost for OLLI members is $29. Instructor is Gary (Dr. J) Johnson.
Coming in October and November 2017, to Rutgers University in New Jersey:
Ricky Nelson: They Called Him a Teenage idol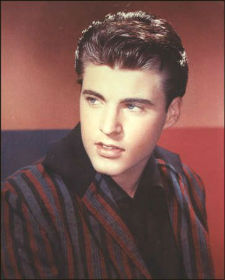 This class will look at the life, loves, music, and tragic death of Ricky Nelson, the first young TV star to become as million-selling rock and roll icon. The course will cover the history of the Nelson family, the successful Ozzie & Harriet TV show that featured many of Rick's biggest hits, his movie career, as well as Nelson's years as one of the pioneering artists of country rock through a wealth of video, audio recordings, and hundreds of Power Point slides.
Classes will be held on Tuesday mornings from 10:30 a.m. until 12:00 noon on October 3, 10, 17, 24 and 31 at the Rutgers OLLI classroom in Highland Park, NJ. Instructor is Gary (Dr. ) Johnson. Cost is $40.00.