Spending A Night With Janis Joplin
Janis Joplin was the first white woman to rise to prominence as a blues singer and also one of the first successful female lead singers in rock. Her brief but meteoric rise to fame ended prematurely at age 27 by a heroin overdose, but her influence is still being felt more than four decades later. Joplin is currently the subject of a highly entertaining and informative musical production titled A Night With Janis Joplin at the venerable Lyceum Theatre located at 149 West 45th Street in New York City.
The show is part rock concert and part monologue with the Janis character performing her most memorable songs and interspersing them with segments in which she talks about her early life, her views about women and the blues, and most importantly her musical influences. During these interludes, other cast members perform as Etta James, Bessie Smith, Odetta, Nina Simone, and Aretha Franklin. All of these women had a great impact on Joplin and her music, recording songs that she later adapted and made her own.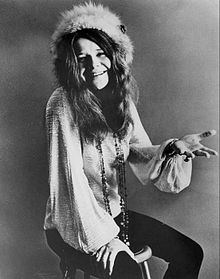 Janis Joplin
The Lyceum Theatre is a landmark venue, built in 1903 by impresario Daniel Frohman. It's a great place to see the show, and its early 20th century décor brings to mind the famous Avalon Ballroom in Francisco. The Avalon was built in 1911 and was where Joplin made her debut with Big Brother and the Holding Company in 1966. A word of warning; there is a price to pay for the intimacy of the Lyceum. The seats are fairly small and there is not a great deal of leg room, but this show is worth feeling a little snug for a couple of hours.
A musical about Joplin's life could easily been made into a melodrama that ended tragically, but writer Randy Johnson's book mainly steers away from the dark side of Joplin's life and instead fashions the show as a celebration of the music she loved and of the women who were important role models. After an instrumental introduction, things kick off with a blistering performance of Joplin doing the Etta James's classic, "Tell Mama". The crack band is on stage for the entire show. A three-man horn section plays on the songs that were recorded by Janis with the Kozmic Blues Band, while just the basic five-piece plays on the songs done by Big Brother and the Holding Company and Full Tilt Boogie.
Alison Cusano portrayed Joplin at the performance we saw. She is one of two understudies who perform regularly because of the immense vocal strain of doing the part six nights per week plus two matinees. Cusano was amazing. Not only did she resemble Joplin, but her vocals, stage moves, and even her vocal inflections were spot on. It's difficult for me to believe that the show's regular lead, Mary Bridget Davies, could have done any better.
Janis Lyn Joplin was born on January 19, 1943 in Port Arthur, Texas. In one of the show's early monologues, Joplin talked about her mother, Dorothy, being an early musical influence. Some of the earliest records Joplin heard were from her mother's collection of Broadway musical cast albums which she would play and sing along with while she and her children shared household duties. One of Dorothy Joplin's favorite albums was "Porgy and Bess". The most famous number from the musical was "Summertime", a song that Janis would memorably record with Big Brother and the Holding Company for the "Cheap Thrills" album.
It is also revealed in the show that one of Joplin's early rock and roll influences was the Chantels, an early girl group featuring Arlene Smith's powerful lead vocals. Joplin states in the monologue that she wore out three copies of their "Maybe" 45.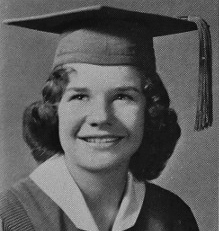 Janis in high school 1960
As a teenager she was primarily a painter and something of an outcast at school. Because she was often teased and taunted at school, Joplin gravitated to friendships with other outsiders who turned her on to blues music through the recordings of Odetta, Bessie Smith, and Big Mama Thornton. Joplin first sang blues and folk songs with this close circle of friends who shared the same interests in music.
Joplin graduated from high school in 1960 and attended Lamar State College of Technology before enrolling at the University of Texas in Austin. She first gained notice in Austin singing both on campus and at Threadgill's, a gas station turned bar. She left school in early 1963 and traveled to San Francisco with friend Chet Helms to check out the emerging music scene. Although her singing career didn't gain much traction at that time, she did make some informal blues recordings with future Jefferson Airplane guitarist Jorma Kaukonen in 1964.
Unfortunately, she also was deeply involved in the drug scene there, and after getting strung out on alcohol and amphetamines in San Francisco, Joplin returned to Port Arthur, Texas, in 1965. She enrolled again at Lamar State College in nearby Beaumont. There, Joplin began to embrace a more conservative lifestyle while still commuting to Austin to sing, accompanying herself on acoustic guitar. She made seven studio recordings during this time, including the first version of her original composition "Turtle Blues".
In 1966, Joplin was offered the chance by Chet Helms to audition for a psychedelic band out of San Francisco that he was managing called Big Brother and The Holding Company. She made her debut with the band in June at the Avalon Ballroom, but in these early days she only sang a few songs and played tambourine in the background. Her role gradually expanded, however, as audiences responded to her powerful vocals and stage presence.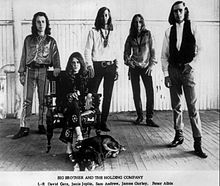 Big Brother and the Holding Company
Two months after Joplin joined the band, Big Brother and the Holding Company signed a recording contract with the independent label, Mainstream Records. Michigan's Amboy Dukes was also signed to the label. One of the songs recorded for Big Brother's first album was "Down On Me". Joplin completely rearranged the traditional blues song, created new lyrics, and turned it into a contemporary rock song. "Down On Me" became Big Brother's first hit single in 1967 when it reached # 42 on the Billboard Hot 100.
Joplin's big break, however, came in June of 1967 at the Monterey Pop Festival. Monterey was the first important rock festival, and Joplin's performance of the Big Mama Thornton song "Ball And Chain" was one of the highlights of the D. A. Pennebaker documentary film Monterey Pop. The event proved to be the launching pad for the careers of both Janis Joplin and Jimi Hendrix, as the Jimi Hendrix Experience made its American debut at Monterey. Strangely enough in 1970, both Joplin and Hendrix would both suffer drug-related deaths at the age of 27, just sixteen days apart.
Clive Davis, president of Columbia Records, had seen Joplin at Monterey and wanted to sign Big Brother and the Holding Company to his label. The band's new manager Albert Grossman, who also represented Bob Dylan and Peter, Paul and Mary, got them out of their contract with Mainstream.
"Cheap Thrills" album
"Cheap Thrills" was the title of the band's first album on Columbia in 1968. It was a great success, reaching # 1 on Billboard's Top Albums chart. Joplin, who was now getting the lion's share of the attention in the band, played a major role in the arrangements and production of the songs on the album. "Piece Of My Heart", a cover of a song originally recorded by Aretha Franklin's sister Erma, was released as a single from the LP and it became a sizeable hit, peaking a # 12 on the Hot 100.
The performances of "Down On Me" and "Piece Of My Heart" were highlights of act one of A Night With Janis Joplin. Music director/guitarist Ross Seligman's leads were note-perfect renditions of Sam Andrew's originals in Big Brother. The last number of the first act, "Spirit In The Dark" was also a crowd pleaser, primarily due to the humorous and righteous performance of Natasha Yvette Williams as Aretha Franklin. Williams is a big woman with an even bigger voice, and her portrayal of Franklin's duet with Joplin brought the crowd to its feet as the show went to intermission.
Success is sometimes difficult to manage, and it started to cause a rift in Big Brother and the Holding Company. Some members of the band became upset over the acclaim given to Joplin and accused her of being on a "star trip". For her part, Joplin had begun to feel that the band was holding her back professionally. This eventually led to Joplin leaving Big Brother for a solo career at the end of 1968. She then formed a new backing group called the Kozmic Blues Band that included Sam Andrew on guitar.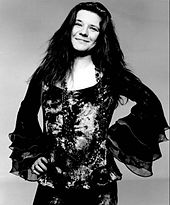 Janis
With the exception of a scalding rendition of "Ball And Chain", the second act of the show deals primarily with Joplin's solo years. Things kick off in high gear with "Try (Just A Littler Bit Harder)", "Maybe", and "Little Girl Blue", all from Joplin's first studio album after departing Big Brother, "I Got Dem Ol' Kozmic Blues Again Mama!".
Although the album was certified gold two months after its release and peaked at # 5 on Billboard, the LP got mixed reviews, possibly because of Joplin's sound had switched from rock to horn-based R&B. Janis and the band performed at Woodstock in August of 1969, but her performance was somewhat marred by alcohol and heroin, and she was not included in the Woodstock film.
By 1970, Joplin had formed a new backing band called Full Tilt Boogie, composed of mostly young Canadian players and featuring an organ rather than a horn section. This band accompanied her on the Festival Express tour of Canada along with The Band, the Grateful Dead, Buddy Guy, and Delaney & Bonnie.
Joplin and the band began recording a new album in late summer in Los Angeles. Although Joplin's untimely death occurred before the sessions were completed, there was enough material to issue the "Pearl" album posthumously in 1971. The album became a # 1 hit on Billboard as did the first single released from the LP, "Me And Bobby McGee".
"Pearl" album
The musical only includes two songs from "Pearl", the aforementioned "Me And Bobby McGee" and the last song recorded by Joplin, the a cappella version of "Mercedes Benz" that closed the album. There is no mention of her death in the buoyant and celebratory musical, and the only nod towards Joplin's storied substance abuse are the bottles of Southern Comfort that are used as stage props.
Keeping with the spirit of a rock concert, the show's final number, "Mercedes Benz" is presented as an encore. The show's creators were wise in producing a tribute that has the audience standing, clapping, and singing along to one of her most famous songs at its conclusion. In the final analysis, leaving the theatre on a high note from her music alone is the very best way to remember Janis Joplin.