BROWNSVILLE STATION
From its formation in 1969 to its demise in 1979, Brownsville Station maintained its reputation as one of the hardest working bands in Michigan. Led by the irrepressible Cub Koda, the band wore its 50's Rock and Roll roots on its collective sleeve. Blending their love of Blues and Boogie styles with an energetic stage show and a sense of humor, Brownsville Station became a favorite in the Midwest and in arenas across the country.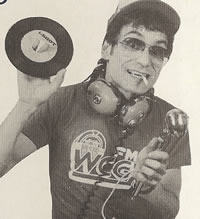 Cub Koda
Michael 'Cub' Koda grew up loving music in Southeast Michigan in the 1950's. He started out playing the drums, and his famous nickname was bestowed on him after an impromptu drum performance as a pre-teen on a cruise ferry in Detroit. Cubby O'Brien was a regular who drummed on The Mickey Mouse Club, a popular television show for kids, and the bandleader announced him as "Cubby" Koda when he came onstage. Although he started out playing the drums, Cub switched to guitar after his father purchased a newspaper in tiny Manchester, Michigan, and he met Rusty Creech and Doug Hankes.
Along with Creech and Hankes, Cub formed his first band, the Del-Tinos, while all three were attending Manchester High School. This early band would foreshadow Brownsville Station in that they combined Rock and Roll, Rhythm and Blues, and Rockabilly. The Del-Tinos released their first 45 on their own Del-Tino label in 1963, a cover of Roy Orbison's early Sun recording of "Go Go Go". The band recorded two other singles before breaking up in 1966.
After a couple of false starts, Cub formed Brownsville Station in 1969 following a chance meeting with Michael Lutz at a record store in Ann Arbor, Michigan. They quickly added bassist Tony Driggins and drummer T.J. Cronley to complete the group.
It was a heady time to be in a band in Southeast Michigan with local groups like the Rationals, MC5, the Bob Seger System, SRC, and the Stooges signing recording contracts with major labels. Brownsville Station started out as an opening act for many of these bands blasting out R&B covers like Gino Washington's "Gino Is A Coward" and building an avid fan base in the process.
In 1970, they recorded a local hit single with a Cub Koda original called "Rock And Roll Holiday" on the Hideout label. The song became an audience favorite and the band's set-closer for the next four years.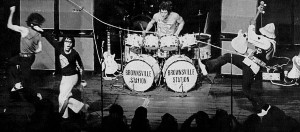 M. Lutz, C. Koda, T. Cronley, T. Driggins
Brownsville Station's second single, "Be-Bop Confidential" was first released on Punch Andrew's Palladium label out of Detroit, but it was picked up for national distribution by Warner Bros. Records in 1970.
The band recorded its first album, "No B. S.", on Palladium that same year. Once again Warner Bros. stepped in to distribute the record nationally. Brownsville Station's third single, "Do The Bosco", was released from the album and became another local hit.
Unfortunately, Warner Bros. looked at Brownsville Station as a type of "oldies" parody much like Sha-Na-Na, and the band got lost in the shuffle of the major label. They were dropped in 1971 after the next single, "Tell Me All About It", tanked despite having Bob Seger singing on the last verse.
After spending the next year playing on the road, Brownsville Station signed with Big Tree Records. Henry Weck replaced T.J. Cronley on drums when Cronley accepted a commission with the Marines. T.J.'s love of tactical military aviation was even greater than his love of rock and roll, and he would fly A4-M's and Harriers for the next twenty years.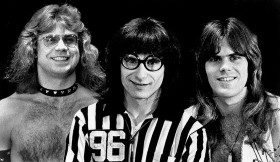 Henry Weck, Cub Koda, Mike Lutz
Brownsville Station recorded their second album, "A Night On The Town" in 1972. The next year saw the band chart for the first time on Billboard's Hot 100 with the singles "The Red Back Spider" and their cover of Jimmy Cliff's "Let Your Yeah Be Yeah". The latter recording is often cited as the first Reggae tune ever done by an American rock band.
This set the stage for Brownsville Station's greatest single, and the song that made the band a household name. "Smokin' In The Boy's Room", written by Michael Llutz and Cub Koda, started out as a cut on the band's "Yeah!" album. The song started getting major FM radio play in Portland, Maine, and Big Tree pressed several thousand singles to take advantage of it. That started a landslide that resulted in over 2 million records sold and a # 3 hit on the Billboard charts. Brownsville Station suddenly became a hot property appearing on Don Kirshner's Rock Concert and several other Rock-related TV shows.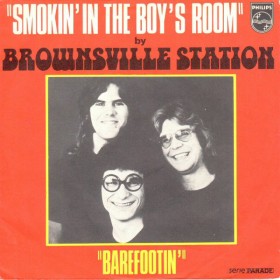 Legendary Michigan Song
Brownsville Station became a trio for their next album as Tony Driggins left the band before the recording of 1974's "Kings Of The Party". The title cut would be the band's second-biggest single. "I'm The Leader Of The Gang" was another sizeable hit taken from the album.
The relationship between Big Tree and the band soured after that. 1975's "Motor City Connection" was a sales disappointment, and a rift developed between the label and the band resulting in Brownsville Station's departure.
The band was re-energized by signing with the Private Stock label in 1977. They became a quartet again with the addition of Detroit guitarist Bruce Nazarian. The album "Brownsville Station" contained the last two hit singles for the band, both in 1977. "Lady (Put The Light On Me)" features Nazarian on lead vocals. The second, "Martian Boogie", was a John Lee Hooker-influenced boogie edited down from the original seven-minute version.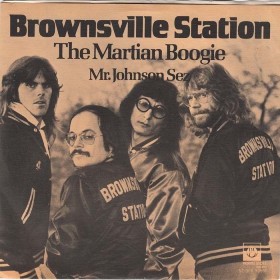 Lutz, Nazarian, Koda, Weck
Brownsville Station recorded one more album before calling it quits in 1979. "Air Special" was released on Epic Records, but according to Cub Koda their hearts weren't in it anymore. After the break-up, Cub Koda started writing a column called The Vinyl Junkie for Goldmine Magazine. In 1980, Cub began playing with Hound Dog Taylor's backing band, the Houserockers. They would tour and record together for the next fifteen years.
One of Cub's last performances in mid-Michigan was as the opening act at the launch of the 30th anniversary Frost tour at the Saginaw Civic Center in 1999. According to event co-producer Scott Seeburger, Cub was facing some serious health issues and his eyesight was so poor by that point that he had to be driven to the gig by his father. Koda was excited to play, however, and he delivered an excellent set that stole the show from the headliners.
Despite his failing health, Cub continued to be involved in a number of recording and writing projects right up until his death in 2000 from kidney failure.
The surviving members of Brownsville Station include Michael Lutz who teaches and writes music. Lutz played with Ted Nugent in the 80's and 90's. Henry Weck owns a recording studio, and Bruce Nazarian is a session musician. Original drummer T.J. Cronley retired from the military in 1992 and currently flies for FedEx.
Brownsville Station was voted into Michigan Rock and Roll Legends Hall of Fame in 2008. Their biggest hit, "Smokin' In The Boy's Room" was voted a Legendary Michigan Song in 2009.
MRRL Hall of Fame: https://www.michiganrockandrolllegends.com/mrrl-hall-of-fame
Dr. J. Recommends:
"Smokin' In The Boy's Room: The Best Of Brownsville Station" Rhino CD. This excellent 18-song collection does a great job of collecting recordings from the Hideout, Palladium, Warner Bros., Big Tree and Private Stock labels to give a fine overall view of the band. Major fans will want the original albums that a now available on CD.