Legendary Michigan Songs
90.) (Just Like) Romeo & Juliet - The Reflections
Artist Name:

The Reflections

Year Inducted:

2014
Details

Category: Legendary Songs
"(Just Like) Romeo & Juliet" (B. Hamilton, F. Gorman) – The Reflections; Golden World label, # 6 Billboard Hot 100 – 1964. Inducted in 2014.
The Reflections formed in Livonia, Michigan. After recording one single on the tiny Kayco label in 1963, they were signed to Ed Wingate's Golden World record company. There, the group was presented with a song co-written by former Motown artist Freddie Gorman. The group members listened to Gorman sing "(Just Like) Romeo & Juliet" on a piano in an upstairs rehearsal room and were initially unimpressed with the song.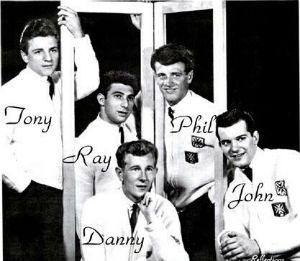 Several weeks later when the group was informed that the backing tracks had been completed, and that they needed to add their vocals, their opinion of the song changed dramatically. Several moonlighting members of the Funk Brothers had recorded the instrumental backing at the United Sound studios in Detroit, and the Reflections were blown away by the sound.
The song was pushed hard on both CKLW and WKNR, and by the middle of March, 1964, it was # 1 in the Detroit market and eventually sold over one million copies nationwide. The Reflections' success with "(Just Like) Romeo & Juliet" led to a spot on Dick Clark's Caravan of Stars 1964 summer tour, a slot on James Brown's revue (Brown loved the record), and a performance at the famed Apollo Theater in New York.
YouTube Video:

https://www.youtube.com/watch?v=ycCZX-olchU