Legendary Michigan Songs
97.) Bad Time - Grand Funk
Artist Name:

Grand Funk

Year Inducted:

2015
Details

Category: Legendary Songs
"Bad Time" (M. Farner) – Grand Funk; Capitol label, # 4 Billboard Hot 100 – 1975. Inducted in 2015.
Grand Funk's last big single, "Bad Time", came from a particularly painful chapter in Mark Farner's life. According to his biography, From Grand Funk To Grace, Farner and his girlfriend of several years, Cheri Chestnut, had been going through a breakup after he had discovered that she had been unfaithful while he was away of tour.
Following Chestnut's attempted suicide, Farner's family intervened and convinced him to forgive her. The couple then decided to marry in November of 1972 while in Fort Worth, Texas. Things seemed to go smoothly for a while, but after Farner learned of her continued infidelities, he started to take full advantage of the available females that were constantly surrounding the members of Grand Funk on the road.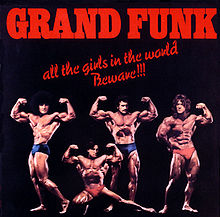 His own indiscretions made it easier for Farner to seek a divorce from his wife in 1974. While she sat crying in the kitchen, Farner sat at the piano in the living room of their home and composed what become the hit song "Bad Time".
The song became the second single released from Grand Funk's ninth studio album, "All the Girls in the World Beware!!!". The LP was produced by Jimmy Ienner, who had previously worked with Three Dog Night, the Raspberries, and the Bay City Rollers. Sounding more pop than most of their previous releases, "Bad Time" became the band's fourth single to reach the Top Ten, but it was also Grand Funk's last Top 40 hit in the U.S.
YouTube Video:

https://www.youtube.com/watch?v=Exn11k4HOG0