Legendary Michigan Songs
102.) Respect - The Rationals
Artist Name:

The Rationals

Year Inducted:

2016
Details

Category: Legendary Songs
"Respect" (O. Redding) – The Rationals: Cameo label, # 92 Billboard Hot 100 – 1966. Inducted in 2016.
Otis Redding had a # 4 R&B hit with his composition of "Respect" in 1965. The Rationals' version was issued in 1966, about a year before Aretha Franklin's. The band was given the song by their manager "Jeep" Holland, and it was initially released on Holland's A-Square label before he signed a deal for the Rationals with Cameo.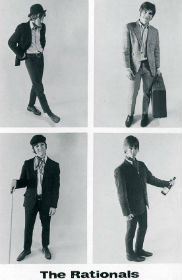 According to lead singer Scott Morgan, they worked out their version of "Respect" on the stage of Mother's teen club in East Tawas. Holland did the arrangement on the recording which was produced by Les Cooley, and it was Holland's idea for the instantly recognizable note at the beginning. Being from the Detroit area, the band grew up on Motown and R&B music came easily to them. The Rationals took just three tries in the studio to capture their classic version.
Shortly after the band was signed to Cameo, the Rationals broke big in Detroit at the free concert for the ALSAC Teenager's March to raise funds for the treatment of children with leukemia. Jerry Wexler wanted the band to sign with Atlantic but Jeep Holland couldn't give up his control of the band's recordings. It's said that Wexler suggested that Aretha Franklin record "Respect" after hearing the Rationals' version of the song.
YouTube Video:

https://www.youtube.com/watch?v=NW9DDIfmDUk