Legendary Michigan Songs
104.) Black Sheep - SRC
Artist Name:

SRC

Year Inducted:

2016
Details

Category: Legendary Songs
"Black Sheep" (SRC) – SRC; Capitol label. Did not chart nationally – 1968. Inducted in 2016.
SRC first came together under the guidance of Jeep Holland when Scott Richardson, lead singer of the Chosen Few, joined forces with Gary and Glenn Quackenbush, E.G. Clawson, Steve Lyman, and Robin Dale of The Fugitives to form a new band called the Scot Richard Case.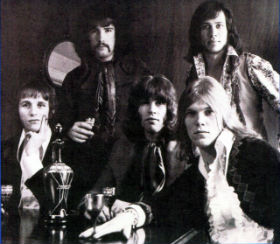 The band shortened its name to SRC after it left Holland and his A-Square label to sign with Capitol Records in 1968. "Black Sheep" was the single taken from the band's self-titled debut album on Capitol, and it was a sterling example of SRC's approach of combining poetry, Eastern philosophy, psychedelics, and a deep spiritual questing in a unique and heavy style of Motor City rock.
"Black Sheep" is in many ways the ultimate SRC song, featuring the doomy organ passages of Glenn Quackenbush, brother Gary's sustained guitar notes, E.G. Clawson's pounding drumbeats, and Scott Richardson's yearning vocals. Although the song got a great deal of airplay in Michigan, it failed to chart nationally.
SRC was one of Michigan's most popular and distinctive bands from 1967-1970. Although the group's first two LPs made the Billboard album chart, they were never able to come up with the hit single that would have broken them nationally.
YouTube Video:

https://www.youtube.com/watch?v=XUrLjD33Vyo