Legendary Michigan Songs
106.) City Slang - Sonic's Rendezvous Band
Artist Name:

Sonic's Rendezvous Band

Year Inducted:

2016
Details

Category: Legendary Songs
"City Slang" (F. Smith) – Sonic's Rendezvous Band; Orchide label. Did not chart nationally 1978. Inducted in 2016.
Formed in Ann Arbor in 1975, Sonic's Rendezvous Band was an all-star hard rock group formed out of the ashes of four great Michigan bands. Fred Smith was formerly of the MC5, Scott Morgan came from The Rationals, Scott Asheton the drummer for The Stooges and Gary Rasmussen played bass in The Up.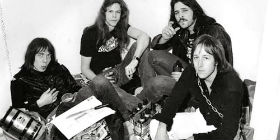 Despite their stellar lineup, the band remained virtually unknown outside of Michigan and only released one single during its career. Because they lacked finances, the band only had enough money to mix one song, "City Slang", so it was pressed on both sides of the single (one side in stereo, one in mono).
Detroit's Metro Times listed "City Slang" as one of Detroit's 100 Greatest Songs a few years back. It's music critic stated, "Living up to Smith's nickname, 'City Slang' was a guitar-powered sonic assault, an anthem that reflected the Detroit notion of a guitar army. There was no promotion and the band barely ventured out of the state, but 'City Slang' reached international classic status totally via word-of-mouth."
YouTube Video:

https://www.youtube.com/watch?v=JtqTAvv2kDA