Legendary Michigan Songs
107.) Roll Me Away - Bob Seger & The Silver Bullet Band
Artist Name:

Bob Seger & The Silver Bullet Band

Year Inducted:

2016
Details

Category: Legendary Songs
"Roll Me Away" (B. Seger) – Bob Seger & The Silver Bullet Band; Capitol label. # 27 Billboard Hot 100 – 1983. Inducted in 2016.
"Roll Me Away" was the third single issued from Seger's 1983 album, "The Distance". Seger said to Gary Graff of the Detroit Free Press that the song was written about a motorcycle trip he took to Jackson Hole, Wyoming.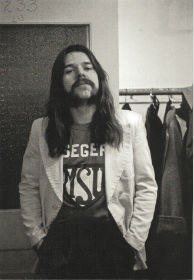 Seger told Graff: "I wanted to do that for a long time. It was fascinating being out. The first night it was 42 degrees in Northern Minnesota; the second day it was 106 degrees in South Dakota and all I had was my shorts, and my feet were up on the handlebars to keep them from boiling on the engine. It was just silence and feeling nature."
The song has been used in several motion pictures. "Roll Me Away" is featured on the Armageddon soundtrack. In addition, the song is played in its entirety in the final scene and closing credits of the film Mask starring Cher and Eric Stoltz. It was also the closing song in the 1984 film Reckless, as Aidan Quinn and Darryl Hannah drive off on a motorcycle.
YouTube Video:

https://www.youtube.com/watch?v=TEBwq4A1wsU