Legendary Michigan Songs
112.) Like A Virgin - Madonna
Artist Name:

Madonna

Year Inducted:

2017
Details

Category: Legendary Songs
"Like A Virgin" (T. Kelly, B. Steinberg) – Madonna, Sire Records, # 1 Billboard Hot 100, # 9 Billboard R&B – 1984. Inducted in 2017.
"Like A Virgin" was the first of six # 1 singles that Madonna would chart during the 1980's. Although it became the song that in many ways defined Madonna as an artist and helped make her a star, "Like A Virgin" was not written for her. Songwriter Billy Steinberg had just come out of a difficult relationship and had met someone new, and the new relationship inspired his lyrics.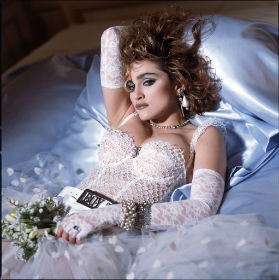 Michael Ostin of Warner Bros. Records heard Tom Kelly's demo of "Like A Virgin" and played it for Madonna during a meeting to discuss her second album. She loved the song immediately and felt she could make a great record out of it. She especially liked the lyrics that were both ironic and provocative.
Nile Rogers, who produced the record, did not think "Like A Virgin" was a hit when he first heard it; but he changed his mind after a few days when he couldn't get the catchy song out of his head. It became the first single released from Madonna's "Like A Virgin" album, which also went to # 1 and produced three more Top Ten singles to boot.