Legendary Michigan Songs
121.) Get Funky - The Sunday Funnies
Artist Name:

Sunday Funnies

Year Inducted:

2018
Details

Category: Legendary Songs
"Get Funky" (R. Aitken, R. Kosinski) – Sunday Funnies; Rare Earth label, Did not chart nationally – 1972. Inducted in 2018.
"Get Funky" was the lead track on the Sunday Funnies' "Benediction" LP. It was not released as a single, but bassist Ron Aitken felt it should have been. Aitken wrote the song with keyboardist Richard 'Koz' Kosinski. Typically, Aitken wrote most of the words and Kosinski did most of the chord changes; but sometimes the roles were reversed. Aitken called their songwriting partnership "collaboration as its best". "Get Funky" was written specifically as a dance song. Aitken came up with the title as he and Kosinski wanted to use the word 'funk' because they were really into the Motown funk sound.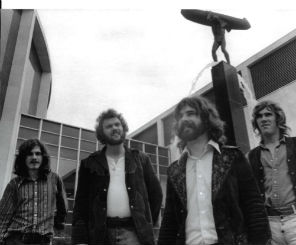 Aitken recalled that "Get Funky" was either the song they began or ended their show with. "There was no doubt about it," he said. "If the crowd was laying back, we would start with it, but if the crowd was good, we would do something bizarre and end with it. Either way it was a sure shot no matter when we played it." It was one of the band's most popular songs and one that Aitken says he never tired of playing.
Andrew Oldham, of Rolling Stones fame, was the band's producer, and he would often come out when they were gigging at The Rathskeller in the Ann Arbor-Ypsilanti area to listen to the Sunday Funnies play live. Of all the songs they had composed for the "Benediction" album, Oldham liked "Get Funky" best.
The Sunday Funnies' lineup also included vocalist Richard Fidge and drummer Richard Mitchell. Because they didn't have a guitar player in the group at that time, Aitken used his Hagstrom eight-string bass and added a fuzz-tone and a wah-wah pedal to get the one-of-a-kind sound heard on "Get Funky". In Aitken's words, "It sounded like two Harleys coming out of a tunnel."
YouTube Video:

https://www.youtube.com/watch?v=0gKHM1qyhZ8