Legendary Michigan Songs
122.) Boogie Chillen' - John Lee Hooker
Artist Name:

John Lee Hooker

Year Inducted:

2018
Details

Category: Legendary Songs
"Boogie Chillen'" (J. Hooker) – John Lee Hooker; Modern label, # 1 Billboard R&B – 1949. Inducted in 2018.
Although opinions vary, one could certainly make a case for John Lee Hooker's "Boogie Chillen'" being the very first rock and roll song. Hooker had moved to Detroit in the early 1940s to hone his musical skills and find employment in the many factories centered around the city's automobile industry. Hooker played rent parties for tips and with a small combo in various nightspots around town, especially the Apex Bar on Oakland Avenue.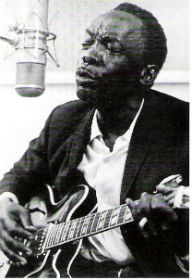 It was there that he was heard by a black record store owner named Elmer Barbee, who invited him to record some demos in his small studio located in his shop. Barbee introduced Hooker to Bernie Besman, co-owner of Pan American Music Distributors who was intrigued with Hooker's recordings and signed him to a personal management contract.
Hooker recorded a solo session arranged by Besman at United Sounds Systems in Detroit on September 3, 1948. The session produced "Boogie Chillen'", a song he had written while performing on Hastings Street in the heart of Detroit's Black Bottom entertainment district. In an interview, Hooker said this about the song: "It was a funky old lick I found. I heard Will Moore do a song like that when I was a little kid down South. He didn't call it "Boogie Chillen'", but it had that beat."
Besman leased the song to Modern Records in Los Angeles and it was released on November 3, 1948. By the first week of January in 1949, "Boogie Chillen'" was the # 1 Billboard R&B record. Hooker's first hit spent 18 weeks on the chart and probably sold a million copies over time. "The thing caught afire. It was ringin' all around the country," Hooker recalled. "When it came out, every juke you went to…they were playing it."
YouTube Video:

https://www.youtube.com/watch?v=G4pp02_GN9A