Legendary Michigan Songs
124.) God, Love And Rock & Roll - Teegarden & Van Winkle
Artist Name:

Teegarden & Van Winkle

Year Inducted:

2018
Details

Category: Legendary Songs
"God, Love And Rock & Roll" (S. Knape, D. Teegarden) - Teegarden & Van Winkle; Westbound label, # 22 Billboard Hot 100 – 1970. Inducted in 2018.
Organist Skip Knape and drummer David Teegarden first formed their duo in Tulsa, Oklahoma, before bringing their talents to the vibrant Detroit music scene in the late 1960's. The pair had a special skill for assimilating a wide variety of songs – from 1950's R&B, to the Beatles, to country, and gospel – into their originals.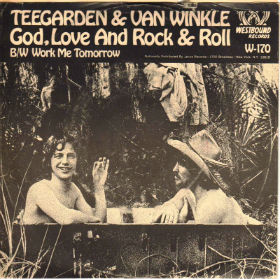 Teegarden & Van Winkles's hit single, "God, Love And Rock & Roll", is a good example. The song borrows from the traditional gospel song "Amen" that was popularized by The Impressions with their 1964 version. Teegarden and Van Winkle's hit was first released on the Plumm label in 1970 before being picked up by Westbound for national distribution.
Although "God, Love and Rock And Roll" would be the duo's only Top 40 hit, peaking at # 22 in the fall of 1970, their brand of folksy rock made them a very popular attraction at concerts in Detroit and throughout the Midwest.
The pair would eventually team up with Bob Seger. They were named STK for a short time and performed at the Free John Sinclair Rally in December of 1971 along with John Lennon and Stevie Wonder. Teegarden and Van Winkle recorded the "Smokin' O.P.'s" album with Seger in 1972 at Leon Russell's Paradise Studio in Oklahoma. "If I Were A Carpenter" was taken from the album and issued as a single during that summer, reaching # 76 on the Hot 100. Teegarden later appeared as the drummer in the Silver Bullet Band, recording four further albums with Seger.
YouTube Video:

https://www.youtube.com/watch?v=97BRwjXwoZs