Legendary Michigan Songs
127.) Leroy - Jack Scott
Artist Name:

Jack Scott

Year Inducted:

2018
Details

Category: Legendary Songs
"Leroy" (J. Scott) – Jack Scott; Carlton label, # 11 Billboard Hot 100 – 1958. Inducted in 2018.
Rockabilly legend Jack Scott's first song to chart in the Hot 100 was worked up at a teen club called the Jack Scott Dance Ranch, located in a hired hall in Hazel Park, a city near Detroit where Scott had lived since he was ten-years-old.
Originally written as "Greaseball", Scott only changed the title of the song to "Leroy" during the course of a session at United Sound in Detroit in January 1958. "It was about a friend of mine named Bill Johnson who looked like Zorro," Scott explained to the TV and Radio Mirror in 1959. "He had slick black hair and sideburns – so we nicknamed him Greaseball. He was put away for a time for assaulting somebody in a fight and that's what the song was about."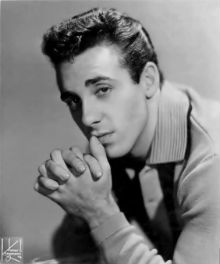 "We decided that "Greaseball" was too offensive to Latins," Scott recalled. "I couldn't use 'Bill' because it didn't scan – it was only one syllable – so I went into the bathroom at the studio and was wondering what to use instead of "Greaseball" when I saw this writing on the wall which said 'Leroy was here'. So I thought 'That's it', and I went back in and cut 'Leroy's back in jail again' instead of 'Greaseball'".
The masters for "Leroy" and the ballad "My True Love" were purchased by Carlton Records and the single was released in the spring of 1958. Scott appeared on American Bandstand on May 16th to lip-synch both sides. "Leroy" made its debut on the Hot 100 on June 9th; and it peaked at # 11 later that summer.
DJ's also started playing the flipside, "My True Love", during this time and the ballad ended up being an even bigger hit than "Leroy" when it reached # 3 on the Hot 100 in the fall of 1958. It was the first of five doubled-sided hits that Scott recorded during the period of 1958 to 1960.
YouTube Video:

https://www.youtube.com/watch?v=2C7E1kItG9M