Legendary Michigan Songs
128.) The Twist - Hank Ballard and The Midnighters
Artist Name:

Hank Ballard and The Midnighters

Year Inducted:

2018
Details

Category: Legendary Songs
"The Twist" (H. Ballard) – Hank Ballard and The Midnighters; King label, # 28 Billboard Hot 100 -1960, # 16 Billboard R&B – 1959 and # 6 Billboard R&B – 1960. Inducted in 2018.
The song that started the biggest dance craze of the 1960s was first released as the B-side of the Hank Ballard and The Midnighters' # 4 R&B hit, "Teardrops On Your Letter". Its flipside, "The Twist", also became an R&B hit, reaching # 16 that same year. The popularity of both the song and the dance associated with it began to build by word of mouth and through requests at high school sock hops and in teen dance clubs.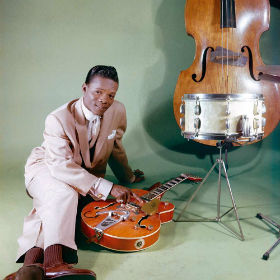 Dick Clark of American Bandstand got a tip about the popularity of Ballard's song and the dance it inspired at hops in the Philadelphia area. Clark had a financial interest in the Cameo-Parkway label and suggested that one of the label's young artists, Chubby Checker, record a cover version of "The Twist".
Clark invited Checker to lip-synch his version on American Bandstand and the song became a # 1 hit in the late summer of 1960. The instruments, backing vocals, and Chubby Checker's imitation of Hank Ballard's vocal was so exact that Hank Ballard claimed that the first time he heard Checker's cover of "The Twist" on the radio, he thought it was his original version.
The popularity of Chubby Checker's cover and the Twist dance craze led to the re-release of Hank Ballard and The Midnighters' superior recording of "The Twist" in 1960; and it reached # 6 on the Billboard's R&B chart and # 28 on the Hot 100.
YouTube Video:

https://www.youtube.com/watch?v=ROtNE-Shi2E