Legendary Michigan Songs
130.) Fingertips Pt. 2 - Little Stevie Wonder
Artist Name:

Little Stevie Wonder

Year Inducted:

2018
Details

Category: Legendary Songs
"Fingertips Pt. 2" (C. Paul, H. Cosby) – Little Stevie Wonder; Tamla label, # 1 Billboard Hot 100, # 1 Billboard R&B – 1963. Inducted in 2018.
"Fingertips Pt. 2" was the first live song to become a # 1 hit and also the recording that helped make Stevie Wonder a national sensation. The song was recorded on June 1, 1962, during a Motortown Revue performance at the Regal Theater in Chicago. Composed by Wonder's mentors, Clarence Paul and Henry Cosby, "Fingertips" contained only a few stanzas of improvised lyrics and was essentially intended as an instrumental meant to showcase Wonder's talents on the harmonica and bongos.
Because the performance was nearly six minutes long, the live version of "Fingertips" was released as a two-part single on May 21, 1963, with Pt. 2 (including the encore) as the B-side. The edit point of Pt. 2 of "Fingertips" is when Wonder shots "Everybody say yeah!", initiating a call and response with the audience.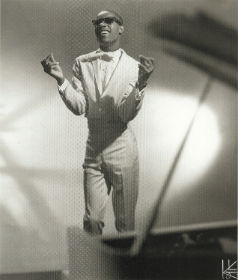 The final song in Wonder's set was "Fingertips". On the night of the recording, as Wonder was leaving the stage, the band went into its exit music and emcee Bill Murray (a.k.a. Winehead Willie) exhorts the crowd to "give him a hand". Wonder changes his mind, however, and returns to sing the "goodbye" encore. The musicians are taken by surprise, and the bass players had already been switched in preparation of the next act of the bill. New bassist Joe Swift can be heard on the recording yelling "What key? What key?".
"Fingertips Pt. 2" was Little Stevie Wonder's first big hit, spending three weeks at # 1 on the Billboard Hot 100. The single's success helped Wonder's live album, "Recorded Live: The 12 Year Old Genius", reach # 1 on the Billboard Pop Albums chart, making him the youngest artist to accomplish that feat.
YouTube Video:

https://www.youtube.com/watch?v=SzJF_ASvWYg