Legendary Michigan Songs
133.) You're All I Need To Get By - Marvin Gaye & Tammi Terrell
Artist Name:

Marvin Gaye & Tammi Terrell

Year Inducted:

2019
Details

Category: Legendary Songs
"You're All I Need To Get By" (N. Ashford, V. Simpson) – Marvin Gaye & Tammi Terrell; Tamla label, # 7 Billboard Hot 100, # 1 Billboard R&B – 1968. Inducted in 2019.
Nickolas Ashford and Valerie Simpson both wrote and produced what is generally considered to be the greatest duet recording of Marvin Gaye and Tammi Terrell at Hitsville in Detroit. Ashford and Simpson, who also sang backing vocals on "You're All I Need To Get By", recalled that the session was difficult because Terrell was recovering from surgery on the malignant brain tumor that would ultimately cause her death three years after they recorded the song.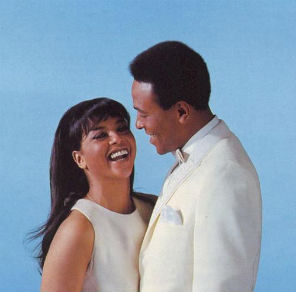 Listening to the record, it seems that Gaye is encouraging Terrell to sing her verses, ad-libbing 'Come on baby' and 'Come on darlin' as the song moves along. "You're All I Need To Get By" was the duo's highest charting pop hit, reaching # 7 on the Hot 100. It was also one of the biggest R&B hits of 1968, spending five weeks at # 1 on Billboard's R&B chart.
"You're All I Need to Get By" was played at Tammi Terrell's funeral in 1970. Marvin Gaye delivered the final eulogy as the song was playing. Terrell was just 24 years old at the time of her death.
YouTube Video:

https://www.youtube.com/watch?v=gdqtmnd2T0U