Legendary Michigan Songs
135.) Come See About Me - The Supremes
Artist Name:

The Supremes

Year Inducted:

2019
Details

Category: Legendary Songs
"Come See About Me" (B. Holland, L. Dozier, E. Holland) – The Supremes; Motown label, # 1 Billboard Hot 100, # 3 Billboard R&B – 1964. Inducted in 2019.
Released in the fall of 1964, "Come See About Me" was the third of five consecutive # 1 singles released by the Supremes. The song was written and produced by Holland-Dozier-Holland and had the distinction of holding the #1 spot on the Hot 100 for two separate weeks, one starting on December 13, 1964 and the other starting on January 10, 1965.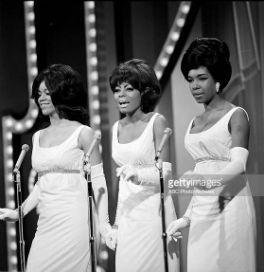 "Come See About Me" was first released as one of the songs on the Supremes' "Where Did Our Love Go" album in August of 1964. The song was then covered by soul singer Nella Dodds on the Wand label in November of that year. When Motown saw Dodd's version climbing the charts, the label quickly released the Supremes' recording of "Come See About Me" as a single, which, in turn, killed the sales of Dodd's version of the song.
The Supremes performed "Come See About Me" live on the first of their seventeen appearances on the The Ed Sullivan Show on Sunday, December 27, 1964.
YouTube Video:

https://www.youtube.com/watch?v=PycKSdKG_74