Legendary Michigan Songs
136.) Shadows In The Night - The Quests
Artist Name:

The Quests

Year Inducted:

2020
Details

Category: Legendary Songs
"Shadows In The Night" (R. Fritzen) – The Quests; Fenton label, Did not chart nationally – 1966. Inducted in 2020.
The Quests' "Shadows In The Night" was recorded by Dave Kalmbach in August 1966 at the legendary Great Lakes Studio in Sparta, Michigan. This iconic song was written by Bob Fritzen, arranged by Lyle Hotchkiss, and recorded by band members shown below (L to R): Bob Dengate -bass/vocals, Bob Fritzen - lead vocal/rhythm guitar, Neil Turmell -drums, and Lyle Hotchkiss - lead guitar/ vocals.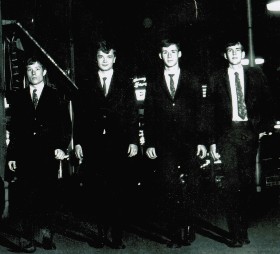 The band's new single appeared to possess the potential to exceed the popularity of the Quests' debut, "Scream Loud," which had reached #2 on the local radio station charts, but because of controversy "Shadows In The Night's" potential was never realized.
The single's B-side, "I'm Tempted," was protested by parents who were concerned with the song's alleged sexual content. Because of "I'm Tempted," the 45 was subsequently barred from further radio play, and "Shadows In The Night" was taken off the air in Grand Rapids. Although extremely disappointing at the time, through the years "Shadows In The Night" has become an international classic, sought by collectors and appearing on many garage band compilations.
YouTube Video:

https://www.youtube.com/watch?v=piP9Atfh6Hs