Legendary Michigan Songs
138.) Papa Don't Preach - Madonna
Artist Name:

Madonna

Year Inducted:

2020
Details

Category: Legendary Songs
"Papa Don't Preach" (B. Elliot, Madonna) – Madonna; Sire label, # 1 Billboard Hot 100 – 1986. Inducted in 2020.
Released as the second single from her "True Blue" album, "Papa Don't Preach" became something of a controversy when women's organizations and family planning institutions criticized Madonna's song for encouraging teenage pregnancies, while groups opposed to abortion, who were usually critical of Madonna, saw the song as having a pro-life message.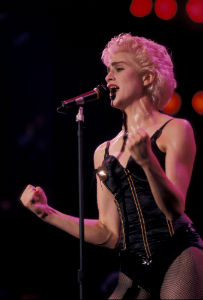 The song also led to Madonna's first conflict with the Vatican, as she dedicated the song to Pope John Paul II, who urged Italian fans to boycott her concerts in that country. Despite the back and forth, "Papa Don't Preach" became Madonna's fourth # 1 single in the United States and also topped the charts in the United Kingdom and Australia.
The video for "Papa Don't Preach", which was directed by James Foley, is one of Madonna's best. Shot in Staten Island and Manhattan, and co-starring the always great Danny Aiello as her father, the video dramatizes the songs storyline very effectively. At the 1987 MTV Video Music Awards, "Papa Don't Preach" won the Best Female Video award.
YouTube Video:

https://www.youtube.com/watch?v=G333Is7VPOg