Legendary Michigan Songs
139.) Wait A Minute - Tim Tam and The Turn-Ons
Artist Name:

Tim Tam and The Turn-Ons

Year Inducted:

2020
Details

Category: Legendary Songs
"Wait A Minute" (R. Wiesend, T. DeAngelo) – Tim Tam and The Turn-Ons; Palmer label, # 76 Billboard Hot 100 – 1966. Inducted in 2020.
The song, which was written, arranged, and produced by lead singer Rick Wiesend and the group's manager Tom DeAngelo, was recorded at United Sounds Systems in Detroit in December of 1965. Both Wiesend and DeAngelo had graduated from Allen Park High School, and they recruited a young band from the school, The Satellites, to do the instrumental backing on the recording.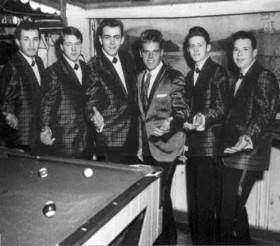 Released on Detroit's Palmer label, the song's mixture of doo wop along with the contemporary sound of the Four Seasons was an immediate hit in Michigan, reaching the Top Ten on radio stations in Detroit and Ann Arbor.
Despite being on a small label, "Wait A Minute" became the first, and only, single by Tim Tam and The Turn-Ons to reach the Billboard Hot 100 in early 1966. The song also got a spin on American Bandstand, but Dick Clark mistakenly announced it as being by Tim "Tom" and the Turn-Ons during the broadcast.
YouTube Video:

https://www.youtube.com/watch?v=YyfUyYw1CTY&t=1s