Legendary Michigan Songs
143.) Baby Boy - The Bossmen
Artist Name:

The Bossmen

Year Inducted:

2021
Details

Category: Legendary Songs
"Baby Boy" (R. Wagner) – The Bossmen; Lucky Eleven label, Did not chart nationally – 1966. Inducted in 2021.
The Bossmen were one of the most accomplished and popular mid-Michigan bands during the height of the teen dance club era during the 1960s. The band was led by the multi-talented Dick Wagner who wrote the band's original songs, produced the records, booked the dates, kept the books, and even distributed the record around the state.
Inspired by the Beatles, Wagner had a knack for writing catchy, pop songs that sounded great on the radio and, by 1965, had helped make the Bossmen mid-Michigan's answer to the Fab Four. "Baby Boy" is a prime example of Wagner's songwriting craft. Unfortunately, the band's records were issued on small labels like Dicto and Soft with no distribution outside of Michigan.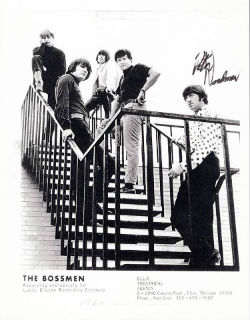 "Baby Boy", was released on the Lucky Eleven label out of Flint, a label that had better distribution than any of the previous Bossmen records. As a result, "Baby Boy" turned out to be the band's biggest single, although it didn't sell beyond enough to make the Billboard charts.
The 45 is also significant because it featured the services of guitarist Mark Farner, who had recently left Terry Knight & The Pack. Farner was only in the band for the recording of that one song, however, because the Bossmen broke up after "Baby Boy"was released. Dick Wagner went on to form The Frost, and Mark Farner went on to major success as a founding member of Grand Funk Railroad.
YouTube Video:

https://www.youtube.com/watch?v=vwr4fn5X0wg