Legendary Michigan Songs
145.) Just My Imagination (Running Away With Me) - The Temptations
Artist Name:

The Temptations

Year Inducted:

2021
Details

Category: Legendary Songs
"Just My Imagination" (Running Away with Me)" (N. Whitfield, B. Strong) – The Temptations, Gordy label; # 1 Billboard Hot 100, # 1 Billboard R&B – 1971. Inducted in 2021.
"Just My Imagination" was the third # 1 hit by the Temptations on the Billboard Hot 100, and it marked a return to the group's classic early sound after enjoying a host of hit singles that employed the 'psychedelic soul' sound of producer Norman Whitfield.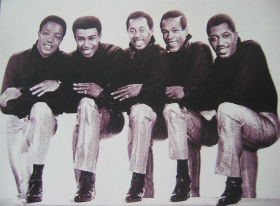 It's considered one of the Temptations signature songs, and it is also significant because it was the final single to feature original members Eddie Kendricks and Paul Williams.
Kendricks had not been getting along with the group's de facto leader Otis Williams, and he left the group to begin a solo career shortly after "Just My Imagination" was recorded. Paul Williams had suffered for the past three years from health problems related to both alcoholism and sickle cell disease, and the adverse effects forced him to retire from the group.
Whitfied and Barrett Strong had composed the dreamy ballad back in 1969, but it was held back because the Temptations were having so much success with the psychedelic soul hits like "Cloud Nine", "Runaway Child, Child, Running Wild", "Ball of Confusion", and "Psychedelic Shark".
The Rolling Stones, who were fans of the Temptations, recorded an interesting cover of "Just My Imagination" on their "Some Girls" album in 1978.
YouTube Video:

https://www.youtube.com/watch?v=WZ4Ym9Xiw3w