Legendary Michigan Songs
147.) Can The Can - Suzi Quatro
Artist Name:

Suzi Quatro

Year Inducted:

2021
Details

Category: Legendary Songs
"Can The Can" (M. Chapman, N. Chinn) – Suzi Quatro; Big Tree label, # 56 Billboard Hot 100 – 1976. Inducted 2022.

"Can The Can" was Suzi Quatro's second single after she had had been enticed by producer Mickie Most to leave Cradle, the band her with her sisters, and launch a solo career in England. The move caused a rift between Suzi and her family. After her first single failed to take off, Most put her in the hands of the team of Mike Chapman and Nicky Chinn who wrote and produced "Can The Can" in 1973.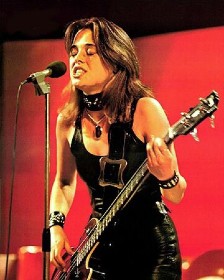 Suzi Quatro

The song was a # 1 hit in the UK, Australia, Germany, and Switzerland; and it established her as the first female bass player to become a major star. Suzi also became a pioneering figure for future female rock and roll artists. "Can The Can" failed to chart initially in the United States, however, despite a fetching cover photo of her in black leather in Rolling Stone magazine and serving as the opening act with a host of major rock acts, including Grand Funk Railroad, Electric Light Orchestraon, and Kiss, during her first solo tour in 1974.

Suzi would go on to become a major figure in the glam rock movement in England and Europe, however, and she quickly scored three more million-seller singles there with "48 Crash," "Daytona Demon," and "Devil Gate Drive." "Can The Can" finally charted in the US in 1976 after it was released as a single on the Big Tree label, a subsidiary of Atlantic Records. Watch a live performance of 'Can The Can"
YouTube Video:

https://www.youtube.com/watch?v=TPTsl3GQffc