Legendary Michigan Songs
148.) That's Why (I Love Her So) - Jackie Wilson
Artist Name:

Jackie Wilson

Year Inducted:

2021
Details

Category: Legendary Songs
"That's Why (I Love You So)" (B. Gordy, T. Carlo) – Jackie Wilson; Brunswick label, # 13 Billboard Hot 100, # 2 Billboard R&B – 1959. Inducted 2022.

"That's Why" was the follow-up single to Jackie Wilson's big hit, "Lonely Teardrops. It was also the fifth consecutive charting hit for the songwriting team of Berry Gordy Jr. and Billy Davis (a.k.a. Tyran Carlo). The beat and the instrumentation on "That's Why" also represented an early sample of some of the elements that played such an important role in the success of Motown in the years ahead.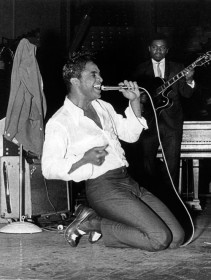 Jackie Wilson

Jackie Wilson was a master showman who is considered a prominent figure in the transition of rhythm and blues into soul. Blessed with a tenor voice and a four-octave range, Wilson could handle a wide variety of material. Deemed "Mr. Excitement" for his live performances and stellar dance moves on stage, he was given the opportunity to sing "That's Why" on The Ed Sullivan Show in 1962. The hit was featured on Wilson's "Golden Favorites" album.

After one more Top 20 hit with "I'll Be Satisfied" in 1959, he lost Gordy and Carlo as songwriters over a disagreement with his manager, Nat Tarnopal, over not allowing the duo to provide songs for the B-sides of Wilson's singles. The dispute would eventually lead to Berry Gordy Jr. forming his own record label and eventually the Motown empire. Watch Jackie perform "That's Why" with intro by Ed Sullivan
YouTube Video:

https://www.youtube.com/watch?v=-XASGXG4I78