Legendary Michigan Songs
50.) The Way I Walk - Jack Scott
Artist Name:

Jack Scott

Year Inducted:

2010
Details

Category: Legendary Songs
"The Way I Walk" (J. Scott) – Jack Scott; Carlton label, # 35 Billboard Hot 100 - 1959. Inducted in 2010.
Jack Scott's career was flying high in late 1958 with the release of his third consecutive two-sided hit single, "Goodbye Baby/Save My Soul". Things came to a screeching halt, however, when he received an induction notice from the U. S. Army in December of that same year.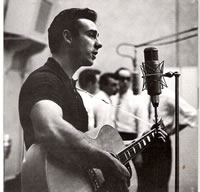 Jack with guitar and Chantones
In May of 1959, after only five months in the service, Scott was discharged from the Army on medical grounds because of a peptic ulcer. Carlton Records, which had very little material in the can when Scott went in the service, pulled "The Way I Walk" from Jack's 1st album and released it as a single a week before his discharge.
"The Way I Walk" is a classic cut with its powerful 'walking' bass and menacing vocal. It is regarded by some as the last of the authentic rockabilly hits of the 50's as softer pop sounds began to engulf the charts in the wake of the 'Payola Scandal'.
Scott talked about "The Way I Walk" in a recent interview. "When we cut it, I'd only half-finished it, and I didn't have all the words, just two verses."
Since his producer was anxious to take the song back to New York for the album, Jack told the Chantones, his vocal backing group, to fill in the gap with "Oo-wee, oo-wee, oo-wee, oo-wee…"
At first, Scott complained when the song was released because he thought "The Way I Walk" needed more work. Looking back, however, he now says, "It's kinda neat the way it is"
YouTube Video:

https://www.youtube.com/watch?v=mBFuMBK1fwA