Legendary Michigan Songs
52.) Lonely Teardrops - Jackie Wilson
Artist Name:

Jackie Wilson

Year Inducted:

2011
Details

Category: Legendary Songs
"Lonely Teardrops" (B. Gordy, R. Davis, G. Gordy) – Jackie Wilson; Brunswick label, # 7 Billboard Hot 100, # 1 Billboard R&B - 1959. Inducted in 2011.
"Lonely Teardrops" was Jackie Wilson's first Top Ten single. It was the fourth consecutive charting record written for him by the team of Berry Gordy Jr. and Tyran Carlo (Billy Davis). The pair would contribute two more hit singles for Wilson in 1959 before leaving in a dispute over the material being issued as the B-sides on the singer's recordings.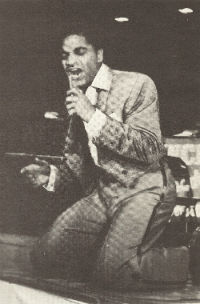 "Lonely Teardrops" was released late in 1958 and would become the first of Jackie Wilson's six # 1 hits on the R&B chart early in 1959. The song helped launch Wilson into superstar status and led to television appearances on American Bandstand and The Ed Sullivan Show, as well as the early rock and roll movies, Go Johnny Go! and Teen-Age Millionaire.
In a strange twist of fate, Jackie suffered a massive heart attack while singing "Lonely Teardrops" in 1975 while appearing with Dick Clark's Good Ol' Rock 'N Roll Revue in Cherry Hill, New Jersey. He also suffered a serious head injury when he fell to the stage. The effects of the tragic incident left Jackie Wilson in a near vegetative state, and he lived the remainder of his life in a nursing home until his death in 1984.
"Lonely Teardrops" was inducted into the Grammy Hall of Fame in 1999.
YouTube Video:

https://www.youtube.com/watch?v=2nEfuE8Pw4U