Legendary Michigan Songs
54.) I Think We're Alone Now - Tommy James and The Shondells
Artist Name:

Tommy James and The Shondells

Year Inducted:

2011
Details

Category: Legendary Songs
"I Think We're Alone Now" (R. Cordell, B. Gentry) – Tommy James and The Shondells; Roulette label, # 4 Billboard Hot 100 - 1967. Inducted in 2011.
"I Think We're Alone Now" marked the beginning of a successful partnership between Tommy James and the songwriting team of Ritchie Cordell and Bo Gentry. Cordell and Gentry had originally written the song as a mid-tempo ballad, but James insisted that they speed up the arrangement.
Jimmy Wisner's original production of "I Think We're Alone Now" included a small symphony orchestra complete with cellos, chimes, and the whole works. After eight takes, Cordell, Gentry, and James felt it sounded "too big" and sent the musicians home. They then proceeded to strip down what they had created in order to find the ingredients that they liked.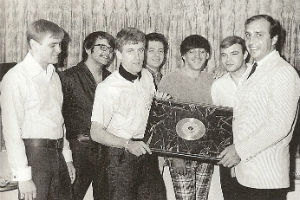 Tommy James laid down the final vocal on Christmas Eve in 1966. Without realizing it at the time, James, Cordell, and Gentry's recording of "I Think We're Alone Now" invented what later became known as "bubblegum music".
The song even provided a follow-up hit for Tommy James and The Shondells when the tape of "I Think We're Alone Now" was accidentally put on a reel-to-reel upside down. When it was played, it came out backward, but the chord progression in reverse sounded just as good as it did forward. Cordell and Gentry wrote a new set of lyrics, called the song "Mirage", and had a # 10 hit with it in the spring of 1967.
YouTube Video:

https://www.youtube.com/watch?v=hFWhTqLSVzE