Legendary Michigan Songs
55.) Ain't No Mountain High Enough - Marvin Gaye & Tammi Terrell
Artist Name:

Marvin Gaye & Tammi Terrell

Year Inducted:

2011
Details

Category: Legendary Songs
"Ain't No Mountain High Enough" (N. Ashford, V. Simpson) – Marvin Gaye & Tammi Terrell; Tamla label, # 19 Billboard Hot 100, # 3 Billboard R&B - 1967. Inducted in 2011.
The song was written by Nick Ashford and Valerie Simpson in 1966. It was the first hit for Marvin Gaye and his new duet partner, Tammi Terrell in the spring of 1967. Gaye had previously teamed with Mary Wells and Kim Weston for hit singles, but Terrell proved to be his ideal singing partner.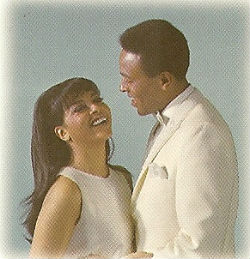 According to producers Harvey Fuqua and Johnny Bristol, Tammi Terrell was both nervous and a little intimidated during the recording because she hadn't rehearsed the lyrics. As a result, she recorded her vocals alone. Marvin Gaye added his vocal at a later date, but there was no denying the magic produced by the blending of their voices
Because of the subject matter of their duets, there were rumors of a romantic relationship between Gaye and Terrell. Both singers denied it, however, with Gaye claiming at a later date that they had a brother and sister relationship. The duo paired up for several more hits: "Your Precious Love", "If I Could Build My Whole World Around You", "Ain't Nothing Like The Real Thing", and "You're All I Need To Get By" before Tammi was diagnosed with a malignant brain tumor after collapsing into Marvin's arms during a performance in Virginia.
Tammi Terrell died in 1970 at the age of 24 from the brain tumor that put an end to her career. In 1970, Diana Ross had her first # 1 hit as a solo artist with her cover of "Ain't No Mountain High Enough", but it was the recording by Marvin Gaye and Tammi Terrell that was inducted into the Grammy Hall of Fame in 1999.
YouTube Video:

https://www.youtube.com/watch?v=IC5PL0XImjw