Legendary Michigan Songs
62.) The Easy Way Out - Tonto and The Renegades
Artist Name:

Tonto and The Renegades

Year Inducted:

2012
Details

Category: Legendary Songs
"The Easy Way Out" (D. Wagner) – Tonto and The Renegades; Sound Of The Sceen label, Did not chart nationally - 1968. Inducted in 2012.
"Anytime You Want Some Lovin'" b/w "The Easy Way Out" is the only 45 single to have both sides voted Legendary Michigan Songs.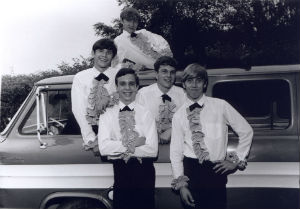 Tonto and the Renegades first choice for the B-side of the single was another Dick Wagner composition called "First Day of May". After Considering it, Wagner decided to save the song for The Frost's debut album instead. The band then went with their second pick, a Wagner-penned rocker called "The Easy Way Out".
It turned out to be an excellent choice. Like the A-side, the session for "The Easy Way Out" was produced by Dick Wagner in Dave Kalmbach's Great Lakes Studio, located in the Sparta Theater. Drummer Tom Kirby remembered that several rows of the old theater seats were removed in front of the movie screen so that there was enough room for the band's equipment, and that Kalmbach erected a three-sided partition around the drum kit. The studio's recording equipment was situated behind a large glass window inside the theater's projection booth. Since Wagner was producing the session, Kalmbach worked in the booth while the band recorded.
Tonto and The Renegades were firing on all cylinders during the recording, and Wagner once again used the horn section of Grand Ledge High band students Jim Hall and Ernie Morrow to good effect. In addition, the producer added a special personal touch to the song by contributing the controlled guitar feedback that helped give "The Easy Way Out" its unique sound.
YouTube Video:

https://www.youtube.com/watch?v=LvVkyZ8o-I8