Legendary Michigan Songs
70.) Day Don't Come - The Cherry Slush
Artist Name:

The Cherry Slush

Year Inducted:

2012
Details

Category: Legendary Songs
"Day Don't Come" (Barkam, Adams) – The Cherry Slush, U.S.A. label, Did not chart nationally - 1968. Inducted in 2012.
"Day Don't Come" was recorded as "I Cannot Stop You" was climbing the national charts. Their record company brought The Cherry Slush to Chicago to record it at the famous Chess Studio although the song was a far cry from the countless classic blues recordings that had been made there. The engineer on the session was Ron Malo, who had also been behind the boards on the Rolling Stones' recording of "Satisfaction" which had been done in the same studio three years before.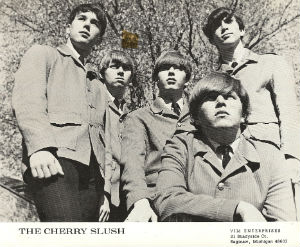 The Cherry Slush recorded the basic instrumental track during the first session then returned back home in Michigan where the band members were still attending high school. Bassist Art Hauffe claims that when they returned the following week to do the vocals, they were surprised to find that their record label had added the Chicago Symphony to the track at a cost of $5,000; and that the hefty sum would be taken out of the band's royalties for "I Cannot Stop You".
The results were impressive, however, and "Day Don't Come" ranks as one of the biggest and brightest productions ever recorded by a Michigan garage rock band. Sounding much like a radio-friendly single tailored for The Buckinghams, the single was selected by Billboard magazine as a top pick hit when it was released, and it raced to the top of the charts in the band's hometown of Saginaw and in other cities across the country. Unfortunately, "Day Don't Come" did not reach its potential nationally because U.S.A. Records filed for bankruptcy shortly after its release.
YouTube Video:

https://www.youtube.com/watch?v=ayqq59Q7pw0