Legendary Michigan Songs
71.) This Is The Time - The Sixth Generation
Artist Name:

The Sixth Generation

Year Inducted:

2013
Details

Category: Legendary Songs
"This Is The Time" (F. Bachman, R. Hamrick) - The Sixth Generation; GMA label, Did not chart nationally – 1967. Inducted in 2013.
In need of an original song for their first recording session, lead singer Fred Bachman came up with a melody on his guitar in his bedroom. Stuck for lyrics, his mother suggested the line "this is the time" and that seemed to jump-start the rest of the song. Inspired by the progressive recording of the Beatles, keyboard player Ron Hamrick made a few musical changes; and the pair ended up with 14 different chords for the song, compared to the typical 3-5 chords in most pop-rock songs of the 1960's.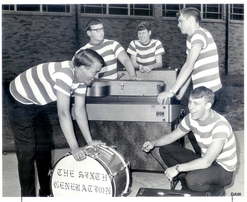 Since all of the members of the Sixth Generation were still in high school, they had to get permission to miss school on the day of their scheduled session in Chicago. The band recorded their debut single at Sound Studios, the site of previous hits by the Buckinghams and the Cryan' Shames, under the watchful eye of veteran studio engineer Stu Black.
After criticizing Dave Walenga's drums as sounding like "garbage cans" and scolding band members for bringing soft drinks into his console room, the no-nonsense Black warmed to the young band and helped them produce two strong tracks intended for the Sixth Generation's first single. Unfortunately, band manager Marie Needham did not know how to obtain a release for their cover of "Glitter And Gold", resulting in the unusual situation of "This Is The Time" ultimately being released as both the a-side and the b-side of the 45, issued on the tiny GMA record label.
Although the song was a regional success, the band's inexperienced management didn't know how to pursue a major label for national distribution, relegating "This Is The Time" to one of Michgan's many highly-regarded, but little-heard, singles of the late 1960's.
YouTube Video:

https://www.youtube.com/watch?v=chOYJ1a0yDw