Legendary Michigan Songs
83.) One In A Million - The Romantics
Artist Name:

The Romantics

Year Inducted:

2014
Details

Category: Legendary Songs
"One In A Million" (C. Canler, W. Palmar, M. Skill, J. Marinos) – The Romantics; Nemperor label, # 37 Billboard Hot 100 – 1984. Inducted in 2014.
"One In A Million" was the third and final single taken from the Romantics' most successful album, "In Heat". After the single "Rock You Up" failed to keep up the momentum started with the success of "Talking In Your Sleep", "One In A Million" got the band back in the Top 40 when it peaked at # 37 in 1984. It also reached # 22 on Billboard's Mainstream Rock chart.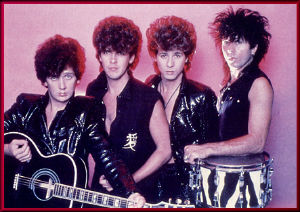 Despite achieving their commercial breakthrough in 1984, the Romantics had begun to splinter. "One In A Million" would prove to be the band's last big hit. Disagreements with the Romantics' management, and also between band members, resulted in Jimmy Marinos leaving the band later in the year. He was replaced by drummer Dave Petratos.
The band recorded one more album, "Rhythm Romance" before becoming entangled in legal matters that caused undue hardships for the band, rendered them unable to record for a seven-year period, and effectively torpedoed the Romantics' career.
YouTube Video:

https://www.youtube.com/watch?v=qfHMyrZVpS0