Legendary Michigan Songs
86.) Heavy Music (Part 1) - Bob Seger & The Last Heard
Artist Name:

Bob Seger & The Last Heard

Year Inducted:

2014
Details

Category: Legendary Songs
"Heavy Music (Part 1)" (B. Seger) – Bob Seger & The Last Heard; Cameo-Parkway label, # 103 Billboard Bubbling Under the Hot 100 – 1967. Inducted in 2014.
From the Seger File; "This is the song that changed everything. This is the song that, ten years later, remained the focal point of Seger's live performance as captured on the "Live Bullet" LP. It is the first song, on vinyl anyway, that really captured his ability to combine the raw power of rock with the punch and rhythm of the James Brown style soul music he loved."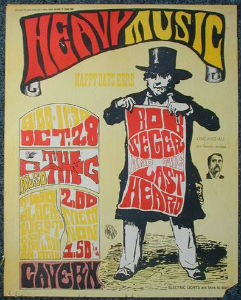 "Heavy Music" grew out of a jam at a bar in Columbus, Ohio, and they just happened to be taping the performance that night. Seger really dug the 'deeper' part of the jam and wrote a song around it after he went home. It's not an exaggeration to say that this was a new sound. He wasn't following anyone here (the way that he was arguably following Van Morrison with "East Side Story," the first landmark song of his career.) Instead, he was combining two styles into a something new.
"When that happens, worlds can explode, as they did for Elvis Presley, Buddy Holly, Chuck Berry or the Beatles. In a lesser but still potent way, "Heavy Music" might have exploded for Seger, too, except for the ultimate bad luck with Cameo-Parkway, which went out of business just as the song hit. Still, "Heavy Music" cracked open the door of stardom and became Bob Seger's first charting single when it reached # 103 on Billboard in 1967."
YouTube Video:

https://www.youtube.com/watch?v=-W52Kt_ocqw