MRRL Hall of Fame
JACKIE WILSON
Details

Category: Inductees
Created: Thursday, 29 September 2011 16:30
Written by Gary Johnson
Jackie Wilson was one of the top black singers and entertainers of the 1950's and 1960's. Called "Mr. Excitement", his stage presence was similar to that of Elvis Presley in that his high energy performances often worked audiences into a frenzy. Although Jackie Wilson was at his best with up-tempo songs that displayed his athletic dance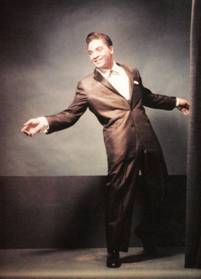 Jackie Wilson moves, his versatile singing voice allowed him to perform in a wide variety of musical styles.
Jackie was born on the tough north side of Detroit in 1934. Because his father was an alcoholic who was rarely at home, his mother Eliza raised Wilson. She was a major influence on the life on her only child. Jackie started singing both gospel and the blues on Detroit streets at a young age.
Blessed with a natural ability to sing in perfect key, Jackie formed a gospel quartet called the Ever Ready Gospel Singers in his early teens that performed at churches in his neighborhood. Wilson didn't sing gospel because of any religious fervor. He just loved to sing and it also provided him with money for early experiments with alcohol.
During this time, Wilson was involved in a Detroit gang called the Shakers. Jackie's singing talent provided prestige for the gang, and they provided Wilson with protection when he performed in neighborhoods controlled by rival gangs. This gang involvement, along with Jackie's disinterest in school, resulted in Wilson constantly being truant and getting in enough trouble to be sent to the Lansing Correctional Facility on two different occasions. It was there that Jackie learned how to box. He put his skills to work in the Golden Gloves program and became a Detroit boxing champion.
By 1951, Jackie had turned sixteen and dropped out of school. That same year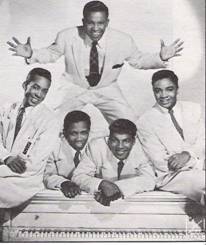 The Dominoes (Wilson far right) he married his sweetheart, Freda Hood, who gave birth to their daughter the following month. Jackie had been performing in a local black nightclub using false identification for over a year and now became a full-time entertainer.
Family life was a struggle, however, and Jackie briefly worked in a Ford plant to help make ends meet. Wilson also started singing in a group that featured Levi Stubbs, who would soon join the Four Tops, and Sonny Woods who would go on to form the Royals, who eventually turned into Hank Ballard and The Midnighters.
Jackie's big break came when he auditioned for Billy Ward and His Dominoes in Detroit. Just months after joining the popular black group, Jackie replaced Clyde McPhatter as the quintet's lead singer when McPhatter left to form the Drifters. Jackie sang the lead vocal on "St. Therese Of The Roses" which became Billy Ward and His Dominoes' first hit on the pop charts in 1956.
In 1957, Wilson went solo and signed with Brunswick Records. Fellow Detroiters Berry Gordy Jr. and Roquel "Billy" Davis were aspiring songwriters who had met Jackie at a popular Detroit night spot called the Flame Show Bar. The pair wrote Jackie's first record for Brunswick, "Reet Petite (The Finest Girl You Ever Want To Meet)", and it became Wilson's first solo hit. He made his national television debut on October 4th, performing the song on Dick Clark's American Bandstand.
Gordy and Davis also wrote Jackie's next four Top 40 singles: "To Be Loved", "That's Why", "I'll Be Satisfied", and his first Top Ten hit, "Lonely Teardrops".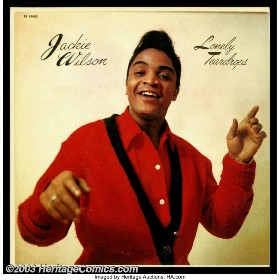 "Lonely Teardrops"
Unfortunately, Berry Gordy Jr. had a disagreement at this time with Jackie's manager over the fact that his compositions were not being considered for the B-sides of Wilson's releases, and the successful partnership was ended.
Gordy put his experiences with Wilson and the music business to good use when he established Motown Records in 1959 while Davis went onto success at Chess Records.
Despite losing his most successful songwriting team, Wilson had become a major star through both television appearances and almost non-stop touring. Jackie made his film debut in the Alan Freed rock and roll movie, Go Johnny Go, with Chuck Berry and Jimmy Clanton in 1959. Jackie's next hit single, "You Better Know It", was performed in the film.
1960 was a very big year for Jackie. He charted no less than seven consecutive Top 40 hits that year including three double-sided hit singles. Although he produced some classic songs such as the incredible "Doggin' Around", many of Jackie Wilson's biggest-selling recordings during this time including "Night", "Alone At Last", and "My Empty Arms", were classical music adaptations that didn't really take advantage of his great natural talent.
Jackie also released his first greatest hits collection, "My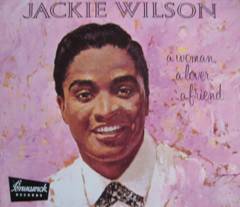 "A Woman, A Lover, A Friend" Golden Favorites", that contained seven songs co-written by Berry Gordy Jr. among his outstanding early singles. The follow-up album, "A Woman, A Lover, A Friend", from this period pales in comparison to his earlier hits with song arrangements drenched in strings and soulless female choruses.
Jackie charted ten more songs in 1961 and appeared in the rock and roll comedy film, Teenage Millionaire, but only the uptempo "I'm Coming Back To You" matched Wilson's powerful performing style. It was also the year that Jackie had a close brush with death.
Although still married, Wilson was involved with both a model named Harleen Harris and another young woman named Juanita Jones. Jackie was shot twice by Jones who was waiting to ambush him with a revolver when he returned to his apartment with Harris. Despite being seriously wounded, Wilson managed to take the gun away from Jones and get downstairs into the street where a police officer raced him to a nearby hospital. Jackie's life was saved through surgery, but he lost a kidney as a result of the shooting.
In order to protect Jackie's image, his management concocted a story that a crazed fan had attempted suicide and Jackie had been accidentally shot while trying to save her. After many weeks of recovery, Jackie was back in the studio and on the road. His recordings, however, were suffering from a general lack of quality material and his only Top 40 hit of 1962 was "The Greatest Hurt".
Jackie also discovered that despite all his success, he was broke. Apparently Wilson's management, booking company, and his accountants all had ties to the Mob. Not only was his money missing, but he was also in trouble with the Internal Revenue Service for unpaid taxes. The I.R.S. went as far as to seize Jackie's family home in Detroit. This, along with Jackie's continued womanizing, resulted in his wife Freda filing for divorce.
Despite his financial and family woes, Jackie enjoyed his biggest hit single in years with the 1963 release of "Baby Workout". On the strength of the single Wilson was able to reach the Top 40 on the Billboard album charts for the first and only time in his career with his "Baby Workout" L.P.
These hits enabled him to secure arrangements to make restitution to the I.R.S. on his unpaid taxes and repurchase his Detroit home at auction. "Baby Workout", however, would be Jackie's last big single for three and a half years. Wilson was like many popular artists of the 50's and early 60's who saw their record sales decline in the wake of the musical revolution brought about by the Beatles.
Although he kept up a steady stream of road tours and was a popular guest on televised music shows like Shindig, Jackie did not score another hit single until he changed music producers and started to record in Chicago with Carl Davis. The new team produced its first big hit with "Whispers (Gettin' Louder)" in 1966.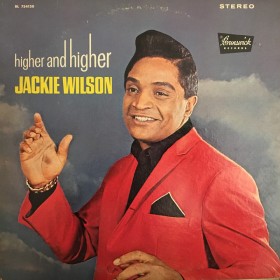 "Higher and Higher"
Eight months later in1967, Jackie continued his impressive comeback with his first Top Ten hit in four years, "(Your Love Keeps Lifting Me) Higher And Higher". The song was probably Wilson's all-time greatest recording, and its irresistible dance groove was provided by Motown's fabulous house band, the Funk Brothers.
Unfortunately, Jackie's success coincided with an increase in his drinking as well as his use of cocaine and amphetamines. He was unhappy with his record company and his management, and as a result the next four years were a very dark period for him. The titles of his last two Top 40 hits, "Since You Showed Me How To Be Happy" and "I Get The Sweetest Feeling", couldn't have been further from the truth. It took a family tragedy, the shooting death of his 16 year-old son, to jolt Wilson into successfully entering a drug abuse program. Despite being a popular live act, the hits had dried up at this point in his career. Jackie's last charting single was 1972's "You Got Me Walking".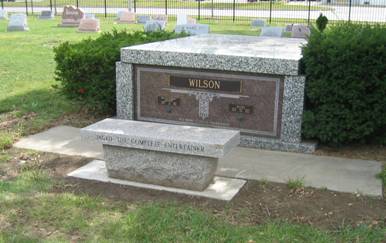 Jackie Wilson's final resting place
By 1975, Jackie Wilson was performing on the "oldies" circuit. While singing his big hit "Lonely Teardrops" with the Dick Clark revue in New Jersey, Jackie suffered a massive heart attack. One of the first to reach him was Cornell Gunter of the Coasters who noticed Jackie wasn't breathing. Gunter applied resuscitation and probably saved his life, but Wilson was in a coma in the hospital for the next three months.
Jackie had also suffered severe brain damage as a result of his head hitting the stage when he collapsed. Although he partially recovered, his great career was over. Jackie could not speak, and his communication for the next eight years, until his death at age forty-nine, was limited to the blinking of his eyes.
After years of litigation that had tied up his assets and negatively affected the care he was given, Jackie Wilson died in one of the nursing homes where he had lived since the heart attack and head injury. Jackie suffered one more indignity as a result of the battle over his estate when he was buried in an unmarked grave in Detroit.
In recent years, a fund that was developed by music industry friends and Jackie's fans helped purchase a fitting memorial marker for him at the West Lawn Cemetery in Detroit. He is buried next to his mother, Eliza Mae Wilson, who died in 1975 after she had traveled from Detroit to New Jersey to see him in the hospital.
Jackie Wilson was inducted into the Rock and Roll Hall of Fame in 1987. He was voted into Michigan Rock and Roll Legends Hall of Fame in 2005. In 2008, Jackie Wilson's "(Your Love Keeps Lifting Me) Higher And Higher" was voted in as one of Michigan's Legendary Songs. In 2011, "Lonely Teardrops" was also voted a Legendary Michigan song.
MRRL Hall of Fame: https://www.michiganrockandrolllegends.com/mrrl-hall-of-fame
Video: Watch Jackie Wilson with all his moves performing "Lonely Teardrops" on Dick Clarks's Beechnut Show https://www.youtube.com/watch?v=2eLdJ8MxOaE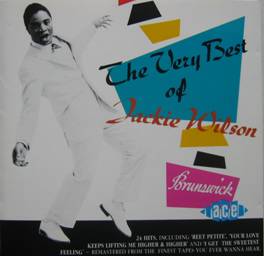 Dr. J. Recommends
"Jackie Wilson: Mr. Excitement". 3 CD Box Set, Rhino/Wea. This excellent collection contains 72 songs that cover Jackie's recording career.
"The Very Best Of Jackie Wilson".Brunswick/Ace CD. This is the collection you want if you're looking for the hits. It contains 24 of Jackie's best and most popular singles.
From The Bookshelf
Jackie Wilson: The Man, The Music, The Mob by Tony Douglas, Mainstream. A very detailed biography that is based on interviews with Jackie's remaining relatives and associates in the music business.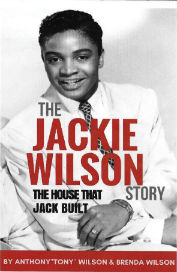 The Jackie Wilson Story - The House That Jack Built by Anthony "Tony" Wilson and Brenda Wilson, www.jackiewilsonfoundation.org. This is a collection of heart-felt memories and stories written from the personal experiences of Anthony "Tony" Wilson and Brenda Wilson during the precious time they had with their father, Jackie Wilson. This is a very personal and detailed look at the father, good man, friend and famous singer that still makes them proud today. This book includes photos that have never been seen by the public.