MRRL Hall of Fame
MARTHA & THE VANDELLAS
Details

Category: Inductees
Created: Thursday, 29 September 2011 23:04
Written by Gary Johnson
Martha Reeves was born in Alabama in 1941 but her family moved to Detroit when she was just 11 months old. Although shy as a child, Martha was encouraged to sing first by her mother and later by her music teachers in both elementary school and high school.
After a brief stint in a group called The Fascinations, Martha was asked to join the Del-Phis by Gloria Williamson, Rosalind Ashford, and Annette Beard. The three had formed a quartette with another woman who had since moved out of Detroit. Martha sang second lead behind Gloria in the Del-Phis. The girls were signed to Chess Records while still in high school and recorded one single, "I'll Let You Know", on the subsidiary label Check-Mate.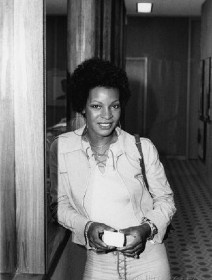 Martha Reeves
The single didn't do well, and after graduation the Del-Phis disbanded as a result of the girls having to find work. Martha was employed in a variety of jobs during her first year out of school, but continued to sing professionally under the stage name Martha LaVaille.
Her big break came after winning a local talent contest. The prize was three nights work at the 20 Grand, a popular Detroit night club. Mickey Stevenson, the head of Motown's A&R department, caught one of Martha's performances. He gave her his card when she came offstage and invited her to audition at Motown.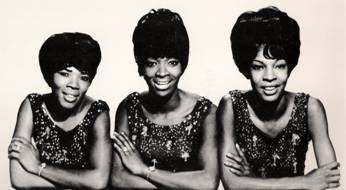 Rosalind Ashford, Annette Beard, Martha Reeves
Not understanding that Stevenson wanted her to call the Motown offices to set up a time for one of the label's monthly auditions, Martha quit her day job and went to Motown the following morning. When Reeves realized her mistake she was very embarrassed, but as luck would have it Stevenson asked her to answer the phone in his office. In short order, Martha organized a system for keeping records in the A&R department at Motown and was eventually hired as a full-time secretary.
In 1962 Mickey Stevenson was assigned the recording session to produce a promising young singer named Marvin Gaye. Martha called the Andantes, Motown's in-house backing vocalists, to the session, but the three women had taken another job out of town. Seizing an opportunity, Martha called Gloria, Rosalind, and Annette from the Del-Phis to fill in. Martha joined the other three at the session and they sang the backing vocals on "Stubborn Kind Of Fellow", "Hitch Hike", and "Pride And Joy".
Berry Gordy Jr. liked their sound and invited the girls to record. With Gloria Williamson singing lead, the girls recorded a Berry Gordy song titled "You'll Never Cherish A Love So True" as the Vells on the Motown subsidiary label Mel-O-Dy. Even though the single failed, Motown offered the quartette a recording contract. Gloria, however, decided to keep her job with the city of Detroit and quit the group.
After a meeting with Gordy, it was decided that the girls would continue as a trio. Gordy declared that he wanted a new group name and that it should include 'Martha' in the title just in case the other girls should decide to quit. Reeves came up with the rest of the group's new name by combining the 'Van' from Van Dyke, a street near where she lived, and 'della' from the name of one of her favorite Detroit singers, Della Reese.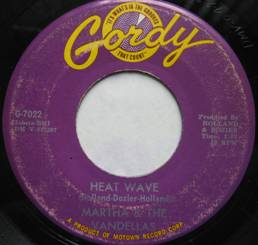 1st Top Ten single
Martha & The Vandellas' second single, "Come And Get These Memories", was one of the first compositions by the team of Brian Holland, Lamont Dozier, and Eddie Holland. The record became the girls' first hit in the spring of 1963.
This was followed by the Top Ten single and one of the summer's biggest hits, "(Love Is Like A) Heat Wave". Martha & The Vandellas and Holland-Dozier-Holland made it three in a row with another Top Ten hit, "Quicksand", in the fall. By this time, original Vandella Annette Beard had retired and been replaced by Betty Kelly.
After the group's first two singles of 1964, "Live Wire" and "In My Lonely Room", failed to reach the Top 40, Holland-Dozier-Holland started to work full-time with the Supremes and the Four Tops. Martha & The Vandellas' next single was written and produced by Mickey Stevenson and it would become their biggest hit. "Dancing In The Street" was initially offered to Kim Weston, who turned it down. The song was co-written by Marvin Gaye and Ivy Hunter, and Martha & The Vandellas' recording of it became one of the most memorable hits of the summer of 1964. Annette Beard left the group after she married and became pregnat. She was replaced by Betty Kelly.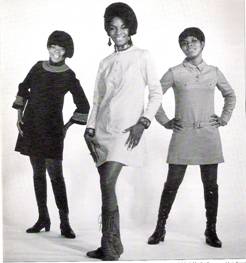 Rosalind Ashford, Martha Reeves, Betty Kelly
On the surface all things seemed to be going well for Martha & The Vandellas during the next three years. The group charted seven more hits including Top Ten smashes with "Nowhere to Run", "I'm Ready For Love", and "Jimmy Mack", but Martha was convinced that greater success for her group was being undermined by Motown and Berry Gordy Jr.'s infatuation with Diana Ross.
Reeves was furious that "Jimmy Mack" had been held back from release for two years because Gordy felt it sounded too much like the Supremes. She also clashed with Gordy over business and accounting matters regarding her group.
Perhaps to placate Martha to some extent, the group's name was changed to Martha Reeves & The Vandellas for the 1967 release of the single "Honey Chile". It would turn out to be the last big hit for the group. Betty Kelly left the Vandellas by early 1968 and was replaced by Martha's sister Lois. Rosalind Ashford was dismissed by Martha later that year and replaced by Sandra Tilley.
By 1972, the Motown record company had left Detroit for Los Angeles. Martha Reeves & The Vandellas played a farewell concert for their hometown fans at Cobo Hall and then officially called it a day.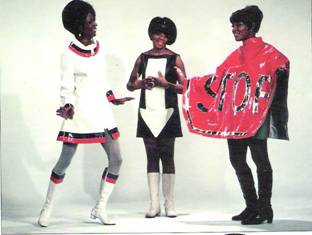 Reeves, Ashford, and Kelly in mod fashions
Over time, Martha had become addicted to a range of prescription drugs while struggling to maintain a hectic schedule of recording and performing. This resulted in several emotional breakdowns and even a period of institutionalization. She managed to get through this difficult period in her life and has lived drug-free since 1977.
Martha Reeves' career after 1972 never came close to the success she enjoyed at Motown although she continues to perform and record. Martha still works with Ashford and Beard on special occasions and the trio successfully sued Motown for back royalties in 1989.
Martha & The Vandellas were inducted into the Rock and Roll Hall of Fame in 1995. They were voted into Michigan Rock and Roll Legends Hall of Fame in 2005.
In 2008, Martha & The Vandellas' "Dancing In The Street" was voted in as one of Michigan's Legendary Songs. "Heat Wave" was voted a Legendary Michigan Song in 2010.
MRRL Hall of Fame: https://www.michiganrockandrolllegends.com/mrrl-hall-of-fame
Video: Watch Martha & The Vandellas in a great 1965 video of "Nowhere To Run" filmed at a Mustang assembly plant in Detroit https://www.youtube.com/watch?v=K3L-nJMyMPI
Dr. J. Recommends
"Martha Reeves & The Vandellas: The Ultimate Collection", Motown CD. This 25 song collection contains all the hits.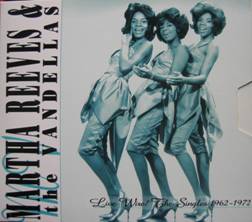 "Martha Reeves & The Vandellas Live Wire!: The Singles 1962 – 1972", Motown 2CDs. This collection includes many interesting B-sides and album cuts along with all the hits.
From The Bookshelf
Dancing In The Street: Confessions Of A Motown Diva by Martha Reeves with Mark Bego, 1994. Martha recounts the excitement of Motown in its glory days as well as the personal problems and struggles she overcame in her life and career.