MRRL Hall of Fame
AL GREEN
Details

Category: Inductees
Created: Friday, 30 September 2011 10:39
Written by Gary Johnson
With the possible exception of Sam Cooke, no artist has enjoyed the level of renown in both the secular and the sacred music fields as has Al Green. Most people associate Al with Memphis, Tennessee, because of his hits on Hi Records, as well as his work as the Reverend Al Green at his Full Gospel Tabernacle Church in the city's Whitehaven district.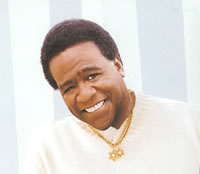 Al Green
Many of his fans around the world, however, probably don't realize that Green first tasted success in both of these fields while living in Grand Rapids, Michigan. Al performed in many churches around Michigan as a member of the Greene Brothers singing group. He also recorded and charted his first important soul music hit as the lead singer of Al Greene and The Soul Mates, a singing group formed in Grand Rapids.
Green was born Albert Greene in a tiny sharecropping community of Dansby, Arkansas, in 1946. Al was the sixth of ten children born to Robert and Cora Greene. The family moved to another tiny town called Jacknash shortly after Al was born, and this is where he spent his early years.
Robert Greene was 4th generation sharecropper and a religious man who was looking for a way out of a life in which he farmed a few hundred acres in exchange for a house and a percentage of the harvested crops. Music was an important part of the Greene family, and along with Al's three older brothers, Robert formed a family gospel quartet that he called the Greene Brothers. They sang at small churches in Arkansas, and Al rode along with them in his father's truck until he was old enough to learn the words and sing.
Al's father had dreams of his family making it on the gospel music circuit. During the early 1950's, the true superstars among black audiences were the gospel groups; the Soul Stirrers, Swan Silvertones, and the Dixie Hummingbirds. The social life of poor black families like the Greene's, who slept five children to a bed, used an outhouse with a blanket for a door, and did laundry in a galvanized tub, was centered on the church. All the Greene brothers, especially Al, took great pride in their ability to sing.
Although he forbade his children to listen to Chicago blues and Memphis R&B, Al's father was not above visiting a juke joint to drink and enjoy some of the "devil's music". Despite his father's rules, Al developed an early interest in the music of Elvis Presley, Fats Domino, Little Richard, Sam Cooke, and especially Jackie Wilson.
Al's father moved his family to Grand Rapids, Michigan, in 1955. Like many blacks during the postwar years, he sought to find a good paying job in the industrial North to better provide for his family. Al wrapped himself in music to help cope with the move.
He sought every opportunity to sing at school, joining the choir and becoming a featured soloist at programs and pageants. He also sang with the Greene Brothers in churches in Grand Rapids, and then Benton Harbor, Lansing, and Pontiac as the group became more known. They would eventually sing in even larger cities such as Detroit, Cleveland, and Chicago, but the wished-for recording contract was never offered.
Al's singing talent attracted the attention of gospel revivalist Mother Bates. She invited young Al to be part of her ministry and sing at her revivals throughout the Midwest when he wasn't performing with the Greene Brothers.
By the age of eighteen, however, Al was ready to stretch out beyond gospel music. He formed a vocal group with high school friends Palmer James, Curtis Rogers, and Gene Mason. They would eventually call themselves the Creations, and their goal was to perform the popular R&B music of the day best exemplified by Detroit's Jackie Wilson and the emerging stars of Motown.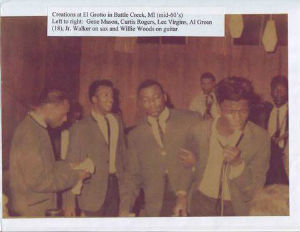 The Creations at the El Grotto (L to R) Gene Mason, Curtis Rogers, Lee Virgis, Jr. Walker, Al Greene, Willie Woods
Al's father was opposed to Al singing secular music and wanted him to concentrate on the gospel music of the Greene Brothers. As a result, Al and his brothers had to sneak popular records into the house. The issue came to a head when Robert caught Al listening to Jackie Wilson's "A Woman, A Lover, A Friend" on a portable record player in the family apartment. In a rage, his father broke all of Al's records, dismissed him from the quartet, and kicked him out of the family dwelling.
Al moved in with Lee Virgis, the manager of the Creations. After initially quitting school and taking a job at a car wash, Green returned to high school at the age of nineteen. He took odd jobs and gradually took over the role of lead singer in the Creations while he completed his education.
They first started performing professionally in 1966 at the El Grotto club in Battle Creek, Michigan. At some of their early gigs, the Creations were backed by the headlining band, Jr. Walker & The All Stars. Al and the Creations were a hit at the El Grotto, and the club's management offered them a regular spot on the weekends. This led to engagements in other cities in Michigan as well.
After Palmer James and Curtis Rogers started writing some original songs for the group, they were offered a recording contract with a tiny Grand Rapids label called Zodiac Records. The Creations had never been in a recording studio, and Al felt stiff and self-conscious without a live audience to sing to. Although their first release on Zodiac was not a hit, their record got some airplay in Grand Rapids, Cleveland, and Chicago.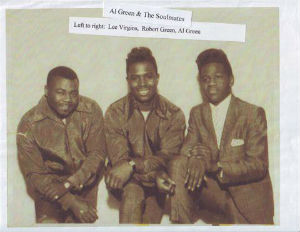 Al Greene and The Soul Mates (L to R) Lee Virgis, Robert Greene, Al Greene
In 1967, Al met an older Grand Rapids prostitute named Juanita and began living with her in her apartment. Al served as her protector, friend, and lover; and he learned firsthand the secrets of the sexual underworld of otherwise conservative Grand Rapids while managing to steer clear of the temptations of drugs and alcohol.
In the meantime, the Creations changed their name to Al Greene & The Soul Mates and left Zodiac Records. They decided on the bold move of starting their own label, Hot Line Records. James and Rogers penned a catchy song called "Back Up Train", and they recorded it along with a handful of other originals at a run-down studio on 28th Street in Grand Rapids in late 1967.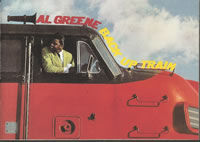 "Back Up Train" album
In January of 1968, "Back Up Train" broke in Michigan and the Great Lakes area. It became a nationwide hit after the group signed a distribution deal with Bell Records out of New York City. It eventually peaked at # 5 on Billboard's R&B chart and crossed over to # 41 on the Hot 100.
The success of their single led to a date at the famed Apollo Theatre in Harlem. Being on stage for the first time at that legendary venue was a career milestone for Al, and it gave him the feeling that he'd truly made it to the big time when the audience called the group back to the stage nine times to reprise their performance of "Back Up Train".
Al Greene & The Soul Mates' "Back Up Train" album contained mostly original songs written in Michigan and included one of Al's early songwriting efforts, "Stop And Check Myself". The album failed to sell, however, and when then group's next three singles missed the charts, they were dropped by Bell Records.
The experience on the Apollo stage had planted the seed in Greene to go solo. When the group started to crumble in the aftermath of being let go by Bell, Al decided to take the plunge. He dropped the final 'e' on his last name and set out to take his music in a new direction as a solo artist.
Green's inexperience in handling the business side of things made for difficult going, however, and Al Green's first months as a solo performer were the low point of his career. At a time when he was about to give it up and return to Grand Rapids, he was contracted to fulfill one more engagement in Midland, Texas opening for Willie Mitchell.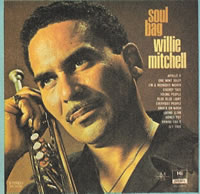 Willie Mitchell
Mitchell was an important figure in the Memphis music scene, and he had been the music director in B. B. King's band. He was also a producer, band leader, recording artist, and talent scout for Hi Records in Memphis.
The meeting with Willie Mitchell was fortuitous. Both Green and Mitchell were looking for something – Al for a fresh start and Willie for a way to bring something new to his music. After he signed Al to the Hi label, Mitchell would become his songwriting partner and producer for the next eight years. During this time, Green would develop into one of the premier soul singers of the Seventies.
After borrowing some money from Mitchell, Al returned to Grand Rapids to pay off some debts, break off his relationship with Juanita, and visit his family. In 1969, Green moved to Memphis to work with Willie Mitchell at his Royal Recording Studio. Mitchell's basic instruction to Al during these early days was to "feel what he was singing". Willie's approach was to have Green sing smoothly over gritty band music rather than employ the soul shouting style that he had used with the Soul Mates. Al lived in a small apartment near Willie's studio, and he and Mitchell worked on their new approach during the days and hit the Memphis music hot spots at night.
The first album they put out together was called "Green Is Blues", with Al interpreting the songs of others. The album was not a big success, and the single, Al's soulful version of the Beatles' "I Want To Hold Your Hand", did not chart. Two other singles released from the sessions, "You Say It" and "Right Now, Right Now", became minor R&B hits.
Even though nothing they had released had hit big, neither Mitchell nor Green were discouraged. While Al was touring behind the records, something significant occurred after a gig in Detroit. Al had stopped for the night in a motel in rural Southeast Michigan after the show, his plan being to drive back to Memphis the next day. When he awoke in the morning, however, he was inspired to write a new song that he called "Tired Of Being Alone".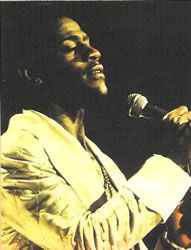 Al Green solo
Although they did put an outstanding version of "Tired Of Being Alone" on tape, Willie Mitchell insisted on having Green continue to record mostly interpretations of previously released material for his next album, "Al Green Gets Next to You". Al's reworking of the Temptations' hit, "I Can't Get Next To You" was released as a single, and it became Green's biggest solo hit, reaching # 11 on Billboard's R&B Chart and crossing over to # 60 on the Hot 100.
The next single was Al's cover of Little Junior Parker's "Driving Wheel". Parker was Green's cousin and one of his early musical role models. Al's version was only a minor hit, however, reaching # 46 R&B and # 115 on Billboard's Bubbling Under Chart. Sadly, Little Junior Parker would die of a brain tumor later that year.
It was with the album's third single that Al became a soul music force. "Tired Of Being Alone" became a # 7 R&B hit, but more importantly, it turned out to be Green's first big success on the Hot 100 when it peaked at # 11 in 1971.
Its follow-up single, "Let's Stay Together", would become Al's first # 1 hit and his all-time biggest seller. The song shows the formula that Green and Mitchell used on all of Al's hits. "Let's Stay Together" has a simple but emphatic beat and subdued horns and strings with Green's voice floating over the top. Al's unique vocal style, with its cries and moans, came directly from his experiences in gospel music.
The drummer and also one of Al's co-writers on "Let's Stay Together" was Al Jackson, a member of Booker T. & The MG's. Jackson worked in the studio with Willie Mitchell when he was wasn't touring or recording with the MG's, and he became one of Green's important collaborators as well as a close friend.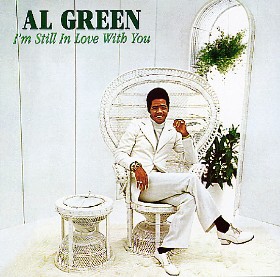 "I'm Still In Love With You" album
The all-important follow-up single was "Look What You've Done For Me". It was co-written by Green, Mitchell, and Jackson, and it was also a gigantic hit in the spring of 1972.
That summer Al would score his second # 1 R&B and Top Ten pop hit with "I'm Still In Love With You". His album of the same name would become his highest-charting LP when it was released in the fall of 1972. The "I'm Still Love With You" album would also produce another all-time great Green original, "Love And Happiness".
Al Green was a soul music sensation by the start of 1973. His latest single, "You Ought To Be With Me", was his third # 1 R&B hit. He would follow it up with two more smashes, "Call Me (Come Back Home)" and "Here I Am (Come And Take Me)" that would also become Top Ten hits on both the R&B and pop charts.
While on tour during the summer of 1973, Al had what he describes as a "profound religious experience" while staying in a hotel room at Disneyland in Anaheim, California. This led to Al spending more time in churches of different denominations while touring, and he also began quoting passages from the Scripture during his concerts.
The parade of hits continued as he released his 4th # 1 R&B hit, "Livin' For You", in late 1973, along with an album of the same name. "Let's Get Married" was taken from the album as the next single, and it became his ninth consecutive major chart success.
The "Livin' for You" album was followed by "Al Green Explores Your Mind" in the late fall of 1974. The album contained another gigantic single, "Sha-La-La (Make Me Happy)" along with his sensational tribute to Little Junior Parker, "Take Me To The River".
During this time, Al had been doing quite a few charity concerts. Among these were performances at various women's correctional facilities. It was at one of these shows in New York that Green met a woman named Mary Woodson, who happened to be there visiting a friend. Al and Mary began an affair, but he was unaware that she was a married woman with a family in New Jersey and that she also had some mental health issues.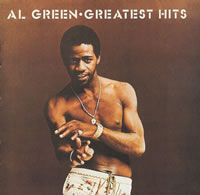 "Greatest Hits" LP
While visiting Al at his home in Memphis, Woodson severely burned Al with a pot of boiling grits while he prepared to take a bath, and then shot herself. Green required eight months of skin grafts and convalescence following the attack. To bide time during his recovery, Hi Records released "Al Green/Greatest Hits" in early 1975. If all this was not enough tragedy, Green's friend and collaborator Al Jackson was murdered in his home in Memphis by a burglar.
Once Al was out of the hospital, he recorded the "Al Green Is Love" album. "L-O-V-E (Love)" was a hit on both the R&B and pop charts as the first single, and "Oh Me Oh My (Dreams In My Arms)" was the follow-up.
1976 would be an important year for Al Green. His "Full Of Force" album would end his partnership with Willie Mitchell. Besides the title cut, Al would also have R&B hits with "Let It Shine" and "Keep Me Cryin'" during that year although his dominance on the charts was being overtaken by the popularity of disco music. It was also the year that the legendary Stax-Volt Records of Memphis closed its doors.
Al began building his own recording facility in Memphis called the American Music Studios. Looking for a new approach, he brought in a different backing band for his "Belle" album, his most spiritual release. It was during this time that Al came upon the small Full Gospel Tabernacle Church in the Whitehaven district of Memphis. Green bought the church, and he studied to become an ordained minister of the Gospel, often taking correspondence courses while on the road.
Al's father Robert Greene, died while he was touring. In November of 1978, Al released his "Truth 'N' Time" album, but its "To Sir With Love" single was a miserable failure. The following year, feeling stretched by the pressure of touring and caring for his church, Al suffered a serious fall from a stage in Cincinnati. Green took it as a sign, and after he recovered from the fall, he gave up his soul music career to concentrate on his church.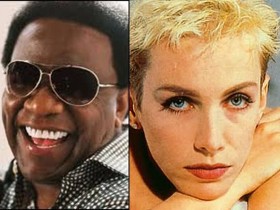 Al Green and Annie Lennox
During the 1980's, Al recorded several Grammy-winning gospel music albums. He also spent two months on Broadway in 1982, appearing in the popular musical Your Arms Too Short To Box With God.
Green returned to the pop charts in a 1988 duet with Annie Lennox of Eurythmics. The song, "Put A Little Love in Your Heart", was Green's first Top Ten hit in nearly fourteen years. Al won a Grammy in 1994 for a duet with country singer Lyle Lovett on "Funny How Time Slips Away". The following year, Al Green was inducted into the Rock and Roll Hall of Fame.
In recent years Al has reunited with Willie Mitchell and once again is producing secular music. The pair put out two excellent albums; 2003's "I Can't Stop" and 2005's "Everything's Okay". In 2008, Al released "Lay It Down", a Grammy-nominated album done with hip-hop producers James Poyser and Ahmir Thompson that sounded like a vintage Willie Mitchell project.
In 2009, Al Green was voted into the Michigan Rock and Roll Legends Hall of Fame. That same year, his biggest single, "Let's Stay Together", was voted one of Michigan's Legendary Songs.
MRRL Hall of Fame: https://www.michiganrockandrolllegends.com/mrrl-hall-of-fame
Dr. J. Recommends:
"Al Green Greatest Hits" Hi Records/The Right Stuff CD. This is the ideal place to start if you don't have any Al Green CDs. Every one of the 15 songs is a classic hit. My only gripes are that some hits like "Keep Me Cryin'" and "Oh Me, Oh My" are missing, and that they didn't include Al's classic album track, "Take Me To The River".
"I'm Still In Love With You" Hi Records/The Right Stuff CD. This is my favorite Al Green album on Hi Records. Besides the title cut, this one contains "Love And Happiness", "Look What You've Done For Me", and Al's version of Roy Orbison's "Oh, Pretty Woman".
"Back Up Train" Arista/Bell CD. If you'd like to hear what Al Green sounded like back in the days when he lived in Michigan and sang lead with the Soul Mates, this is the CD for you. While not of the quality of his records with Willie Mitchell, this is an entertaining Northern Soul album that has echoes of both Stax and Motown in some of the cuts.
On the Book Shelf: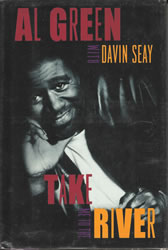 Take Me To The River by Al Green with David Seay. 2000, HarperCollins Publishers Inc., New York, NY. This highly entertaining autobiography concentrates on Al's early life, especially the years he lived in Michigan. It's the chronicle of Green's spiritual struggle as he tries to discover a way to record the music that is in his heart and find a path into the world of soul music.