MRRL Hall of Fame
ALLYN '"CRAZY AL" SCHMITZ
Details

Category: Inductees
Created: Monday, 02 March 2020 09:14
Written by Gary Johnson
The Crazy Al Radio Party had the distinction of bringing back the era of the rock and roll personality DJ from the 1950s and 1960s and introducing it to modern audiences via both AM radio and the Internet. Allyn Schmitz developed his zany "Crazy Al'" character, in combination with his deep-voiced partner Larry Matthews, and fashioned it into a key element of a unique and freewheeling weekday morning show that combined spontaneous comedy skits with obscure oldies from rock and roll's first decade.
Allyn Schmitz was born in Pontiac on Sept. 28, 1946, one of four children in his family. He was raised in the city and graduated from Pontiac Central High School in 1964, where he was a member in the Drama Club and appeared in numerous school productions, including a memorable role in the musical Li'l Abner.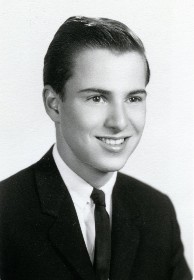 Allyn Schmitz 1964
He grew up loving music and spent any extra money he had on rock and roll records. Schmitz believed that music made people feel good and it made him feel good as well. His passion for music led him to join a rock and roll band, called The Rivieras, as its lead singer while still in high school.
Following his graduation, Schmitz spent two years attending junior college in Rochester and Flint before enlisting in the Army in 1966. He spent a year in Vietnam where he served as a gunner in the famed 1st Infantry Division, nicknamed both "The Fighting First" and also "The Big Red One" for its distinctive shoulder patch.
After his discharge, he became one of the early enrollees at the Specs Howard School of Broadcast Arts in Southfield, Michigan. Schmitz then landed his first broadcasting job in Newberry, Michigan, a small village of roughly 2,000 residents located in the Upper Peninsula. The station played a little bit of everything, but mostly country music. His show involved interacting with residents who called in to make requests or answer the program's trivia questions.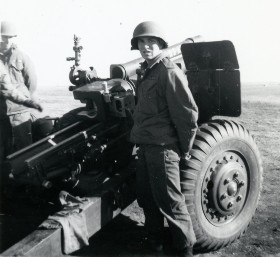 1st Infantry Division 1966
Newberry was also where Allyn Schmitz met the love of his life, Connie. She was born in Pontiac and lived in Waterford after her first marriage. When she first met Schmitz, Connie's husband had recently passed away, leaving her a widow with three children. She was visiting her sister in Newberry on a vacation trip. Her sister's husband worked at the Newberry radio station. Connie was supposed to meet the owner of the station but she met Allyn Schmitz instead.
They fell in love and were married in Newberry in December of 1969. The family lived in Newberry for two or three years before moving to Duluth, Minnesota, where Schmitz started work at station WKPR, an easy listening station. Schmitz also did some sports television at that time before he moved to a country music station in Duluth. While living in Minnesota, the couple's love of animals resulted in their opening a dog boarding kennel. It was a business that they would continue to be involved in after moving to Metamora, a small village in Michigan's Lapeer County in the late 1970s.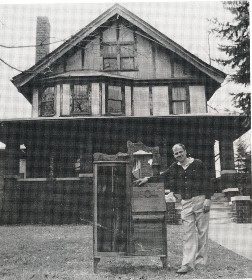 Schmitz with antique secretary from The Rosary Murders
Schmitz did some television work in Detroit after he returned to Michigan. During that time, he worked as a salesperson for a Detroit country music station and was not on the air.
After he left that job, Schmitz opened a furniture stripping and refinishing business that he and Connie operated in Midland, Michigan for 16 years. He also opened the Master Finishers Company in Pontiac, "the first professional furniture stripping and refinishing semi-automized furniture factory system ever offered in America" according to its ads. Master Finishers refinished an antique secretary furniture piece that was used on the set of the Universal Studios Motion Picture, The Rosary Murders, filmed in Detroit. The movie was released in 1987 and starred Donald Sutherland.
Schmitz missed being on the air, however, and in the 1990s, he joined WPON radio 1460-AM in Bloomfield Township. It was there that he became "Crazy Al".
Schmitz's future radio sidekick, Larry Matthews, was born Larry Stroh in 1958 in Detroit. He became interested in music at any early age. He clearly remembers seeing The Beatles on television and being impressed by all the screaming girls.
Inspired by the Sandy Nelson album, "Let There Be Drums", Stroh started taking lessons at the age of nine with an influential instructor named Al Gelb. He continued to play drums in junior high, and it was there that he formed his first band, Dr. Freud's Junk, a name inspired by national bands like the Strawberry Alarm Clock and the Chocolate Watchband.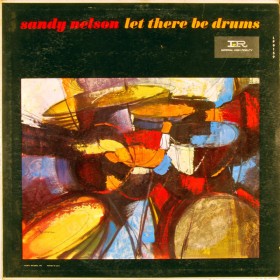 Sandy Nelson LP
Stroh played drums in the high school band in Warren, Michigan, and it was there that he got his first taste of radio. Cousino High School had a student radio station, WPHS (Warren Public High School), and that was where his radio career got its start.
He drummed in a variety of groups during and after graduating Cousino High, including playing in a wedding band. Enrolling in the Specs Howard School of Broadcast Arts led to his first job in commercial radio in the early 1980s. He joined WMUZ, a Christian radio station, and he worked there for four years before he was let go.
Stroh concentrated on music after leaving WMUZ, and he was bouncing between bands when he joined WPON in 1997. He started by doing a weekend show on Saturday and Sunday nights that ran from 7:00 p.m. to midnight. Crazy Al was doing an afternoon show on weekdays at the time, so they didn't meet until the station started thinking about doing a different type of morning show.
Crazy Al had taken over the morning show, called Crazy Al's Birthday Party, that featured talk and music. The program also highlighted listeners who could call in and have their birthdays announced on the radio. None of Crazy Al's original on-air partners worked out, however, and Al felt that he needed someone who could both run the board and interact with him in an entertaining fashion on the air.
Stroh had done well on his weekend program and was suggested as a possibility for Crazy Al's on-air partner. "When I first met Al, he impressed me as a nice guy who really wanted the morning show to work," Stroh recalled. "He asked me if I was going to use my real name, and I said, probably not because Larry Stroh didn't really sound like a radio announcer to me. I told Crazy Al to let me think of something."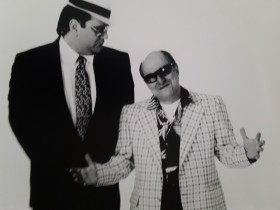 Larry Matthews and Crazy Al
"The next morning, I still didn't have a stage name as I was about to leave for the station to cut some promos, and Matthews just popped into my head as I was walking to my car. Larry Matthews! I liked it, and it became my radio name from then on."
Larry Matthews made his debut on the newly christened Crazy Al's Radio Party on Labor Day in 1997. The show was on the air Monday thru Friday from 6:00 a.m. to 9:00 a.m. They started with Matthews as the straight man and Crazy Al as the goofy guy, but the roles would soon begin to switch back and forth. The Crazy Al character was portrayed as a two-bit con artist who collected pop bottles for spending cash and lived in an old abandoned house from a 1960s' urban renewal project, located next to a toxic waste dump. Matthews would introduce him on the show using a number of humorous titles, including "Jerk of the Juke Box," Runt of the Record Rack," and the "Dimwit of Doo-Wop."
Their approach was spontaneous and off the cuff. They tried rehearsing, but it just didn't work as well. It felt like they were reading a script, and it didn't have the same energy. They would sometimes come in with a premise, and then build a show around it as they went along.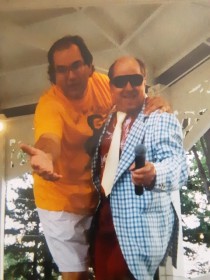 Matthews and Crazy Al
One of the things that made the Crazy Al's Radio Party successful was the music they played – rare oldies that no other station featured. Sometimes Matthews and Crazy Al would develop an idea while a song was playing and take it from there. The interplay between them was magic. Another very important element was that they were friends off the air as well. Since they were buddies, the show never sounded forced or artificial.
"Crazy Al was a master salesman, and he dealt with getting sponsors and advertising for the show. He had a passion for selling, advertising, and marketing," Larry Matthews recalled. "I worked on getting celebrities on the program."
Crazy Al's Radio Party featured an all-star lineup of guests over the years including Jack Scott, The Lettermen, Mary Wilson of The Supremes, Davy Jones of The Monkees, and Little Peggy March, who posed for a great "Malt Shop Memory" photo with Crazy Al. They also did interviews over the phone with such artists as Rob Grills from the Grassroots, Gary Puckett from the Union Gap, and Cub Koda from Brownsville Station. Along with the interviews, the show would also take pains to promote any recent recordings by their guests.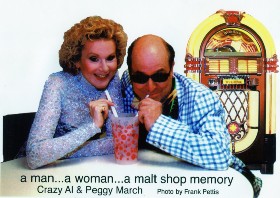 Little Peggy March
One of the show's most popular guests was Peter Noone of Herman's Hermits fame. The teen pop group from Manchester, England, charted 11 Top Ten singles in the U.S.A. between 1965 and 1967. Noone was appearing at Casino Windsor when he visited the program, and the small WPON studio was packed to capacity with fans. Since the show was broadcast over the Internet, it generated calls from New Jersey, Florida, Nevada, and even from Noone's hometown of Manchester.
The pair also donated their time to a number of worthy community projects, including an appearance on May 31, 2001, at the Rock 'n' Reading Readers and Leaders program at Longfellow Elementary School in Pontiac. "Who walks in the classroom cool and slow? Who calls the English teacher Daddy-O? - The Coasters' song perfectly described Crazy Al at Longfellow Elementary! The visit was covered in the Oakland Press with a gag photo of Larry Matthews trying to get a reluctant Crazy Al to read.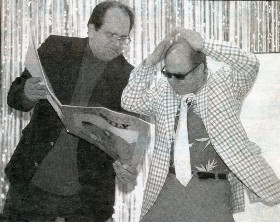 Matthews and Crazy Al at the Rock 'n' Reading program
Back in his younger days, Allyn Schmitz was one of the multitude of teens who cruised Woodward Avenue in the early 1960s. He and WPON were big supporters of the Annual Woodward Dream Cruise that celebrated those heady days. As his Crazy Al character, he was profiled in the Oakland Press, and he gave its readers the lowdown on what it was like back in the day when he was rockin' and rollin' up Woodward in his '55 Chevy 285 with a three-speed on the floor.
"You had to look bad, which was good," Crazy Al remembered. "You never drove a convertible," he explained, "because it didn't provide cover for back-seat activities and, besides, you didn't want the wind to muss your hair. You had to have records that made you look good as you were going down the road," Crazy Al said. "You had to have a special look and special music to match that look."
"The songs were essential. There were certain records and types of songs for certain occasions. For example: If you wanted to be really cool, you needed to hear "She's About A Mover' by the Sir Douglas Quintet. And to reinforce the image of a bad boy to impress the chicks, you blasted "He's A Rebel" by The Crystals when that was on the radio," he said.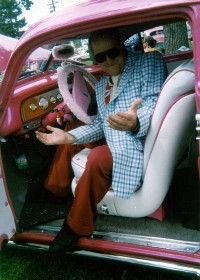 Crazy Al at the Woodward Dream Cruise
"There was a psychology to dream cruising. While some guys did race down Woodward, that wasn't why you cruised. You would drive with your elbow out the window, constantly scoping for chicks," Crazy Al recalled. "That was the reason for cruising."
"You had to look bad but not so bad that the girls wouldn't take you home," Crazy Al recalled. "You had to just look like some kind of rebel."
"When you spotted a target car of girls, usually the seating arrangement was three girls in the front seat. You could forget the two on the ends. The girl riding shotgun was the driver's best friend, so they wouldn't separate. And the driver wouldn't leave her dad's car to go with some guy. So that left the girl in the middle. "You just had to hope she didn't have a mustache," he laughed.
"Once on board your car, you hopped in the back and let your friend drive. The perfect song for that occasion was "I Only Have Eyes For You" by The Flamingos or "Dream Girl" by Norman Fox and the Rob-Roys. Both are melodious, slow and dreamy – real mood setters," Crazy Al revealed.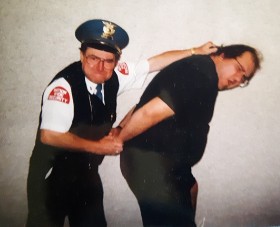 Matthews' favorite gag photo with Crazy Al
All things must pass, however, and after hundreds of memorable shows, Crazy Al and Larry Matthews left WPON in 2004, shortly before the station was sold. The Friday, May 21, 2004, edition of the Oakland Press made it official when it printed: "Those of you who want to say goodbye to Crazy Al and his longtime on-air partner Larry Matthews, can join them at a special going-away party 5:00 p.m. Monday, May 24th in the WPON radio station parking lot at 222 Franklin Road in Bloomfield Township. The show will continue in the Bank One Building in downtown Pontiac, and available on a computer anywhere in the world."
The internet radio station was owned by Industrial Info Resources which at that time was located in Houston, Texas. The Crazy Al Radio Party then branched out from the Internet to different radio stations including WLNG in New York, KMTH in Houston and another station in Pittsburgh.
Next, he opened Industry Visions and changed his name to Allyn Mark. He still used the Crazy Al character on the radio, but now there was also Allyn Mark the well-dressed, professional businessman who met with sponsors and industrial leaders. That part of the program offered "daily radio spot advertising on the nation's top entertainment and information broadcasting station - the WVSN Industry Visions National Radio Talk Show."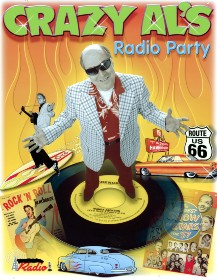 Legendary radio show
WVSN Radio's slogan was "Keeping our industrial news current and up-to-the-minute accurate, we operate a 24/7 live radio station." Along with the usual helping of rare oldies and comedy routines, the program also attracted potential customers with its advertisements that offered opportunites for a client to become a guest on one of the top ten classic rock and roll shows broadcasting from iTunes. Their two-hour appearance would enable them to promote their company to listeners around the world.
Sadly, the partnership of Crazy Al and Larry Matthews ended in 2011. "The reason was that the approach had run its course," Matthews said. "We did some guest appearances on David Washington's show on WPON, but the audience for songs from the 50s had also dwindled by that time," he said.
According to Connie Schmitz, Al had always wanted to be in a movie. In 2017, he got his chance in The Domestics, a post-apocalyptic horror film, written and directed by Mike P. Nelson who had grown up in Minnesota. Nelson and his father used to listen to Al's radio show in Minnesota, and when he made the movie, he said that Al's voice had to be on it. His part in the film involved using some language that he wasn't comfortable with, but the film, which starred Kate Bosworth, received favorable reviews when it was released in 2018.
Connie and Al celebr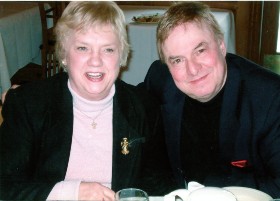 Connie and Al celebrating their 50thated their 50th wedding anniversary in December of 2019. No one could have imagined at the time that he would be gone a month later.
"Al had been ill for three weeks, and he thought it was the flu," Connie said. "When it didn't get any better, he decided to go to the hospital because it was bothering his larynx, and he didn't want to lose his voice. The night before he was scheduled to go to the hospital, he felt worse and decided to go right away," she recalled.
Connie dropped him off and went to park the car. When she walked in, they had all kinds of people in his room, and he died on his way to get further testing done. They had only been in the hospital for 45 minutes before he passed on January 23, 2020. Al's cause of death was cardiac dysrhythmia due to acute coronary syndrome and arteriosclerotic coronary heart disease.
"He had four stints put in five years ago, but it didn't have anything to do with the condition that caused his death," Connie said. "Al loved people. He didn't care who you were or what you were; he just loved being around people and hearing their stories. He was definitely in the right career."
Like everyone in the Schmitz family, Crazy Al's passing took Larry Matthews completely by surprise. He was the best man at Larry's wedding, which was held at Al and Connie's home. Matthews gave his old friend a send-off during the visitation at the funeral home in Lapeer by sharing a few stories of their time together. He also did a reading at the church service.
Larry Matthews said that even when they stopped working together, they always stayed in contact by phone. "He was a very Christian man, and he was passionate about everything he did," Matthews said. "Al was also a very generous man and he always had time for people. I think of him every day."
Allyn "Crazy Al" Schmitz was inducted in to Michigan Rock and Roll Legends Hall of Fame in 2020.
MRRL Hall of Fame: https://www.michiganrockandrolllegends.com/mrrl-hall-of-fame
Many people might not know that the person behind that zany Crazy Al image was a true romantic, someone who loved the poetry of rock and roll; and these lyrics, written by Smokey Robinson, were among his favorites.
I will build you a castle with a tower so high it reaches the moon
I'll gather melodies from birdies that fly and compose you a tune
I'll give you lovin' warm as mama's oven and if that won't do
Then I'll try something new...