MRRL Hall of Fame
ANITA BAKER
Details

Category: Inductees
Created: Wednesday, 26 June 2013 07:22
Written by Gary Johnson
Detroit's Anita Baker emerged in the 1980's as one of the leading artists in the 'quiet storm' genre, distinguished by understated dynamics and relaxed tempos and rhythms. As one of its most prominent female artists of the past three decades, her recordings have encompassed slow-groove contemporary R&B, soul, and smooth jazz while earning her a total of eight Grammy Awards, along with four platinum albums and two gold albums.
Anita Denise Baker was born on January 26, 1958, in Toledo, Ohio. At the age of two, she abandoned by her mother and was placed in the care of her maternal grandparents in Detroit, Michigan. She never knew her father and only saw her mother sporadically while living in the Motor City. Baker grew up in Detroit at the same time that Motown emerged as the leading black-owned record company in the world and the airwaves were filled with the latest hits of an impressive roster of female artists including The Supremes, Mary Wells, Martha & The Vandellas, The Marvelettes, and Brenda Holloway.
Like most of Motown's stars, Baker's earliest musical experience was singing in church as part of a gospel choir at her Baptist church. The gospel music she heard and performed, at the age of twelve, was not only a source of great enjoyment but also an important influence on her singing career. After her grandparents passed away when she was thirteen, Baker was cared for by the members of her Baptist congregation.
As she grew into her teenage years, Baker was exposed to a diverse range of music including jazz stylists like Ella Fitzgerald, Nancy Wilson, Sarah Vaughn, and Diana Ross' recordings of Billie Holiday songs from the motion picture Lady Sings The Blues.
By the age of sixteen, Baker began singing with some local R&B groups, and in 1976 was discovered by Detroit bandleader David Washington who invited her to audition for Chapter 8, one of the city's most popular funk bands. Following an audition that included her stellar readings of the gospel classic "His Eye Is On The Sparrow" and the Rufus funk hit, "Smokin' Room", Baker joined the band.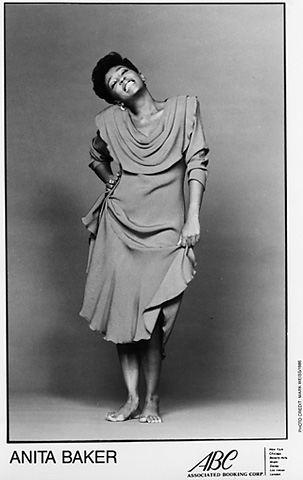 Early promo photo
After touring relentlessly for three years, Chapter 8 secured a national recording deal with the Ariola label in 1979. The group recorded its self-titled debut, "Chapter 8" in 1979. Although the album was only a modest hit, peaking at # 132, three singles were released from the LP. "Ready For Your Love" (# 38), "I Just Want To Be Your Girl" (# 81), and "Don't You Like It" (# 55) were all minor hits on Billboard's R&B Singles chart.
Unfortunately for Chapter 8, Ariola was bought out by Arista Records late in 1979. The Arista staff took over the label's roster and, despite their chart successes, decided to drop Chapter 8 in 1980; somehow convinced that the group's lead singer (Baker) lacked "star potential".
Discouraged and humiliated, Baker returned to Detroit in 1980 where she worked as a waitress before finding an administrative job at a Detroit law firm. Two years later she was contacted by Otis Smith, a former associate at Ariola, who offered her a shot a solo career on his Beverly Glen label in Los Angeles, California. After some persuasion by Smith, Baker signed with the label in 1983 and recorded her first solo album, "The Songstress", that same year. The album reached # 12 on the R&B chart and even managed to crossover to # 139 on Billboard's Pop Album chart.
The first single, "No More Tears", a big ballad that showcased Baker's beautiful, deep vocal, was a minor R&B hit at # 49; but the next single, the jazzy and mellow "Angel" became her first big smash on black radio, reaching # 5, and created a great deal of buzz for the then unknown singer and her new record label. As a result, Beverly Glen released two more charting singles from "The Songstrees", "You're The Best Thing Yet" and "Feel The Need".
Despite this early success, there were problems. Baker complained that she hadn't received any royalties from either the album or the singles. In addition, Beverly Glen delayed work on what was to be her follow-up album, resulting in Baker's desire to leave the label. Otis Smith sued Baker in 1985 for breach of contract; but after the case went to court, Baker won the decision allowing her to record for other labels.
She eventually signed with Elektra Records, part of the massive Warner Music Group, and began work on her second album. Her Elektra contract allowed her creative control, enabling Baker to produce her own music, something that she could not do with Beverly Glen. Baker chose her old Chapter 8 band mate Michael J. Powell to produce her first Elektra album, even though label executives were less than pleased with her choice of Powell over more established producers.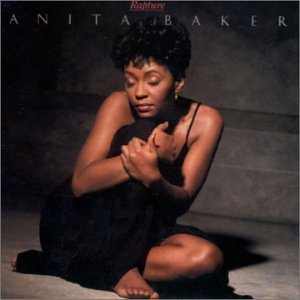 "Rapture" LP
"Rapture" was released in March 1986. The first single, "Watch Your Step" was an minor R&B hit at # 23, but things really took off with the album's second, "Sweet Love". It became her first Pop hit, peaking at # 8 on Billboard's Hot 100, as well as charting overseas in England, Ireland, The Netherlands, Canada, and Australia. The album also launched three more hit singles: "Caught Up In The Rapture", "No One In The World", and "Same Ole Love (365 Days A Year)".
Scenes for the video that Anita Baker filmed in 1987 for "Same Ole Love" was shot at various locations in Detroit including Baker's Keyboard Lounge (no relation) on Livernois Street in Detroit. The venue began featuring music in 1934, making it the world's oldest operating jazz club. Over the years, Baker's Keyboard Lounge has hosted a 'Who's Who' of prominent jazz artists including Louis Armstrong, Miles Davis, Ella Fitzgerald, Dave Brubeck, Cab Calloway, and Sarah Vaughn. The 2002 documentary film Standing In The Shadows Of Motown featured a performance by the Funk Brothers at Baker's. In 1986, the club was designated as a Historic Site by the Michigan State Historic Preservation Office.
Throughout 1986 and 1987, Anita Baker promoted the "Rapture" album with her first solo tour, A Night Of Rapture. The tour, in turn, produced the VHS (and later DVD) concert film also titled A Night Of Rapture. By 1988, the album had sold over eight million copies worldwide, with five million of those sold in the U.S.
She won her first two Grammy Awards in 1987. The "Rapture" album earned her Best R&B Female Vocal Performance, and "Sweet Love" won as Best Rhythm & Blues Song. Baker followed those up in 1988 by going back to her roots and winning a Grammy in the Best Gospel Performance by a Duo, Group, Choir or Chorus category for her collaboration with The Winans on their song, "Ain't No Need To Worry".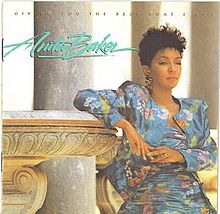 # 1 Album
Baker's Elektra follow-up LP, "Giving You The Best That I Got", was released in October of 1988 and was another major success, reaching the coveted # 1 spot on both the Billboard Pop and R&B charts. The album also produced two # 1 R&B singles, the title track and "Just Because". Both singles also crossed over to become Top 20 hits on the Billboard Hot 100, while a third single, "Lead Me Into Love", became a Top 10 R&B hit.
The album resulted in three more Grammy Awards for Baker. She won Best Female R&B Vocal Performance for the "Giving You The Best That I Got" album and the title track won Best Rhythm & Blues Song at the 1989 ceremony. She won another Best Female R&B Vocal Performance for "Just Because" at the 1990 Grammy Awards.
Baker met Walter Bridgforth Jr., an IBM marketing executive and real estate developer, at a Detroit nightclub during her Rapture tour. The pair married in late 1988 and moved into an elegant 15-room in exclusive Grosse Pointe, Michigan. Reportedly, Baker had a special fondness for Grosse Pointe because as a young girl, her grandparents would take her on drives looking at all the beautiful homes, never dreaming that she would eventually own one of them.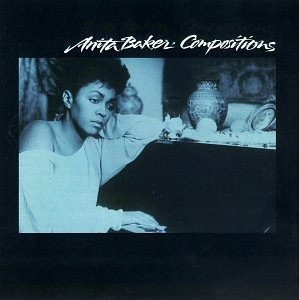 "Compositions" LP
In 1990, Baker released her third Elektra album, "Compositions". She was much more involved in the songwriting and production and began incorporating more jazz elements than were found on any of her previous releases. That may have been why "Compositions" was somewhat of a sales disappointment when compared to the incredible success of her first two albums for the label. "Talk To Me", "Soul Inspiration", and "Fairy Tales" were released as singles and all three songs charted in Billboard's R&B Top 20, but none of the songs were big crossover hits on the Hot 100.
Baker suffered a miscarriage in 1990. She was shattered by the loss of what would have been her first child, but her grueling touring schedule gave her little time to recover. After arriving in Chicago for a concert to promote "Compositions", Baker broke down crying at the hotel. At her husband's urging, she cancelled the rest of the tour and returned home to recuperate and to take a well-deserved break from the business. At the 1991 Grammy Awards, Anita Baker won Best Female R&B Vocal Performance for the "Compositions" album.
After several months Baker became pregnant again, only to lose the baby in a devastating second-trimester miscarriage. Doctors had to induce labor, and she later told People magazine, "I had to deliver what I knew was going to be a stillborn baby in the hospital ward with women who were delivering healthy babies. People don't understand how painful miscarriage can be."
After a home pregnancy test read positive in the summer of 1992, Baker and Bridgforth consulted a specialist in problem pregnancies who performed a cerclage, a procedure that secures the fetus by stitching the cervix. Their first son, Walter, was born in January 1993. Just seven months later, Baker discovered she was pregnant again. Thanks to a second cerclage procedure, the couple's second son, Edward was born in 1994.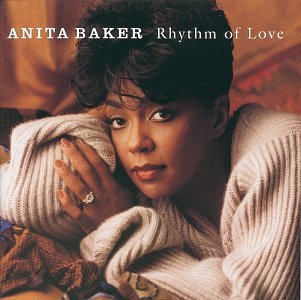 "Rhythm In Love" LP
Baker finished recording her "Rhythm Of Love" album while she was pregnant with her second child. Released in 1994, it became her third # 1 Billboard R&B album and peaked at # 3 on the Billboard Pop chart. The singles, "Body And Soul" and "I Apologize", were Top 10 R&B hits. Baker was shut out at the 1995 Grammys, but she won her eighth Grammy at the 1996 awards show for Best Female R&B Vocal Performance for "I Apologize".
The "Rhythm Of Love" album eventually sold over two million copies, and Baker toured tirelessly for 11 months behind the album. She was unhappy, however, with Elektra's promotion of "Rhythm Of Love" and sought to be transferred to another label associated with the Warner Music Group after the tour was completed. This led to her eventual signing with Atlantic Records in 1996.
Rather than jumping back into recording, Baker took a long hiatus to take care of her two sons and did not return to the studio until 2000. Unfortunately, the recordings that Baker made during this period at her studio were ruined by random popping noises from the rented 24-track machine from the Dreamline division of Zomba Recording Corporation, resulting in Baker filing a lawsuit in federal court against the company in 2001.
Due to label restructuring, Baker was let go from Atlantic in 2001 without releasing any material for the label. In 2002, Rhino Records released "The Best Of Anita Baker" but it was only a minor hit compared to her previous smashes, peaking at # 29 on the Billboard R&B chart and selling 500,000 copies.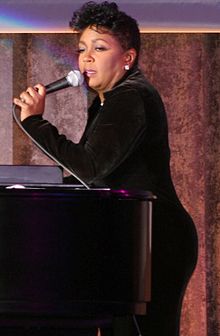 Anita performing
Baker returned to live performances and in 2004 signed with Blue Note Records. Her initial release for the label, "My Everything", was her first collection of new material in ten years. Despite the decade-long period, "My Everything" became her 4th # 1 R&B album and was also a solid hit on the Billboard Pop chart, peaking at # 3.
Sadly, Baker and her husband separated during this time, which led to a messy divorce that dragged on for several years in a dispute over how much in royalties her ex-husband was to receive for his contributions to the recordings that were made during their marriage.
In late 2005, Baker released a holiday album, "Christmas Fantasy" and won a Grammy nomination the following year for the song, "Christmas Time Is Here". Starting in 2007, she embarked on a successful two-year concert tour titled An Evening with Anita Baker.
After a long absence, Baker released a cover of the Tyrese hit, "Lately" in August 2012. The song made headlines when it was played on every single hour of the hour throughout the day on urban contemporary radio, making her the first artist to make this kind of a single debut and demonstrating once again her enduring popularity with the listening public. The single was to be part of a Blue Note album called "Only Forever", but the release date has been pushed back throughout 2012 and 2013, reportedly because as Baker felt she needed more time to work on the album.
Anita Baker was voted into the Michigan Rock and Roll Legends online Hall of Fame in June, 2013.
MRRL Hall of Fame: https://www.michiganrockandrolllegends.com/mrrl-hall-of-fame
Video: Watch Anita Baker's official video for "Same Ole Love' that features scenes shot in various locations in Detroit including Baker's Keyboard Lounge and Tiger Stadium. https://www.youtube.com/watch?v=e1aSkJ7HNxA

Dr. J. Recommends: All of Anita Baker's albums are worthwhile, but it's pretty hard to beat her breakout release, "Rapture". It earned Baker her first two Grammys, one for the album and the other for "Sweet Love" one of five songs from "Rapture" that were released as singles.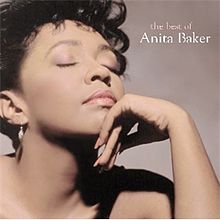 "The Best of Anita Baker"
Rhino Records always does a nice job on compilations albums because they gather material from different labels for their releases. "The Best Of Anita Baker" is a great collection of 18 songs that covers the years 1983 to 2002.