MRRL Hall of Fame
BAND X
Details

Category: Inductees
Created: Sunday, 24 June 2012 12:58
Written by J McCallum
The band came together in Manistee, Michigan, during the 1960's. Manistee is located on the west side of the state at the mouth of the Manistee River on Lake Michigan. Its name was taken from an Ojibwa Indian word meaning "principal river". Despite being situated midway between Grand Rapids and Traverse City, Manistee has always been considered part of Northern Michigan, a fact that would play a role in the history of Band X.
In the latter part of the 19th century, Manistee was the home of a booming logging industry, and during that time, the city had more per capita millionaires than anywhere else in the United States. By the 1960's, however, the millionaires had gone and the logging industry had long been replaced by the factories of Michigan Iron Works, Morton Salt, and Martin Marietta as the principal employers in the city of roughly 10,000 residents.
Jay Fortier developed an interest in music early on, and was exposed to a variety of musical genres as he was growing up in Manistee. Both of his parents played instruments. His mother played both the piano and the guitar, and she loved country music, especially Hank Williams Sr. and Ernest Tubb. Jay's first attempts to play music were his plunking on the keys of the family piano. His dad, whose musical idol was Harry James, was skilled enough on the trumpet to have played in a big band. In addition, Fortier's older brother and sister collected rock and roll records, thereby insuring that there was always a lot of music in the house.
Fortier was exposed to the sounds of live rock and roll as well through a neighbor who played in an early Manistee band called The D-Notes. The D-Notes undoubtedly planted some seeds in Fortier's mind with their flashy stage uniforms, a record on the radio, and a Chicago connection.
Fortier's first experience of playing in front of an audience, however, was as part of a folk music trio called The Coachmen. Fortier had become interested in the tenor banjo in grade school, as folk music was big all over the country during the early 1960's. It was at a talent show in the eighth grade playing with The Coachmen where he met and became friends with another contestant named Ed Gilbert, an event that would turn out to be his first step toward forming a rock and roll band.
Gilbert's father was a guitar picker and country singer, and Ed and Jay would often hang out and watch him play at informal jam sessions at his home. This led to Ed picking up the bass and Jay switching from banjo to playing his mother's acoustic guitar.
It wasn't long before Fortier used the money he earned from a paper route and mowing lawns to put a down payment on a Gibson Melody Maker electric guitar with a Rickenbacker amp. Gilbert lined up a Fender Precision bass soon after, and suggested they form a band. They called themselves The Ramrods, after the rocking 1958 instrumental hit by Duane Eddy.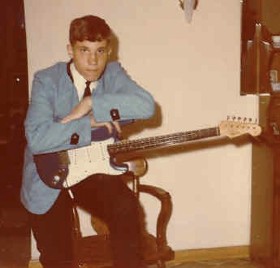 Jay Fortier 1965
After trying out a drummer that didn't work out, the pair offered the job to Bob Doleys who attended Manistee High School with Gilbert. Doleys had learned to play drums in school, but the only drawback was that he didn't own a drum set. He solved the problem by "borrowing" two parade snares from the high school band room, along with one cymbal that he hung from a garage rafter by a rope with a knot in the end. Doleys had to stand while he played, but the young group was now ready to rock.
Doleys' father soon chipped in to help him buy a pearl grey Ludwig drum set (just like Ringo Starr's), but they were having trouble finding a fourth member. That problem was soon solved by the arrival of Dan Hansen to Manistee from his former home in Muskegon. Hansen came from a family of guitar players and singers and he quickly impressed Gilbert, Fortier, and Doleys with his knowledge of chords and his budding ability as a lead guitarist.
With Hansen on board, they decided to change the band name to The Magnatones, and embarked on a steady stream of rehearsals in Bob Doleys' basement. This led to a few gigs at high school functions; and soon everyone in the band could feel that something was growing. The Magnatones were strictly an instrumental group at this point, playing the hits of Link Wray, Duane Eddy, and The Ventures, along with instrumental covers of the Top 40 hits of the day.
In 1965, Fortier bought a '62 Fender Stratocaster and Hansen purchased a new Fender Mustang. These purchases, along with Gilbert's Fender bass, gave the band an all-Fender line-up. They decided to highlight this fact by renaming themselves The Fendermen, despite the fact that there already was a group from Wisconsin called The Fendermen who had # 5 hit on the Billboard Hot 100 in 1960 with "Mule Skinner Blues".
In a recent interview, Fortier explained that they knew about the other Fendermen, but they felt that they were just a local group from a small town, and that no one would ever confuse them with the nationally-known band. The local Fendermen then proceeded to obtain their first stage lights by stealing the colored floodlights from the exit of the local Chippewa Drive-In Theater in Manistee.
Jay Fortier had been taking banjo instruction at a Manistee music store when he first met Jim Toczynski. At the time, Toczynski was taking accordion lessons. Both would go on to attend Manistee Catholic Central High School and were in the same class. Toczynski was interested in getting a keyboard and joining a rock and roll band; and he was invited into The Fendermen, adding new textures to the band's sound and making them a quintet.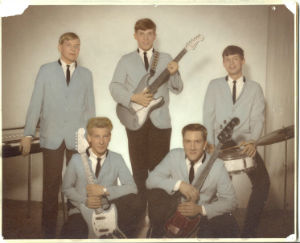 The Fendermen ( Top row) Jim Toczynski, Jay Fortier, Bob Doleys (Bottom row) Dan Hansen, Don Pelarski
After Ed Gilbert was forced to leave the band because of pressing personal, financial, and family issues, the remaining band members found themselves in a bind. Fortier borrowed a bass from his cousin and switched instruments, leaving Hansen to solo on guitar. Shortly thereafter, they added Don Pelarski, a bass player quite a bit older than the rest of the band, and Fortier returned to guitar.
The arrival of The Beatles and the other British Invasion bands had put a dagger in the heart of instrumental rock and roll groups, and the Fendermen started to add vocals to their sound with Hansen and Fortier doing most of the singing on covers of hit tunes of The Beatles, Beach Boys, Paul Revere and The Raiders, Herman's Hermits, and the other popular artists of the day.
Al Swanson was born in Bear Lake, a tiny village of several hundred people located about 16 miles north of Manistee on Highway 31. Swanson attended the Bear Lake High School and was one of just sixteen students in his graduating class. Al's family was into big bands, but he loved rock and roll. He started playing piano in the 8th grade. Swanson hated the lessons but did learn how to play by ear. His dream, however, was to play the guitar.
He soon formed his first band, a one drum - two guitar trio called The Cavaliers, and they started out playing at school during noon hours. By 1965, the band had evolved into The Daydreams and were getting gigs in and around the Bear Lake area. At one such weekend engagement at the Big Apple Bar in Arcadia, Michigan, two members of the band could not make the gig. Dan Hansen and Bob Doleys were recruited to fill the void since thet were not playing that weekend. Swanson and Hansen hit it off immediately, and Al was soon friends with everyone else in The Fendermen.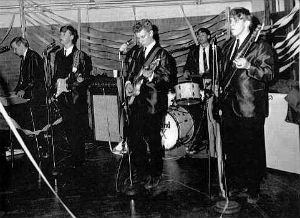 Band X (L to R) Jim Toczynski, Al Swanson, Dan Hansen, Bob Doleys, Jay Fortier
It wasn't long before Pelarski left, and Swanson officially joined The Fendermen as the rhythm guitarist, with Fortier moving back to bass. More importantly, as a third singer, Al played a vital role in the group's vocals. Dan Hansen had a knack for putting the voices in the band together to produce a tight harmonic sound that was quickly becoming one of the band's greatest strengths, and one that set them apart from their contemporaries.
The addition of Swanson precipitated yet another name change for the band. The new moniker of Band X came out of left field while Jay Fortier was in class at Manistee Catholic Central. It was common in television advertisements in the 1960's to have the featured product tested for quality against its so-called inferior competitors, usually labeled as "brand X". Fortier claims that he started to laugh out loud when the pun came into his head, and he immediately had to share his idea with Jim Toczynski who was seated nearby. When Toczynski also started to crack up, they knew they had a winner.
When Doleys and Fortier had first started to play out in their band, no one in the group had a driver's license. In those early days, Fortier's parents would most often drive them to gigs in the family van. Doleys remembers that the entire band was paid just $20 at their earliest gigs in Manistee. A year later, they moved up into the $80 to $100 range after they started playing the Manistee Recreation Association teen dances. The then 16-year-old boys also did some informal gigs at local Manistee bars on Sunday afternoons and would pass the hat. The pay wasn't great, but they were making more money than any of their friends and were experiencing the joy of playing music at the same time.
WMTE-AM in Manistee was very conservative musically; they didn't play rock and roll. Adults were their target audience and polka music was their specialty. As a result, most of the area teens tuned into WLS out of Chicago, Milwaukee's WOKY, and WOWO from Fort Wayne, Indiana, to hear the latest rock and roll hits. All of the members of what became Band X were heavily influenced by the AM radio hits of the day.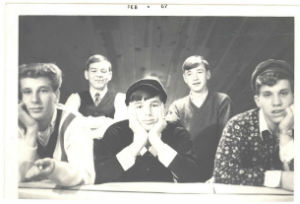 1967 (L to R) Hansen, Toczynski, Doleys, Swanson, Fortier
The mid-1960's was the era of teen dance clubs across the state, and they provided ample opportunities for young bands to play in front of audiences and gain exposure for between $100 and $125 per night. Band X played in a great number of these clubs, including The Platters in Cadillac, Paul's Place in Manistee, Club Ponytail in Harbor Springs, The Tanz Haus in Traverse City, The Teen Chalet in Gaylord, Daniel's Den in Saginaw, The Factory in Holland, The Place in Grand Rapids, and The Theater in Ludington. The band also played in a variety of dances and battles of the bands at roller rinks like Johnny's Bandstand in Custer, the Shelby Pavilion in Shelby, Roll-Air in Bay City, as well as rinks in Muskegon and Grand Haven.
The band would also set up their own gigs at the Manistee Armory if they had a free weekend. One of the guys (usually Bob Doleys) would rent the facility, buy a bunch of soft drinks, get friends and relatives to help out at the door and concession stand, and charge $.99 for admission to the dance.
Band X received a big blow in late 1967 when Doleys went into the Army several months after graduating from high school. Besides being the band's drummer from its earliest days, Doleys had also served as the de facto manager for Band X – making phone calls, printing business cards, and setting up the group's gigs. Joe King was selected as his replacement on drums.
Joe's father, Clarence King, was a successful businessman from Ludington, Michigan, about 30 miles south of Manistee, and he offered to help the band out as their manager in June of 1968. King may have been a frustrated entertainer in his own right, and had always been something of a stage dad to his son. Clarence King was not a musician but he knew how to run a business, and he knew how to promote a product.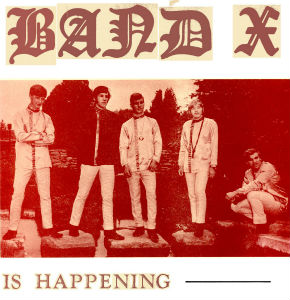 Band X promo poster
During his time as manager of Band X, Clarence King excelled in several areas. He did an outstanding job of promoting the band by printing a large amount of posters, flyers, and group photos to hand out to radio stations and fans. The variety of these types of promo items that King was cranking out far exceeded that of most teen bands in Michigan.
King organized the band's finances to the extent that group members were paid by check, signed by his wife Donna, every two weeks. He would even hire the band members to clean his factory in Ludington if gigs were slow and not much money was coming in. Best of all, he did not take a percentage of the band's profits since his son was a member, only charging them for the expenses he incurred.
Under King's guidance, Band X went from a West Michigan band to a regional act playing in a five state area; enabling them to earn more money and make some valuable connections in the music business. Band X was soon opening for acts with national hit singles such as the Shadows Of Knight, the Blues Magoos, and the Box Tops.
One of the more memorable of these dates involved a gig at the Armory in Lapeer, Michigan, with Domingo "Sam" Samudio the turban-wearing lead singer of Sam the Sham & The Pharaohs, famous for the 1965 hit, "Wooly Bully". By the summer of 1968, however, the hits had stopped coming and the group had disbanded. Clarence King had arranged the gig for Band X not knowing, or more likely not explaining, that Sam no longer had a band and was coming to Lapeer with just a guitar player. King simply told the band that they were going to play with Sam the Sham & The Pharaohs; and Band X assumed they would be the opening act. They arrived in in Lapeer in the afternoon, set up their equipment, and did a sound check before the show.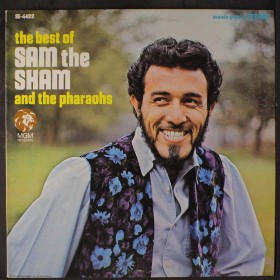 Domingo "Sam the Sham" Samudio
As they were about to leave to get something to eat, Sam the Sham strolled in wearing his turban, and asked Band X if they were "his band" for the show. He went on to say that he had been told there would be a backup band provided for him. Sensing trouble, Jay Fortier put in a call to Clarence King who said; "I told you that you were going to play with him". Fortier and the rest of the band did not interpret this as meaning they were going to play with him as his backup; but since there was no other band lined up, the job fell to them.
The members of Band X had to stay and rehearse with him, and never did get to eat, as they had to then change and open the show. They rocked the audience during their set, but had developed a bit of an attitude toward Sam the Sham, who was not happy with them and had apparently acted like a jerk during the rehearsal. As payback, the members of Band X mimicked his quirky stage moves during the show, and were laughing and goofing off during his performance, demonstrating that even in the 60's rock and roll could get a little ugly.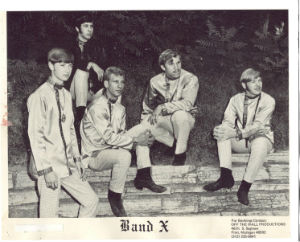 Band X 1968
To make matters worse, all of Band X's guitars were accidentally left at the Armory after the show. The missing instruments weren't noticed until they were setting up the next gig in Lansing. The band was forced to rent equipment that night, and then drive back to Lapeer the next day. Luckily, the guitars were still there when they arrived.
King more than made up for the above miscommunication by setting up a recording session for the band's first single. This took place at the Midwestern Sound studio in Grand Rapids, run by Phil Roberts, guitarist for the Kingtones. It required two sessions to complete both sides of the single. The A-side, "How Good The Rain", was written by Roger Harcourt, a longtime friend of the band. It was a very catchy slice of radio-friendly pop/rock that sounded like it could have been released by the Cryan' Shames, a popular Chicago band that had placed several singles in the Billboard Hot 100. The flipside, "Come Back To Me", was an original song written by Dan Hansen.
Clarence King then completely surprised the band by releasing it independently on the S.M.F. label. King, who had slightly warped sense of humor, named his record label after Band X's three-word curse, "shit, man, f**k". So as not to offend anyone, they usually uttered the acronym for the expletive, "s.m.f", instead. Its meaning was kept a band secret; but it was said so often that it became a catch-phrase within the group. King thought it would be funny (sort of a band in-joke) to use the acronym as the name for his label, and he had the 45s pressed at American Record Pressing in Owosso, Michigan.
Unfortunately, King then displayed his inexperience in the music world by failing to register the songs with either B.M.I or A.S.C.A.P., the two large companies that handle all the public performance rights for material that is broadcast on radio stations. King's blunder resulted in some radio stations refusing to air "How Good The Rain".
Despite this handicap, the single still got quite a bit of airplay in Michigan. King had made numerous contacts in radio through his Grand Rapids booking agent and was skilled at schmoozing DJs and providing them with lots of Band X promotional materials. "How Good The Rain" was the # 1 single for one week on station WTPS-AM in Portage, Michigan, ahead of "Hey Jude" by The Beatles. King also used the single to get the band booked on the Upbeat television show in Cleveland where they appeared with Lou Christie and Steam.
The regional success of "How Good The Rain" attracted interest from some bigger labels including U.S.A. Records out of Chicago, and Bell Records from New York, but for some unexplained reason their manager passed on whatever offers were made. Furthermore, King did not tell the band that larger labels were interested in signing them and leasing their single for possible national distribution. The members of Band X did not find out about their manager's betrayal until several years after their association with Clarence King had ended, but the bitterness over what might have been still lingers.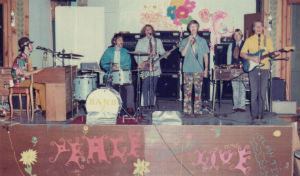 (L to R) Eric Struble, Joe King, Jay Fortier, Al Swanson, Jim Toczynski, Dan Hansen
Shortly after the release of "How Good The Rain", Band X added a sixth member. Edgar Struble was from Scottville, Michigan, located about 20 miles south of Manistee, and 7 miles east of Ludington. Struble was a keyboard prodigy and songwriter, a few years younger than the rest of the band. He had first met Band X when they played a gig in his hometown. Jay Fortier remembers that it was Clarence King's idea to make Struble part of the band. At 15 years of age, he already owned a Hammond L-100 organ and had a van to haul it in, even though he wasn't old enough to drive it.
Struble's arrival prompted an instrumental shift in Band X. Jim Toczynski switched from a Farfisa combo organ to a Wurlitzer electric piano, and the band set up the two keyboards on opposite ends of the stage just like England's Procol Harum. The band was also continuing to grow musically, using Don Hansen's coronet, Struble's trombone, and Toczynski's alto sax to form a horn section.
They would often be joined by their two roadies/helpers, Dave Bryan and Steve Winfield who both played trombone, for covers of tunes like the Beatles' "Got To Get You Into My Life", and a show-stopping Buckinghams' medley of "Kind Of A Drag", "Don't You Care", "Susan", "Hey Baby", and "Mercy, Mercy, Mercy". The band also did Beatles' medleys from both the "White Album" and "Abbey Road", along with tunes from Chicago, Blood, Sweat & Tears, and a popular grouping of rock and roll oldies that predated "Good Old Rock 'N Roll" by Cat Mother and the All Night News Boys.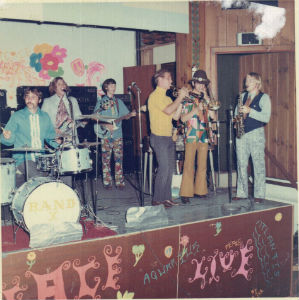 1969 (L to R) King, Fortier, Swanson, Hansen, Struble, Toczynski
Band X continued to record at Midwestern Sound during this period. Phil Roberts would sometimes open his studio late at night after a gig, and the band would work on songs for a future album release. Roberts made tapes of the music they produced, and over a period of several months they recorded what amounted to ten tracks. One of these, Edgar Struble's "Worthy of the Sun", was earmarked for the band's second single.
A band crisis occurred when Dan Hansen unexpectedly left the group in early 1969 to go to Las Vegas with a friend. Band X had gigs scheduled, and ran ads in several large newspapers looking for a replacement on guitar. Wayne Waddell (a.k.a. Tex Gabriel) answered the ad and passed the audition. He only played with Band X for a few months until Hansen returned. Tex Gabriel then moved to New York City and joined Elephant's Memory, the band that backed John Lennon on several recordings and performances in the early 70's. Sadly, Gabriel passed away in 2010.
Edgar Struble left the band in the summer of 1969 for a full-time solo gig at a piano bar/lounge where he could earn more money for college than he could in Band X. Struble was replaced by Rod DeWitt from Reed City, but the second single and the proposed album never saw the light of day. The end of the decade witnessed the slow death of the teen dance clubs across the state. With its members now attending college at Ferris State and Michigan State, Band X moved into playing more college gigs and hooked up with a new booking agency in Fort Wayne, Indiana.
In January 1970, Clarence King pulled the rug out from under Band X. He decided to form and manage an off-shoot band called Joyspring with Edgar Struble and Ron Johnson, a talented sax player and friend of Struble's from Ludington. The rest of the group (Joe King and Dan Hansen) would be taken from Band X. Besides quitting as their manager, King claimed that he owned the P.A. system, which the remaining members of Band X now had to buy back from him if they wanted to continue. Since King also owned the van the band used for transportation, Fortier was forced to finance a '68 Dodge van as a replacement vehicle.
With Rod DeWitt leaving to join the Merchant Marine, the three remaining original members (Fortier, Swanson, and Toczynski) soldiered on adding Bo Jessop on drums and later adding Al Blick and Jack Purkiss on guitars. With a draft notice hanging over Swanson's head, Band X lined up a gig for several weeks at Club 32 in Alpena, Michigan. Much to their surprise and delight, the club had also hired a professional dancer to perform alongside of the band. Movies and television shows like Hullabaloo had helped make "go-go dancers" fashionable accessories to live rock and roll, and it was fairly common to see them in bars and nightclubs during this time period, even in Alpena.
The go-go girl at Club 32 was a very attractive 20-year-old blonde named Misty Rowe. She was from Hollywood, and she was dancing to earn enough money to go to an acting school back in California. Misty was very unhappy with her agent because she was supposed to be dancing along with her girlfriend, also from Hollywood. Instead, the agent had pulled a fast one and assigned the girlfriend to dance in another establishment in Houghton Lake, nearly 120 miles away. All of the band members were smitten with Misty, especially Al Swanson, who became her friend and confidant for a time during that memorable summer.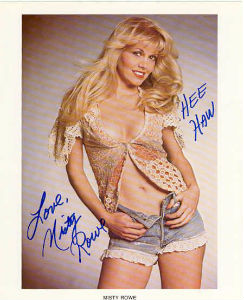 Misty Rowe
Misty had been dancing at the club for about a week, but was 2,000 miles from home stuck in Northern Michigan, and she missed her girlfriend. Fed up and lonely, she packed up and left for Houghton Lake with no intention of returning.
The manager of Club 32 was desperate to have Misty come back since both she and Band X were big draws for the club. Because Swanson was closest to her, he was dispatched to drive to Houghton Lake to bring her back. He convinced her to return, but Swanson soon left the club gig to report to Ft. Knox after being drafted into the Army.
Misty Rowe returned to Hollywood after her engagement at Club 32. She would go on to become a television star on Hee Haw, appear in a Playboy magazine pictorial, as well as become a successful actress in movies, garnering acclaim for her performance as Marilyn Monroe in the made-for-television drama Goodbye Norma Jean.
The Band X lineup continued to go through changes when Jack Purkiss was replaced by Dennis Burr. In 1971, Roger Harcourt, who wrote "How Good The Rain", returned from the Service. Fortier wanted him in the band and fired Burr to bring Harcourt in. Roger Harcourt had a lot of original songs, and it was his idea to change the name of the band to North Country, after the title of one of his compositions.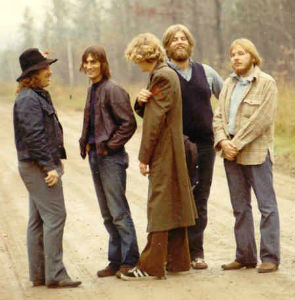 North Country 1971 (L to R) Jay Fortier, Bo Jessup, Al Blick, Roger Harcourt, Jim Toczynski
The original concept of the name change to North Country was to call attention to the region of Michigan that the band came from, rather than signal any new musical direction. In hindsight, it might have been a poor decision. Band X had built a solid reputation over a five-year period, and the name change likely caused confusion with fans, club owners, and booking agents alike by implying that they played country music.
Whatever the case, North Country carried on for a year; but the core of musicians who started the band was now down to two, and disagreements among current band members, along with the marital difficulties that were affecting both Fortier and Harcourt, brought the band to an end in 1972.
Following the break up, Roger Harcourt recorded two solo solo albums. The first of these, "And The Horse You Rode In On", contained the song "North Country", which featured musicians from Band X. In 1975, the former members of Band X put together a loose collection of musicians who played under the moniker of Wooden Nickel. They performed mostly cover tunes at wedding receptions, anniversaries, or other gigs that became available.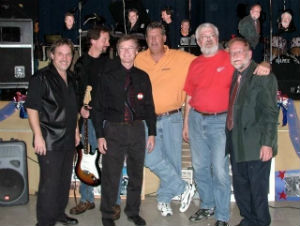 2004 Reunion (L to R) J. Fortier, Howard Wilson, A. Swason, B. Doleys, Larry Foster, J. Topczynski
Beginning in 1987, the five original members of Band X reunited several times for special occasions. Principal among these was playing the 20th, 25th, and 30th class reunions for both Manistee High schools. Dan Hansen's unexpected death in 2000 made the reunions a little tougher to do emotionally, but they've continued what is now a tradition by including Roger Harcourt and other surviving veterans and friends of the group.
Edgar Struble has enjoyed the most successful career in music of any member of Band X. After the failure of Joyspring, Struble became the music conductor, arranger and instrumentalist for Kenny Rogers from 1976 to 1991. He also worked with such luminaries as Dolly Parton, Ray Charles, and the Oak Ridge Boys. Struble has continued to be a much sought after music director for network television and movies.
Dennis Burr rebounded nicely from his abrupt dismissal from Band X. Burr went on to play guitar with The Doobie Brothers and Jeff Healey, and recently has been touring with Dick Wagner.
The orginal band members followed divergent paths after 1972. Al Swanson returned to Michigan following his hitch in the Army and enjoyed a successful career as an educator in the Kent City school system. Jim Toczynski graduated from M.S.U. and was employed as a computer programmer for the Michigan State Police. Bob Doleys didn't return to playing music when he came home from the Service, although he sat in on drums occasionally with Band X and Wooden Nickel. Bob worked as a shipping supervisor at a boat manufacturing plant first in Manistee and then in Indiana.
Joe King taught school in Ludington for a few years, and then moved to Florida where he now runs a diving business. Ed Gilbert lives in Cadillac, and is a non-denominational minister working in hospitals and the social/heath care system. Jay Fortier worked in the office furniture industry for many years while continuing to play music on a regular basis. He spent eight years with the Kingtones, and is currently involved with three different bands: Bo White and The Bluezers, ODR/Old Dudes Rock, and Extravagramza.
In 2012, Band X was voted into the Michigan Rock and Roll Legends online Hall of Fame.
MRRL Hall of Fame: https://www.michiganrockandrolllegends.com/mrrl-hall-of-fame
Video: Watch a slideshow video of the Band X regional hit "How Good The Rain"