MRRL Hall of Fame
BARBARA LEWIS
Details

Category: Inductees
Created: Tuesday, 23 February 2016 03:28
Written by Gary Johnson
She holds the distinction of being the first Michigan artist to record for Atlantic Records. During the 1960s, Barbara Lewis recorded three Top Ten R&B hits for the label, including a # 1 smash, "Hello Stranger". In addition, she placed ten sweet, soulful songs on Billboard's Hot 100 during the decade, ranking her second to only Aretha Franklin in terms of chart success for female solo artists from the state of Michigan.
Barbara Lewis was born on February 9, 1944, in the small town of South Lyon, Michigan. South Lyon in located 19 miles north of Ann Arbor and 45 miles west of Detroit. At the time of Barbara's birth, the city's population was just over 1,100.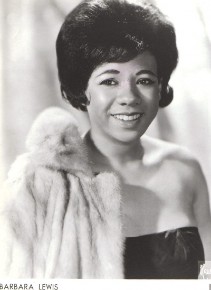 Barbara Lewis
She grew up in a family that was deeply involved in music. Each of her parents had an orchestra and there would often be family gatherings that would evolve into jam sessions at which young Barbara would get to sing. Her bandleader father played trumpet, her mother and an uncle played saxophones, and she had an aunt who was a music teacher. In addition, Barbara's cousin Sheldon Brooks had made a name for himself as a songwriter with tunes like "Some Of These Days (immortalized by Sophie Tucker) and "The Dark Town Strutters' Ball".
No doubt inspired by all the music around her, Barbara began playing piano, guitar, and harmonica and was writing songs at the age of nine. In an interview she gave in 1993, Barbara claimed that she had no career aspirations in music at that time. She was just having fun, performing in local talent shows and thinking about going into nursing as a profession.
That all changed after Barbara was discovered by Ollie McLaughlin. The former Ann Arbor disc jockey had promoted R&B shows during the 1950s that featured top vocal groups including the The Spaniels, The Dells, The Dominoes, The Clovers, and solo stars like James Brown, Little Willie John, Louis Jordan, and Ruth Brown. Barbara's father had met McLaughlin when he went to Ann Arbor to play with his band.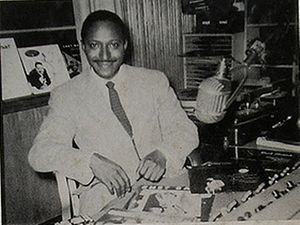 Ollie McLaughlin
Mclaughlin, who had recently discovered Del Shannon and had brought him to Harry Balk and Irv Micahnik in Detroit, was always on the lookout for songs and artists and found out about Barbara while talking with her father. After setting up an audition, at which Barbara sang a cappella, McLaughlin offered to manage and produce her. He was impressed with her unique vocal style and some of the songs she had written.
Her father didn't think it was a great idea, however, and Barbara didn't really take the offer seriously since she was getting ready to take her entrance exams to be a nurse. Nevertheless, her mother cast the deciding vote, no doubt impressed by McLaughlin's industry connections and the fact that he owned a trio of record labels (Carla, Karen, and Moira) named after his three daughters.
McLaughlin saw potential in the peppy, upbeat tune Barbara had written called "My Heart Went Do Dat Da", and he wanted to record it for his Karen label. Barbara claimed that she wrote the song on an upright piano while she was babysitting one night while still attending South Lyon high School.
Despite his ties to the Detroit area, McLaughlin booked a session on March 20, 1962, at the famous Chess Studios in Chicago. He even took Barbara there a day early so that she could get a feel for the room. Etta James was recording that day and Barbara felt intimidated after hearing the Chess label's greatest female singer. After a getting a great deal of encouragement that night from McLaughlin, Barbara returned to the studio the next day and recorded two of her own compositions, "The Longest Night Of The Year" and "My Heart Went Do Dat Da" with Mclaughlin producing and renowned arranger Riley Hampton directing the orchestra.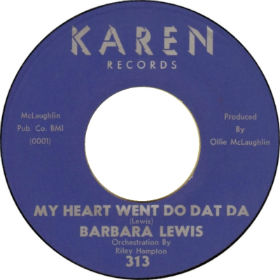 Barbara' debut 45
McLaughlin immediately brought the record to Detroit's top black DJ, 'Frantic' Ernie Durham, at R&B station WJLB. Durham liked the pop- sounding record but initially though that Barbara was a white vocalist.
In order to expose her to the record-buying public, McLaughlin drove Barbara to record hops around the Motor City to promote "My Heart Went Do Dat Da" with some other up-and-coming Detroit artists. These included The Spinners who were on Harvey Fuqua's Tri-Phi label and Marvin Gaye who had just released his first single, a cover of "Mr. Sandman", on Tamla. Barbara and the other artists would get up on stage at the hops and pantomime the record they were plugging.
During 'Frantic' Ernie's show at the Gold Room at the 20 Grand, the crowd actually booed and threw pennies at Barbara. Despite that reaction, "My Heart Went Do Dat Da" became a popular song in Detroit and was picked up for distribution in a deal with Atlantic Records where it became a mild regional success, but failed to chart nationally.
Barbara's second session was at the Motown studios on West Grand Boulevard in July of 1962. The recordings included backing vocals by The Andantes and possibly Marvin Gaye on drums. She completed two songs; the A-side was her composition of "My Mama Told Me", a tune that inspired by The Shirelles' 1961 hit "Mama Said". The 45 was issued on Atlantic but, again, failed to chart nationally.
Designer gown
Besides recording at Studio A and using Motown's musicians, McLaughlin took another page out of Berry Gordy's playbook in regards to how young Barbara Lewis was presented to the public. He put Barbara through finishing school and had designer gowns made for her. Barbara has said that she "was taught well about how a star was supposed to act, the importance of elegance and grace and being a lady, everything from hairstyle to dress."
In January of 1963, McLaughlin brought Barbara back to the Chess Studios in Chicago where she recorded three new songs. Chief among them was her composition of "Hello Stranger", a title that Barbara revealed was inspired by working gigs with her father in Detroit. "I would make the circuit with my dad and people would yell out 'Hey stranger, hello stranger, it's been a long time."
McLaughlin recruited The Dells to sing the memorable "Shoo bop shoo bop my baby" backing chant on the recording that also featured a signature organ riff by keyboardist John Young. "Hello Stranger" is also notable because the title comprises the first two words of the lyrics but is never again repeated throughout the rest of the song. Barbara recalled that during the playback of the finished track, Dells' member Chuck Barksdale "kept jumping up and down and saying 'It's a hit, it's a hit', but I didn't really know. It was all new to me."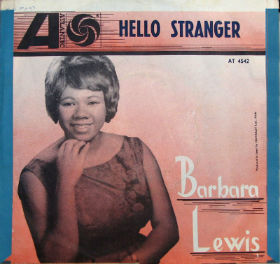 Biggest hit
Because "Hello Stranger" was so different, Atlantic was unsure of releasing it as a single. It was only after Ruby and the Romantics had a big hit with "Our Day Will Come" that Atlantic finally pulled the trigger. Released in the spring of 1963, with "Think A Little Sugar" as its flipside, "Hello Stranger" was a monster hit, spending two weeks at # 1 on Billboard's R&B chart and crossing over to # 3 on the Hot 100.
Life was never the same for Barbara after "Hello Stranger" hit. She did a Dick Clark tour of 30 one-nighters with Gene Pitney, Rub and The Romantics, and Paul & Paula along with lots of club dates and colleges, especially in the South.
Atlantic released "Straighten Up Your Heart" as a follow-up single in the summer of 1963. Although it was an appealing 45 sounding a little like a Mary Wells' recording, it came nowhere close to the success of its predecessor, peaking at only # 43 on Billboard's Hot 100. The single's B-side, "If You Love Her" also made the Billboard charts at # 131.
The enormous success of "Hello Stranger" led to an album of the same name that summer. It featured her big hit and her first couple of singles along with their B-sides and material from sessions recorded in May and June of 1963 in Chicago. The album made little impact on the charts, however.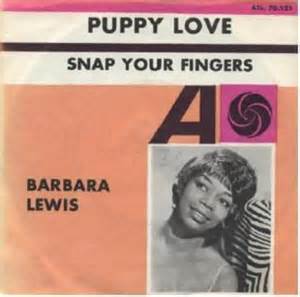 Top 40 single
In an effort to get Barbara another hit, Atlantic released a double-sided follow-up single, featuring Barbara's upbeat "Puppy Love" along with the bluesy "Snap Your Fingers". "Puppy Love" was the more successful of the two songs, reaching # 38 on the Hot 100, but "Snap Your Fingers also charted, peaking at # 71 in early 1964.
"Snap Your Fingers" was also the title of Barbara's second album, a collection of covers of R&B hits. The album didn't do very well although it contained interesting versions of classic tunes like Ray Charles' "What'd I Say", Chuck Jackson's "I Don't Want To Cry", Ben E. King's "Stand By Me", Jackie Wilson's "Baby Workout", James Brown's "Please, Please, Please", and Bobby 'Blue' Bland's "Turn On Your Love Light".
America was in the throes of 'Beatlemania' when Barbara and Ollie McLaughlin returned to Chicago in March of 1964 to record her next single. Both "How Can I Say Goodbye" and "Spend A Little Time' were obvious attempts to re-create the hit sound of "Hello Stranger", and both tunes have the same pleasant, mellow feel. "Spend A Little Time" was chosen as the single along with the upbeat and infectious "Someday We're Gonna Love Again".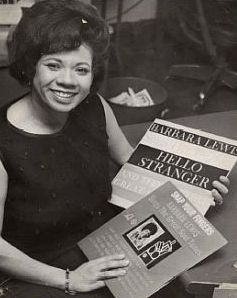 First two Atlantic LPs
Although it was a very strong two-sided 45, the songs stalled at # 119 and # 124, respectively, on the Billboard charts. A good indication as to how greatly the British Invasion groups were ruling the charts came just a few months later when The Searchers covered "Some Day We're Gonna Love Again" and had a Top 40 hit with it.
Barbara's next Chicago session took place in the fall of 1964. McLaughlin brought back The Dells to do the mellow backing vocals on "Pushin' A Good Thing Too Far". Although the song was co-written by Bob Crewe, who had great success with The 4 Seasons, it failed to return Barbara to the Top 40, peaking at only # 113 in December.
Both Barbara and McLaughlin thought that a change in location was needed for her next record. On January 8, 1965, she was in Atlantic's Broadway studio for the first time to record three songs with a full rhythm section that included some of New York's top session men. Bert Berns directed the session and production credit was given to Ollie McLaughlin.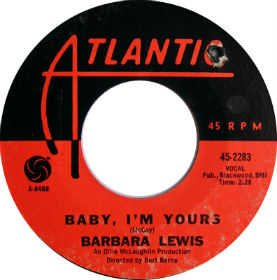 Written by Van McCoyBy the time that songwriter/producer Van McCoy had written "Baby I'm Yours", he had already made a name for himself in and around New York having scored some success with Ruby and The Romantics, Gladys Knight & The Pips, The Shirelles, and Chuck Jackson. McCoy's tender, heart-felt tune was perfect for Barbara's light-yet-soulful style.
Barbara Lewis has stated that Van McCoy wrote the specifically for her, but that she didn't like the song initially. She may also have been intimidated by the high quality of the demo which had McCoy singing the song. As a result, she wasn't giving her all in the studio until McLaughlin challenged her by saying that his daughter Karen could sing the song better than she could. Barbara has said that the comment pissed her off; so she did one more take, and that was the one they used for the single.
With lush strings and background vocals added six days later, "Baby I'm Yours" had all the elements of a huge record. Although it failed to eclipse "Hello Stranger" as Barbara's biggest hit, it stayed on the R&B charts for 17 weeks, peaking at # 5, while reaching # 11 on the Hot 100. In light of its success, Atlantic threw together a "Baby I'm Yours" LP, essentially made up of singles from the past couple of years along with some unused tracks from different sessions. Featuring a white couple on the cover, would become the only Barbara Lewis album to chart.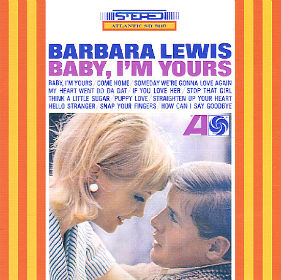 Questionable cover photo
By this time Barbara was married and living in New York. She was working steadily doing tours and playing the 'chitlin circuit' of theatres that included the Apollo in New York, the Uptown in Philadelphia, and the Howard in Washington D.C. She lived a very conservative lifestyle both at home and on the road. Despite her success, she was somewhat reserved and shy and didn't socialize much with the other entertainers or even with the staff at Atlantic Records..
To maintain the momentum from "Baby I'm Yours", Barbara returned to the Atlantic studios in July to record three songs including what would be her next hit, "Make Me Your Baby". Bert Berns was again on hand to direct the big production that had been arranged by Artie Butler. "Make Me Your Baby" became another big hit for Barbara, zooming to # 9 on the R&B charts and # 11 on the Hot 100.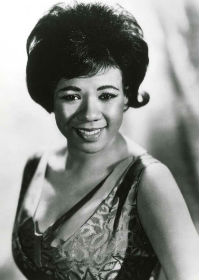 "Don't Forget About Me"
The change in recording sites from Chicago to New York had given Barbara's records a new sound. She also seemed to have a vocal confidence that was not as evident on her earlier recordings. Everyone at Atlantic had high hopes for her follow-up, "Don't Forget About Me". The song had been written by Gerry Goffin and Carole King, two of the most successful songwriters of the 60s, and Bert Berns was again in charge in the studio. Despite the stellar cast and the sophisticated and heavily orchestrated production, "Don't Forget About Me" was a major disappointment, failing to make the R&B charts and only reaching # 91 on the Hot 100 in early 1966. Dusty Springfield covered the song in 1969 for her "Dusty In Memphis" album and had a # 64 hit on the Hot 100 when it was released as a single.
A month later, Barbara was back in the studio recording an entire album of pop and jazz standards called "It's Magic". The album included "Don't Forget About Me" even though it didn't fit with the LP's concept. The album was designed to show the breadth of Barbara's talent, shift her image away from that of a singles-oriented artist, and possibly open up new horizons for live performances in intimate club settings.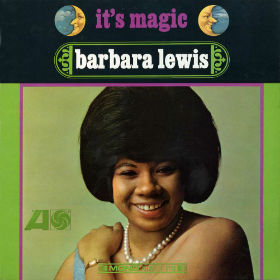 Pop and jazz standards LP
When the album failed to sell, Barbara returned to the studio looking to cut another hit single. She enjoyed her last Top 40 hit on Atlantic with her next release, "Make Me Belong To You". The catchy, radio-friendly single was written by Billy Vera and Chip Taylor and it peaked at # 28 on the Hot 100 during the summer of 1966. The song also became Barbara's last hit on the R&B charts when it reached # 36.
"Baby What Do You Want Me To Do" was released in the fall of 1966 but only reached # 74 on the Hot 100. It's B-side, the bouncy "I Remember the Feeling", was not a hit at the time but has become a Carolina 'beach music' classic over the years.
Barbara's last entry on Billboard's Hot 100 came from a March session in 1967. "I'll Make Him Love Me" was co-written by Howard Greenfield, one of the Brill Building's most successful songwriters, but the spritely pop single only reached # 72.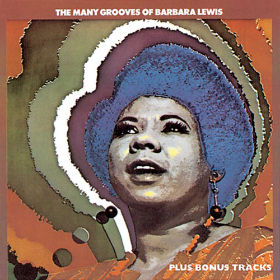 Enterprise LP
Barbara Lewis released four more non-charting singles on Atlantic through 1968. The most notable of these was the single "Sho-Nuff (It's Got To Be Your Love)" backed with Barbara's soulful composition "Thankful For What I Got", released in early 1968. There was also one last studio album, "Workin' On A Groovy Thing", issued during the summer of 1968 that also failed to chart.
With her relationship with Atlantic Records at an end, Ollie McLaughlin took Barbara to Stax Records in late 1969. She recorded 15 tracks in Chicago with Mike Terry arranging and McLaughlin producing. Barbara released an album called "The Many Grooves Of Barbara Lewis" on the Stax subsidiary, Enterprise Records, and three singles for the label, but nothing charted. The most interesting of the Enterprise singles was her cover of The Four Tops' "Ask The Lonely", released in 1970.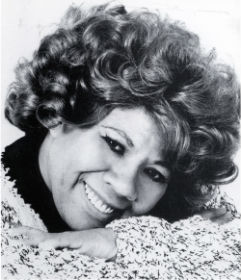 Barbara later years
Tired of singing, disenchanted with the music industry and having gone through a divorce, Barbara left New York to go back and live in Michigan in 1971. She wanted to go to college, possibly open up her own store or work at different jobs. In short, she wanted to try and live a more normal life. Although she had left show business, music was still an important part of her life and Barbara has done selected shows over the years. In 1999, she was the recipient of the Pioneer Award from the Rhythm and Blues Foundation.
Ollie McLaughlin, Barbara Lewis' mentor and producer, passed away in 1984 at the age of 58 at the Sinai Hospital in Detroit after a brief illness.
Barbara's hit song "Baby I'm Yours" was voted a Legendary Michigan Song in 2013.
In 2016 Barbara Lewis became the fifth Historical Inductee into the Michigan Rock and Roll Legends online Hall of Fame.
MRRL Hall of Fame: https://www.michiganrockandrolllegends.com/mrrl-hall-of-fame
SOURCES:
"Hello Stranger: The Best Of Barbara Lewis" Liner Notes by David Nathan, Rhino Records 1994.
Grit, Noise, And Revolution by David A. Carson, University of Michigan Press 2005.
YOUTUBE VIDEOS:
Listen to "Hello Stranger" at https://www.youtube.com/watch?v=TqFiWKt18gw
Watch Barbara perform "Baby I'm Yours" at https://www.youtube.com/watch?v=p7O-UOwdH5g