MRRL Hall of Fame
BERRY GORDY JR.
Details

Category: Inductees
Created: Friday, 30 September 2011 10:59
Written by Gary Johnson
Berry Gordy Jr. was the most important non-performer in the history of Michigan Rock and Roll. During the years from 1959 through 1971 when his Motown record company was headquartered in Detroit, Gordy Jr. established it as the largest and most successful independent label in the United States and a major force in the integration of popular music. Over the years the Motown sound has become a genre of music in itself around the world, and its stars and hit songs have added luster to many feature films, television productions, and documentaries.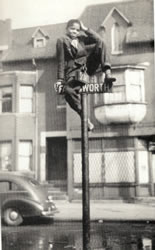 Berry at 9
Berry Gordy Jr. was born on November 28, 1929, in Detroit, Michigan. He was the seventh of eight children raised by Berry "Pops" Gordy and his wife Bertha who had moved their family from Georgia to the Motor City in 1922.
The Gordy family was close-knit and hard work was stressed. The children were expected to work in either the family-owned grocery store or its plaster contracting business in Detroit's inner city.
Considered somewhat of a 'black sheep' in the family because of his lack of success in school, Berry Jr. grew up near Hastings Street, an exciting area on Detroit's Eastside and a center for black music, nightlife, gambling, and street hustling of every type. Young Berry was inspired by the success of black stars like Nat King Cole, Louis Jordan, Billy Eckstine, and the Mills Brothers. He dreamed of making it big in music rather than spending his life working in one of the family businesses.
Gordy also idolized Detroit boxing champs Joe Louis and Sugar Ray Robinson who were demonstrating yet another way out of the slums and into a world of fame and fortune. Berry eventually dropped out of high school and started boxing at the Brewster Center, a city-run recreation facility for inner-city kids located near the Black Bottom area, located close to the Detroit River. There, Berry began working with the soon-to-be-famous trainer Eddie Futch. Boxing mostly as a featherweight (126 pounds), Gordy had fifteen fights and posted a very respectable record of ten wins, three losses, and two draws.
Music, however, was Gordy's greatest love.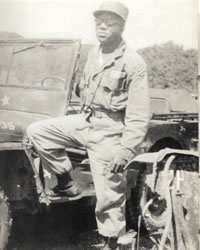 Korea 1952He learned the basics of piano from an uncle and quickly discovered that he could play the hits of the day by ear. Berry started composing his own songs soon after and dreamed of becoming a professional songwriter. His plans for a music career, however, were interrupted by the Korean War. Gordy was drafted in 1951 and served overseas until his discharge in 1953.
Upon returning stateside, Berry decided to open a Jazz record store in Detroit. He borrowed money from his father and also convinced his older brother George to invest in the store. Berry quickly discovered, however, that there weren't enough fans of that style of music in the area to keep the business afloat. He was trying to sell Jazz platters when most of his potential customers wanted Blues records. Even though he eventually lost the store, Gordy learned an important lesson – 'give the people what they want'.
Berry married his first wife, the former Thelma Coleman, in late 1953. By the next year, Berry and Thelma had their first child. With a family to support, Gordy landed a job at the Lincoln-Mercury assembly plant. He fastened upholstery and chrome strips on car frames being pulled on large conveyer belts. Once he became skilled at his tasks, Berry found that he had some extra time before a new frame came along. He began using those breaks to work on writing songs.
After two years on the assembly line, Gordy left to become a full-time songwriter. His sister Gwen owned the photo concession at Detroit's popular Flame Show Bar, and she provided Berry with his first important music business contact when she introduced him to the manager of the club, a white man named Al Green. Green managed music stars like Johnnie Ray and LaVern Baker and he had just signed a new singer from Detroit named Jackie Wilson. Green also owned a music publishing company and was looking for new material.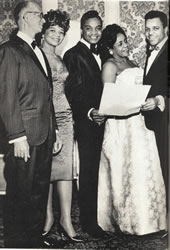 Berry with his parents, sister, and Jackie Wilson
Berry then formed a songwriting partnership with his sister Gwen Gordy and Roquel "Billy" Davis, a childhood friend who had connections with Chess Records in Chicago. The partners started out with a bang by writing "Jim Dandy Got Married" for LaVern Baker on the Atlantic label and "All I Could Do Was Cry" for Etta James on Argo, a Chess subsidiary label. By far, however, their greatest early success was writing the first big hits for Jackie Wilson.
Starting with "Reet Petite", Berry, Gwen and Davis penned five consecutive Jackie Wilson hits. "Lonely Teardrops", "That's Why (I Love You So)", "To Be Loved", and "I'll Be Satisfied" all established Wilson as one of Rock and Roll's hottest new stars.
Not everything was coming up roses for Gordy, however. His first marriage ended in divorce, and the death of Al Green would prove to be a major factor in the eventual end of his role as a songwriter for Jackie Wilson.
Before his association with Wilson ended, an even bigger one began in 1957. Jackie's new manager, Nat Tarnopol, was auditioning new acts in Detroit. Gordy happened to be in his office when a young group calling themselves the Matadors performed some songs. The group failed to impress Tarnopol but they caught Berry's ear.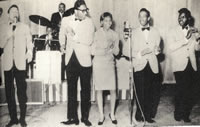 The Miracles
Gordy complimented the Matadors in the hall following their audition and offered to manage them and to help the group's leader, William "Smokey" Robinson, with his songwriting efforts. Berry's assistance led to Smokey coming up with "Got A Job", an answer song to the current # 1 smash, "Get A Job" by the Silhouettes.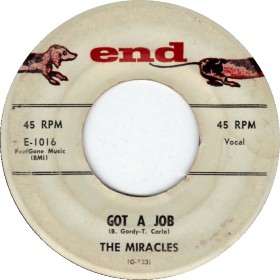 "Got A Job" 45
Gordy convinced the group to change its name to the Miracles and then recorded "Got A Job" with some future Motown musicians at United Sound studios in Detroit. Berry used his music business contacts to make a deal to release the record on George Goldner's End label. The song was only a minor hit, but the friendship and working relationship between Smokey Robinson and Berry Gordy would soon change their lives beyond their wildest dreams.
Although Berry, Gwen, and Roquel had provided five consecutive hits for Jackie Wilson, they had to split the songwriting royalties three ways. To bring in more income, Gordy demanded that some of their songs be used for the B sides on Wilson's recordings. After he was turned down by manager Nat Tarnopol, the trio decided to end their association with Jackie.
Gordy had already set up his own music publishing company as a result of his inability to collect his songwriting royalties from a New York publisher. He named it Jobete - a contraction using the first two letters of each of his children's names; Joy, Berry, and Terry. An even more critical decision was made after Berry received a check for just $3.19 as his producer's royalty for "Got A Job". Smokey Robinson, who was with Gordy when he received the check, told him "You might as well start your own record label. I don't think you could do any worse".
It was Gwen Gordy, however, who first put the idea of starting a record company into action. She formed a label with Roquel Davis and named the company 'Anna', after her sister. Davis then used his contacts to make a deal with Chess Records to distribute their new Anna label nationally. Gwen and Roquel both wanted Berry to become a partner with them.
But Berry decided to run his own record label rather than be in another partnership. In January of 1959, he borrowed $800 from the Gordy family savings fund to start Tamla Records. The label's first release was the hit "Come To Me" by fellow Detroiter Marv Johnson. The original Tamla 45's were pressed in a plant in Owosso, Michigan. In order to distribute the record nationally, Gordy signed a long-term deal with United Artists for Marv Johnson's recordings. The masters would be produced by Berry Gordy. Johnson was Gordy's first successful artist, and Berry would produce Top 20 hits for Marv with "You Got What It Takes", "I Love The Way You Love", and "(You've Got To) Move Two Mountains" in 1959 and 1960.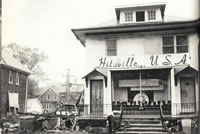 Hitsville U.S.A.
An important early member of Gordy's team at Tamla Records was Raynoma Liles. She was a founding member of the Rayber Voices, who sang back-up on many of the label's early hits. Raynoma also discovered the two-story house at 2648 West Grand Boulevard that was transformed into the Hitsville U.S.A. offices, while its garage was converted into the famous 'Studio A' recording studio. Berry and Raynoma would marry and later divorce, but she remained an important part of the company even after their personal relationship ended.
Al Abrams was the first white employee of the Tamla Record company. Hired for $15 dollars a week and all the chili he could eat, Abrams was intrumental in getting airplay for the label's early releases. He was also named the national promotion director of Tamla Records and Jobete Music Company. From 1964 until he left the company in 1966 to become a partner in a public relations and production agency called New Worlds Inc., Abrams was Motown's Director of Public Relations. It was Al Abrams who came up the famous Motown slogan, "The Sound of Young America".
Berry Gordy launched the Motown label for the second Miracles single, "Bad Girl". It was a take-off on Detroit's nationally known nickname, 'The Motor City'. Berry liked the name so much that he later used it to incorporate his company, which would then be known as 'Motown' forever more.
Although Gordy had Hot 100 hits with "Bad Girl" and Barrett Strong's "Money", he had to have both records distributed by Chess since he lacked the funds to do it himself. By the summer of 1960, Berry gambled on the Miracles' single "Way Over There" to go national himself. This was followed by Mary Wells' first record, "Bye Bye Baby", which also charted.
But the 45 that really put Motown on the map to stay was "Shop Around" by the Miracles. Released in late 1960, it peaked at # 1 on Billboard's R&B charts and reached # 2 on the Hot 100. Just a few months later the Marvelettes, a girl group discovered at a talent show in Inkster, Michigan, provided the company with its first # 1 hit on both the Hot 100 and the R&B charts with "Please Mr. Postman".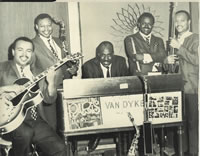 Some of the Funk Brothers
By this time, Gordy had put together a crack studio band composed of some of Detroit's finest Jazz musicians. Led by keyboardist Earl Van Dyke, they called themselves the Funk Brothers. The studio band, anchored by bassist James Jamerson, drummer Benny Benjamin, guitarist Robert White and several others, would provide the classic backing tracks on all the great songs produced at Hitsville U.S.A.
Another important team member recruited by Gordy to help him run his thriving operation was Mickey Stevenson. Mickey became Motown's A&R director. He not only discovered artists like Martha Reeves, but Stevenson was also an important songwriter and producer who contributed such hits as "Dancing In The Street" and "Pride And Joy".
Another very important white member of the Motown family was Barney Ales. Gordy had broken down his Motown operation into three vital functions which he labeled; Create, Sell, and Collect. His feeling was that his record business had to Create something special, Sell it, and finally Collect the monies due you.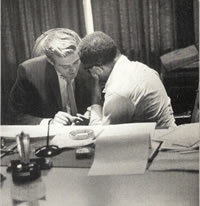 Berry and Barney Ales Berry and his stable of talented artists were creating memorable records, but he needed a knowledgeable and aggressive man like Ales to put together a team that would place records with distributors, get airplay, and co-ordinate the marketing and advertising. After Gordy also put Barney in charge of the collections of money owed to the company, it made Ales one of the most crucial and highest paid members of the Motown hit factory.
By 1963, Motown was a very successful company. Its roster of stars included Smokey Robinson and The Miracles, Mary Wells, the Marvelettes, Marvin Gaye, Martha & The Vandellas, Little Stevie Wonder, and the Contours. Gordy had also started showcasing his artists around the country in a series of highly successful group concerts known as the Motortown Revue.
The emergence of Rock and Roll in the 1950's had served to help break down the color barriers that existed in American life. In fact, many feel that this new music did as much as the civil rights acts and all of the marches in bringing the races together. Motown was by far the most successful record company in producing a highly popular form of black music that crossed over to white audiences.
Despite the growing appreciation for Motown artists and their songs, black and white audiences would continue to be segregated in theatres across the South when Gordy's Motortown Revues first toured there. In theatres, one group would be required to sit in the balcony while the other had the floor seats; in auditoriums, the color barrier was enforced with a rope that divided the dance floor.
Unlike black stars such as Sam Co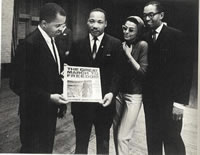 Berry and Dr. Kingoke and Curtis Mayfield's Impressions, Berry did not address the civil rights movement in his Motown anthems. Touting his company instead as "The Sound of Young America", he concentrated on 'giving the people what they want' and bringing the races together with their common love of his label's infectious hits.
In 1970, however, Berry would establish a Motown subsidiary label called Black Forum. Through it he would release spoken word albums that focused on progressive pro-civil rights political speeches and poetry. The most important of these recordings featured several speeches of the Rev. Dr. Martin Luther King Jr. Gordy had been an early supporter of Dr. King and had been crushed by his assassination in 1968.
Early on, Gordy recognized the value of controlling every aspect of his Motown operation, especially caring for his ever-growing stable of artists. In this regard, he created an artist management company that he named International Talent Management Inc. to act as a personal manager to the Motown artists. I.T.M.I. would get set up personal appearances, provide career guidance, and make sure they paid their taxes.
Berry also formed an Artist Development Department initially headed by his sisters Gwen and Anna. Besides selecting costumes for the artists, Berry's sisters brought in Maxine Powell, owner of a local finishing school, to work with Motown's female artists. Miss Powell instructed them on basic table manners, how to properly apply makeup, and how to sit and carry themselves in a lady-like manner.
To handle the all-important performance choreography, famed dancer Cholly Atkins was recruited to work with artists, both individually or in classes. Cholly showed them special dance steps as well as basic entrances and exits that would soon become Motown trademarks.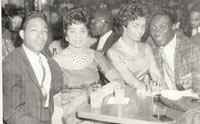 (L to R) Marvin Gaye, Anna Gordy, Gwen Gordy, Harvey Fuqua
Another important early member of the Motown family was Harvey Fuqua. Fuqua first gained fame during the 50's as a member of the Moonglows vocal group on Chess Records. In 1961, he joined Anna Records and later married Gwen Gordy. Fuqua had an eye for talent, and it was Harvey who brought Marvin Gaye, and later Tammi Terrell, to Motown. Fuqua started two record labels in Detroit which he later sold to Berry Gordy. The artists who Havey discovered and signed to his labels, including Jr. Walker & The All Stars, the Spinners, and Shorty Long, came to Motown as a result of the sale. Fuqua then joined the company as the new head of the Artist Development Department. Over the years, he also produced a number of big hits for the label including the classic Marvin Gaye and Tammi Terrell duets, "Ain't No Mountain High Enough" and "Your Precious Love".
As Motown continued to expand, it quickly outgrew the Hitsville house at 2648 West Grand Boulevard. As a result, Gordy purchased some of the neighboring houses as headquarters for his various departments. A typical day for Berry might involve visiting each of the departments to help on various projects or to attend one of the required weekly meetings. The more Motown grew, the more its smooth running operation began to resemble the assembly lines that Gordy had once worked on.
1964 would be a break-out year for Motown. Much of this was due to the family atmosphere that Berry developed at this label. Gordy would not give up on artists he believed in, even if they were not immediate successes. The two prime examples of this philosophy were the Supremes and the Temptations. Both groups struggled as their first half dozen singles were flops. But instead of dropping the young groups from his label, Berry stuck with them until he found the right team of songwriters and producers to take them to the top of the charts.
Motown had released six unsuccessful singles on the Temptations before teaming them with Smokey Robinson who, starting in 1964 with "The Way You Do The Things You Do", wrote and produced eight hit singles for the group including the # 1 smash, "My Girl". By 1966, the Temptations began working with writer/producer Norman Whitfield. Norman guided the group to even greater success in the late 60's and early 70's with 28 charting singles including 3 more # 1 hits; "I Can't Get Next To You", "Just My Imagination", and "Papa Was A Rollin' Stone".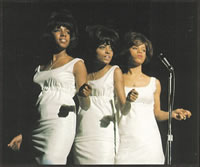 The Supremes
The Supremes more than justified Gordy's faith in them by becoming Motown's biggest selling artist of the 1960's. They too had a string of six unsuccessful singles before Berry finally found a winning combination by putting the trio in the hands of the writing and production team of brothers Brian and Eddie Holland along with LaMont Dozier. Starting in 1964, Holland-Dozier-Holland would supply the Supremes with ten # 1 hit singles including; "Where Did Our Love Go", "Baby Love", "Come See About Me", "Stop! In The Name Of Love", "I Hear A Symphony", and "You Can't Hurry Love".
The Supremes became an enormous crossover success, and lead singer Diana Ross became Motown's biggest star and a symbol of black femininity and stylishness. The popularity of the Supremes was so great that the group was able to withstand the dismissal of original member Florence Ballard in 1967. Flo's difficulties were the result of a drinking problem, but she was also unhappy with the fact that Gordy and Ross were involved in a romantic affair that had tipped the delicate balance of the group in Diana's favor.
HDH would also guide the Four Tops to the top of the charts from 1964 – 1967 with thirteen charting singles, including the # 1 hits, "I Can't Help Myself" and "Reach Out I'll Be There". But Holland, Dozier, and Holland left Motown in late 1967 in a dispute with Berry Gordy over money. It was a major blow to Motown to lose this talented team and it resulted in a lawsuit and countersuit that weren't settled until 1972, after Motown had moved its operation from Detroit to Los Angeles.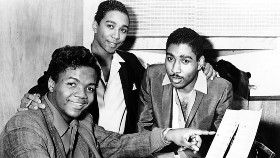 H-D-H (L to R) Lamont, Dozier, Eddie Holland, Brian Holland
But even before the departure of Holland, Dozier, and Holland, things had begun to change at Motown in the midst of its unparalleled success. The deadly and destructive race riot in the summer of 1967 seemed to foreshadow the beginning of the end of the relationship between the company and the city of Detroit. Hitsville U.S.A. was near the center of the hardest hit area, and all of Motown's personnel were deeply affected by the turmoil in the streets.
Soon after the riot, Motown's administrative offices were moved from West Grand Boulevard to the Donovan building, a ten-story high-rise on Woodward Avenue. As a result, Motown began to lose some of the family feeling that had been such an important ingredient in its ascendancy in the music business. The riots also signaled the start of the "white flight" to the suburbs and the beginning of a long period of decline for the Motor City.
Gordy's last big act developed at Motown was the Jackson 5. Starting in 1969 with their first hit, "I Want You Back", all of the group's recordings were done at Berry's Mowest Studio in Los Angeles. This would be a portent of things to come, because by 1972, the entire Motown operation had moved out to California. Although many of the label's early artists had faded from the charts by the time of the move, Motown continued to thrive in the new decade. Headed by stalwarts like Marvin Gaye, Diana Ross, the Temptations, and Stevie Wonder, along with new artists like the Jackson 5 and the Commodores, Motown would continue to dominate the charts for much of the decade.
Berry Gordy had bought his first family home in California in 1968. Following that transaction, more of Motown's business had begun shifting to the West Coast as Berry became more deeply involved in both television and movie production. Gordy went on to produce a number of successful films including three starring Diana Ross; Lady Sings The Blues, Mahogany, and The Wiz.
Berry Gordy's last big splash was the televised special celebrating Motown's 25th anniversary in 1984. Although most of the label's great stars performed, the highlight of the show was Michael Jackson who had emerged as the world's biggest Pop star with the release of his "Thriller" album on Epic Records, not Motown.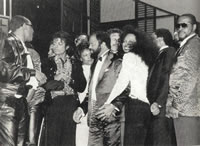 Motown's 25th Anniversary 1984
By the late 1980's, however, Berry Gordy's Motown empire was in decline. Marvin Gaye was dead, and Diana Ross, Michael Jackson, the Jackson 5, and the Four Tops had all left the label. Only Smokey Robinson, Stevie Wonder, and Lionel Richie remained as consistent hit makers for Motown, and as a result, the company was losing money. In 1989, Gordy sold Motown to MCA for 61 million dollars. MCA, which later evolved into the Universal Music Group, has done an outstanding job of reissuing the Motown catalogue since its purchase.
Gordy held on to his even more valuable Jobete Publishing until 1992 when he sold 50 percent interest in his company to EMI Music Publishing. In 2004, EMI completed its acquisition of Jobete and now owns the complete rights to a catalogue that contains over 15,000 Motown songs. The total cost of the purchase of Jobete by EMI is estimated to be $200 million dollars. According to the agreement, Berry Gordy retained a creative relationship with Jobete for future projects that will preserve the legacy of Motown.
In 1988, Berry Gordy Jr. was inducted into the Rock and Roll Hall of Fame as a non-performer. The Supremes were inducted as performers the very same year. Berry published his autobiography, To Be Loved, in 1994. In 1998, Gordy was inducted into the Junior Achievement U.S. Business Hall of Fame.
Berry returned to Michigan in May of 2006 to deliver the commencement address at Michigan State University. He received an honorary degree from the school at that time.
In recognition of Motown's 50th anniversary and for his contributions to the state's musical heritage, Berry Gordy Jr. was inducted into Michigan Rock and Roll Legends Hall of Fame as an honorary non-performer in 2009.
MRRL Hall of Fame: https://www.michiganrockandrolllegends.com/mrrl-hall-of-fame
In 2013, Gordy produced Motown The Musical, a hit Broadway play and a spirited re-telling of the Motown saga.
Dr. J. Recommends:
"Hitsville USA: The Motown Singles Collection 1959 -1971" Motown Records, 4 CD Box Set. Containing 104 songs, both hits and rarities, this is a terrific overview of the music that made Motown great during the years the company was headquartered in Detroit.
From The Bookshelf:
To Be Loved: The Music, The Magic, The Memories of Motown by Berry Gordy 1994 Warner Books.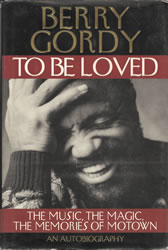 This is a highly readable autobiography that takes you inside Motown. Michigan Rock and Roll's greatest success story as told by the man who made it all happen.