MRRL Hall of Fame
BOB DYER and DICK FABIAN
Details

Category: Inductees
Created: Wednesday, 26 June 2013 07:26
Written by Gary Johnson
Radio disc jockeys played a very influential role in the promotion of local artists and their recordings during the 1960's. Bob Dyer and Dick Fabian from Saginaw's WKNX-AM were two of the most important radio personalities in mid-Michigan during this time. Besides airing seminal recordings by ? and The Mysterians, The Amboy Dukes, Bob Seger, The Rationals, and Terry Knight & The Pack, the pair helped to put together the area's first must-see Battle of the Bands at Roll-Air in Bay City and transformed Saginaw's Y.M.C.A. into the "Y" A Go-Go on weekends, turning it into an important performance space for both national and local acts.
Bob Dyer was born in 1927 in Toledo, Ohio. One of three children, he graduated from the University of Cincinnati on June 5, 1950 with a degree in broadcasting. He reported for work at WKNX in Saginaw one week later. WKNX had been started by Bill Edwards and Howard Wolfe of Lake Huron Broadcasting in 1947.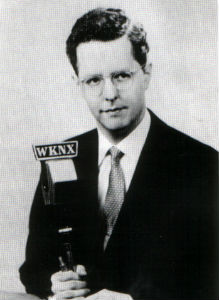 Bob Dyer 1950
In the early pre-rock and roll years, Dyer hosted live country music shows when Little Jimmy Dickens' Down Home Boys was the house band in the second-floor WKNX studios on South Washington near Federal in downtown Saginaw. Studio A had chairs where people could come in and watch the bands perform. Dyer also did live remote shows in town from the Home Dairy restaurant and Ravenna Gardens where he once broadcast Tommy Dorsey and His Orchestra live.
Dyer received so much mail that he got the idea of booking some of the country acts. Other promoters tapped into his expertise, and hired him to emcee their country concerts at the Saginaw Auditorium, which became one of the major venues on the country music circuit in the 50's and 60's. In 1956, Dyer went to Nashville to receive the Mr. DJ USA award for his efforts on behalf of country music.
Bob Dyer met Mary Fuhrman while attending the University of Cincinnati. In October of 1950, she joined the staff at WKNX as continuity writer and host of the Homemaker's Corner radio program. Dyer and Fuhrman married in 1951, a union that would last 62 years and produce two children, Rebecca and James.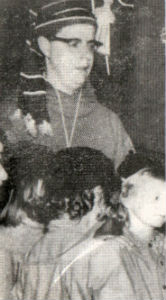 Pixie # 1
WKNX TV started broadcasting in 1953, and Dyer was one of the station's early on-air personalities. Many baby boomers remember Dyer as Pixie # 1 on Pixie Looney Tunes, the children's television show that he hosted for several years. Dyer also served as the master of ceremonies when the Shrine Circus came to the Saginaw Auditorium each year.
Dyer was best known in mid-Michigan, however, as one of the area's top DJs and a mainstay at WKNX during the golden age of AM radio. WKNX had caught the wave of rock and roll early on and was programming the teen-centric music throughout the day. The station published a list of its top songs each week and distributed them to area stores that sold records like R. P. Oldershaw & Co. located at 408 Center Ave. in Bay City. A look at the WKNX 'Hall of Records' hit list given away at the store during the week of February 24, 1958, showed "26 Miles" by The Four Preps topping the chart. "Good Golly Miss Molly" by Little Richard and Chuck Berry's "Sweet Little Sixteen" were also included in that week's Top 10.
By 1959 WKNX Radio 1210 was publishing its 'Fabulous 50' record survey. Dyer and the rest of the radio staff were pictured on the back of the Coca-Cola sponsored document that proclaimed WKNX as "Saginaw's leading station". The # 1 song for the week of July 20, 1959, was "There Goes My Baby" by The Drifters, and also included the latest singles by Elvis Presley, Ricky Nelson, Jackie Wilson, Duane Eddy, Fats Domino, and Ray Charles.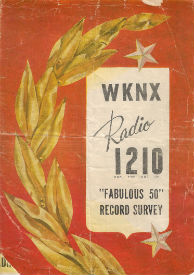 WKNX Survey
Bob Dyer was one of the station's most popular DJs. He was honored by Billboard magazine in 1960 and also received an accolade from Michigan governor G. Mennan "Soapy" Williams for his on-air achievements. Dyer was was later inducted into the Michigan Country Hall of Fame in 2001 for his many contributions to the genre over the years.
Dick Fabian was born and raised in Detroit, one of nine children. He was a product of the parochial education system, attending Guardian Angels Grade School then St. Joseph's all-boys academy with its sign at the top of the school proclaiming, Builders of Boys, Makers of Men. Fabian's father had an air-conditioning and refrigeration business and his economic condition was such that he couldn't afford to send all his children to parochial schools. As a result, Dick was transferred to Denby High School for his senior year to cut costs and also work in his dad's business.
Fabian enlisted in the Navy after he graduated in 1952 and served on four different destroyers as a radio operator. In the Korean War, Fabian had a dangerous assignment for three months in what was a precursor to the Special Forces. He served as a "spotter", where he and a small unit of men would sneak ashore and set up a communication with the ship that was shelling the shoreline and report back as to the accuracy of the attack and then slip back to the ship.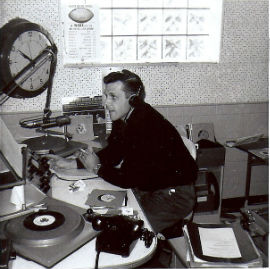 Dick Fabian WKNX studio
After his discharge in 1956, he enrolled in the University of Detroit. Fabian had always harbored the desire to be a disc jockey or radio announcer but he started his college career pursuing a degree in accounting with the eventual goal of joining the F.B.I.
In the meantime, Fabian got a part-time job at a Detroit hospital to be a disc jockey in the hospital's radio station to play music and read notes for terminally ill patients that would cheer them during a most difficult time. Pierre Paulin from Detroit's WWJ-AM heard one of Fabian's broadcasts, and told him he had a good voice and if he had ever considered going into radio. Paulin became Fabian's mentor and eventually helped him get his first radio job doing a morning show in 1958 at WCER in Charlotte, Michigan.
He worked at the station for four years, but since WCER was not totally committed to a rock and roll format, Fabian began to look around for a station that was. WKNX in Saginaw was looking for a morning disc jockey in 1962 and Fabian was hired after an audition. Fabian did the early morning show from roughly 6:00 AM until 10:00 AM. He was followed by Bob Dyer from 10:00 AM until 2:00 PM.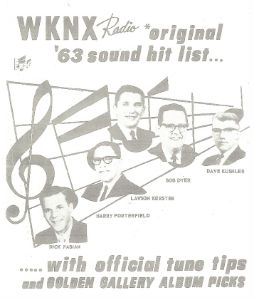 WKNX 1210 AM
By the spring of 1963, the WKNX on-air line-up included Fabian and Dyer along with Harry Porterfield, Lawson Kerster, and Dave Kushler. The station's 'Hit List' for the week of March 3rd had "Ruby Baby" by Dion in the # 1 spot, closely followed by "The End Of The World" featuring Skeeter Davis. Also on the WKNX chart that week were recent hits by Bobby Darin, The 4 Seasons, Del Shannon, and The Miracles.
When off-air, Fabian and Dyer would record radio commercials, prepare hit lists, organize the records, do the news or weather, and also some television. Fabian worked in the afternoon as a television announcer and movie host. In an interview with MRRL, he described Dyer as a "super guy" and "a great friend for over fifty years".
Fabian revealed that he and Dyer worked when it was all live television. He recalled with great fondness a funny story about his old partner during those early television days when commercials were done live on the air. In the early 60's, one of the main sponsors on WKNX was Pabst Blue Ribbon beer. Either Dyer or Fabian would have to do the live ads which involved pouring a glass of beer and taking a sip on air. According to Fabian, he would pour the remaining beer out and prepare to do it again at the next break. Laughing at the memory, he said that Dyer would often drink the entire beer and sometimes "get tipsy" during the course of the program if he had to do the Pabst commercial several times. Being the consummate pro that he was, however, none of the viewers ever seemed to notice that Dyer might have occasionally taken more than just a sip.
Both Fabian and Dyer served as disc jockeys at many mid-Michigan school dances. They were typically paid $50 a night for the work, and during the 1960's picking up the extra money on weekends was a nice addition to their regular WKNX salaries. Fabian and Dyer also opened a teen dance club called the Sugar Shack at Sanford Lake for two years. In addition, Dyer ran regular dances at the Sebewaing Sportsman Club and other Thumb area teen dances. Fabian held weekly dances in Zilwaukee and at a teen club in Midland called the Blue Light.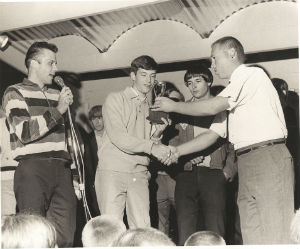 Roll-Air Battle of the Bands: Dick Fabian (left) Bob Darbee (right)
Dyer and Fabian became very close friends while working together at the station and on several music projects, but their partnership was very informal. Their involvement with Roll-Air in Bay City came about when co-owner Bob Darbee called Dyer about an idea to have entertainment at the outdoor roller skating venue on State Park Drive on Tuesday nights during the summer. Dyer and Fabian came up with idea of a weekly "Battle of the Bands" using the wealth of local groups that had begun to spring up all around the area in the wake of the British Invasion.
They advertised the events on WKNX, which insured that they were always well attended with crowds at Roll-Air often reaching 2,000. The weekly Battle of the Bands provided a great proving ground for hundreds of young bands to get up on stage in front of large crowds and display their skills. This, along with the savvy decision to concentrate on the sounds of The Beatles and the other English acts, led to WKNX quickly becoming the # 1 station in mid-Michigan during the 1960's.
The station's weekly Big 10 Survey also included the regional hit singles of Michigan acts like The Unrelated Segments, The Cherry Slush, The Underdogs, SRC, The Shepherds, The Frost, and the early recordings of Bob Seger & The Last Heard on the Hideout label, none of which could be found on the Billboard Hot 100. The support of these and other young area bands through airplay on WKNX and bookings at Roll-Air, the Y-A-Go-Go, and the teen dances that Dyer and Fabian regularly hosted, played a vital role in the vibrant Michigan garage rock scene of the 1960's.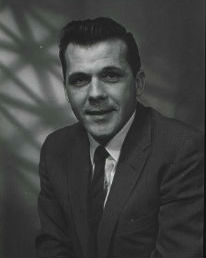 Fabian 1966
Fabian also remembered when Rudy Martinez of ? and The Mysterians called the station about a new song the band had recorded at the Schiell Recording Studio in Bay City with the unusual title of "96 Tears". The group was invited to WKNX to play the song at the studio on Farmer Street in Saginaw. Fabian recalled that he and Dyer loved the song but at the same time were laughing to themselves, unsure if the highly unusual ? (Martinez) was a boy or a girl, or if he was straight or gay.
Dyer and Fabian decided to push "96 Tears", and they became either the first or second local station (WSAM was the other) to play the song on the air. During his interview, Fabian claimed that guitarist Bobby Balderrama asked the two of them to be The Mysterians' manager, but they had to turn him down because it would have been a conflict of interest.
The heavy airplay on WKNX helped make "96 Tears" a big local hit on the Pa-Go-Go label; and when it was picked up by Flint's WTAC, the song spread to the Detroit market. After it became a smash on WKNR and CKLW, "96 Tears" was leased by Cameo-Parkway for national distribution. It reached the # 1 spot on the Billboard Hot 100 in late October in 1966, the only Saginaw-Bay City recording to ever achieve that feat.
Their partnership with Bay City educators Bob and Ilene Darbee and Octavian and Christine Gavrila at Roll-Air ran for three years; and then Dyer and Fabian came up with the idea of establishing the "Y" A Go-Go at the Y.M.C.A. gymnasium in Saginaw where they were both members.
The idea for the "Y" A Go-Go came while brainstorming how they might be able to bring kids from Bay City and other outlying areas into Saginaw for music events. They got the okay from the organization's board to rent the Y's gym for Saturday dance/concerts and planned to have their own go-go dancer in a cage by the stage as a gimmick to attract the kids.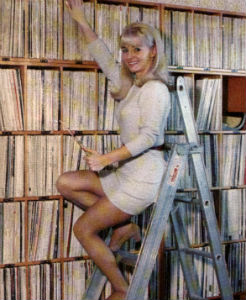 Kay Wyman
Dyer and Fabian got a sexy WKNX employee named Kay Wyman to dance at the first event. Apparently Wyman's gyrating was a little too risqué for the two police officers in attendance and they told them that they couldn't have that type of thing going on. Fabian laughed when he recalled that the officers must have also been enjoying her performance since they didn't try to put a stop to it until Wyman was finished dancing.
The "Y" A Go-Go was stiff competition for Frank Patrick's Daniel's Den, Saginaw's other teen hotspot. Dyer and Fabian booked The Dave Clark Five, Sonny & Cher, The Lovin' Spoonful, The Beau Brummels, Glen Campbell, and many other big names along with a virtual 'who's who' of Michigan bands at the time. The booking they did for the "Y" A Go-Go and other events was through the famous William Morris Agency. Although neither Dyer nor Fabian could probably remember all the different acts that played at the venue, much of the action was recorded by two intrepid teen rock and roll writers, Deb Harden and Jo Hintz, in their weekly column for the Saginaw News.
One of the more interesting stories from the "Y" A Go-Go involved Dyer and Fabian booking a then little-known folk duo called Simon & Garfunkel several months before the pair had any hits. After the contract was signed, Simon & Garfunkel's producer put a rock band behind a track the pair had already recorded called "The Sounds Of Silence". After the new version of their song became a surprise # 1 hit, their performance price went up as well. When Dyer called, concerned that they might not be able to afford them, Paul Simon said that they were going to honor the original contract because he was curious to see what a place named Saginaw looked like. Two years later, Simon wrote a memorable song called "America", which contained lyrics ("Michigan seems like a dream to me now. It took me four days to hitch-hike from Saginaw. I've gone to look for America.") that were undoubtedly inspired by his experiences surrounding the gig at the "Y" A Go-Go.
As the price of name entertainment continued to rise, the "Y" A Go-Go could no longer turn a profit and sadly went out of business. In the early 90's, Dyer and Fabian held a 25th reunion at the Saginaw Y's gymnasium that featured a performance by the surviving members of the Bossmen, a band that played there on many nights during the 60's. The Bossmen were Saginaw's answer to The Beatles from 1964 to 1967. Led by Dick Wagner, the group issued a half dozen classic singles on small independent labels that were big hits in the Tri-Cities and got lots of airplay on WKNX.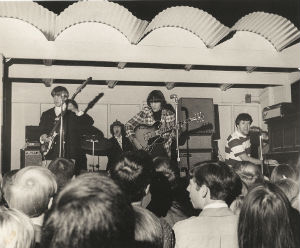 The Bossmen at Roll-Air
Fabian and Wagner became close friends. Wagner's wife Judy introduced Fabian to his second wife, Gail, and the couples spent a lot of time together. Fabian recalled that he and Wagner shot many a game of pool at his house and that Wagner taught him how to play guitar.
During the 60's, WKNX-AM, 1210 on the radio dial, had been one of the premier stations in mid-Michigan insofar as promoting the recordings of Michigan artists. In 1972, however, things started to change after WKNX-TV was purchased by Rust Craft Broadcasting and renamed WEYI-TV. The radio station remained under the ownership of its founders, Lake Huron Broadcasting Corp, but the freedom of airing the songs the WKNX DJs wanted to play, especially the recordings of local artists, disappeared as the station switched to the National Top 40 format.
Fabian left radio for television at that point. He had worked at WKNX for ten years. During his tenure Lake Huron Broadcasting enjoyed success with WKNX radio station and WKNX TV Channel 57 television stations. Fabian was offered the position of news director and 6:00 PM anchor on the renamed WEYI TV Channel 25.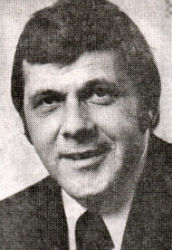 Fabian PM Magazine
After several years at WEYI-TV, Fabian took a sabbatical from television and became a truck driver for seven months. He took the job because he was afraid his children were going to Arizona with his ex-wife and her husband. It turned out that they didn't, however, and his children eventually moved in with Fabian and his wife Gail, ending his brief truck driving career.
Soon after that episode, Fabian was told by a couple of WNEM-TV employees, who also happened to be old Y-A-Go-Go fans, that the station was holding auditions for a new and exciting franchise called PM Magazine. Fabian auditioned with a half dozen others and got the job at the age of 40. The popular show was broadcast from 7:00 to 8:00 PM and featured Fabian along with co-host Cindy Cheatham. PM Magazine ran for seven years, and when it ended Fabian was offered the job as morning weather man.
WNEM then selected Fabian to host a new 5:00 PM hour-long show in 1987 called Take Five. From there, he did special reporting for the 6:00 and 11:00 News. Fabian retired from WNEM-TV at the age of 63 and embarked on yet another successful career doing local commercials and voice-overs.
After weathering some pretty serious health issues in recent years, Fabian claimed in 2013 that he was completely recovered and was spending a great deal of time on his retirement hobby, photography. Dick did some post-retirement work in that field for the Shiawassee National Wildlife Refuge. He also said that he still loved rock and roll, especially classic artists like The Beach Boys, The Dave Clark Five, and The Rolling Stones.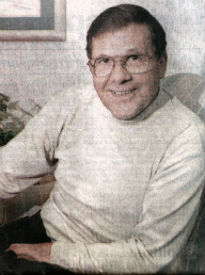 Dick Fabian
Fabian's fondest memories were of working at WKNX-AM radio the way it was during the decade he was a DJ. He loved the freedom. Fabian was also grateful for all his varied experiences on PM Magazine, where he had four of his stories go national. He also laughed about his most famous time in the national spotlight when he received a Golden Blooper Award from Dick Clark for a story he did on the Shrine Circus. The hilarious clip showed an elephant that was behind him while he was doing his live report, slipping his trunk between Fabian's legs and lifting him off the ground in the middle of his broadcast.
Dyer had stayed at WKNX after the change in format. In 1978, he became part of a group that formed Radiocom, Ltd of Grand Blanc which bought WKNX from Lake Huron Broadcasting. Over the years Dyer held many positions at the station, including Executive Vice President, Sales Manager, On the Air Talent Director, and General Manager. He also helped WKNX become one of the first mid-Michigan stations to adopt the Oldies format in 1982, focusing on rock and roll and country hits from the years 1955 through 1978.
During his storied career, Dyer also taught radio classes for Birch Run, Bridgeport, and Frankenmuth vocational education programs. He held offices in the Saginaw Y.M.C.A., Big Brothers/Big Sisters, Cancer Society, the First Congregational Church, as well as serving on the advisory committee for WUCM-TV Channel 19 and as a member of the board of directors of the Michigan Association of Broadcasters.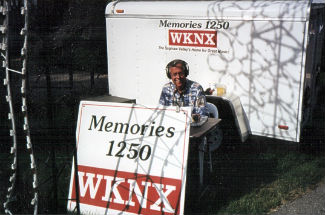 Bob Dyer WKNX remote broadcast
WKNX was sold to Bell Broadcasting Co. of Detroit in 1994, which brokered the air time to Frankenmuth Broadcasting Inc. The station's format changed with each transition in ownership. During its last years, WKNX's owners, John and Kathy Blehm, had adopted a Talk/Oldies Family Friendly format that pushed conservative and Christian talk programs. Although it still had DJs like Bob Dyer and Ric Allen spinning the oldies, the station now featured some content that was the polar opposite of its golden years when Dyer and Fabian were at their prime, and WKNX-AM 1210 was mid-Michigan's premier rock and roll station and # 1 in the market for eight straight years.
WKNX-AM was purchased from the Blehms by the Meredith Corporation of Des Moines, Iowa, owner of WNEM-TV Channel 5 in 2004, bringing an end to one of the last locally-owned "mom and pop" radio stations in mid-Michigan. WNEM converted WKNX to a news-and-talk format which led to the end of Bob Dyer's remarkable radio career after 55 years and the national distinction of having the longest continuous run at a single radio station. Bob Dyer was inducted into the Michigan Broadcasters Hall of Fame in 2003.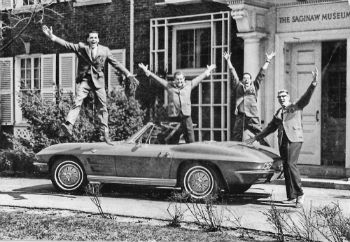 WKNX DJs: Dick Fabian (left) Bob Dyer (second from right)
Unfortunately, Dyer had a difficult time adjusting to his forced retirement. In recent years, Dyer fell victim to poor health and began residing at HealthSource, a residential care center in Saginaw Township. He passed away peacefully there in August of 2013.
During the past few years, Dick Fabian suffered from recurring heart problems. Sadly, he passed away on March 26, 2016, after a long battle. According to Gail Fabian, his wife of 43 years, Dick's death was caused by complications from chronic obstructive pulmonary disease.
Because of their many contributions to Michigan rock and roll, both Bob Dyer and Dick Fabian were selected as Honorary Inductees to the Michigan Rock and Roll Legends Hall of Fame in 2013.
MRRL Hall of Fame: https://www.michiganrockandrolllegends.com/mrrl-hall-of-fame