MRRL Hall of Fame
BRIAN HOLLAND-LAMONT DOZIER-EDDIE HOLLAND
Details

Category: Inductees
Created: Tuesday, 04 October 2011 10:09
Written by Gary Johnson
None of the other talented writers and producers at Motown can compare with chart-topping success enjoyed by Brian Holland, Lamont Dozier, and Eddie Holland during the 1960's. The songs they wrote and produced for the Supremes, Martha & The Vandellas, the Four Tops and others represented some of the biggest hits of the decade. Collectively, H-D-H have written over 50 Top Ten Pop or R&B hits, many which reached # 1.
The trio left Motown in 1968, however, amidst suits and countersuits in a dispute over money. Shortly thereafter, Holland-Dozier-Holland formed their own Hot Wax and Invictus labels in Detroit and challenged Berry Gordy on his own turf by producing hits by Flaming Ember, Freda Payne, the Chairmen Of The Board, the Honey Cone, and 100 Proof Aged In Soul.
Brian Holland, his older brother Eddie, and Lamont Dozier were all born in Detroit, and they all started their musical careers as singers. Dozier had the earliest recording experience of the three. In 1957, he cut two singles as part of a vocal group called the Romeos on the local Fox label. The second one, "Fine, Fine Baby" was distributed nationally by the Atco label.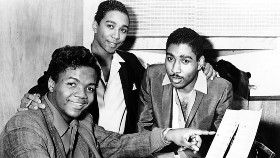 Lamont Dozier, Eddie Holland, Brian Holland
Dozier made his solo debut on the Anna label (owned by Berry Gordy's sister) in 1960 with a song called "Popeye The Sailor Man". When King Features threatened legal action for unauthorized use of their cartoon character's name, Dozier recut it as "Benny The Skinny Man" over the same backing track. The next year he released a single on the Check-Mate label called "Just To Be Loved", but like the others that preceded it, the record failed to chart.
Brian Holland's lone 45 rpm "(Where's The Joy?) In Nature Boy", was backed by the ballad "Shock" written by Berry Gordy and his brother Robert. It was issued on the tiny Kudo label in Detroit in 1958 by "Briant" Holland. In the early days of Tamla Records, Holland was recruited by Raynoma Liles (soon to be Berry Gordy's 2nd wife) to sing as one of the tenors in the Rayber Voices. The name was a contraction of Raynoma and Berry, and the quartet backed Marv Johnson, Barrett Strong, and other early recording artists on Gordy's first label.
Of the three, Eddie Holland enjoyed the greatest amount of success as a recording artist. Berry Gordy, who had written five charting hits for Jackie Wilson, was impressed with how much Holland's voice resembled Wilson's. Gordy produced Eddie Holland's debut single,"You", on Mercury before signing him to his Tamla label in 1959. Gordy wrote "Merry Go Round" for Eddie, and it became the second Tamla single. Like Marv Johnson's "Come To Me", it was leased to Untied Artists. But neither "Merry Go Round" nor the other three singles released on the UA label were hits.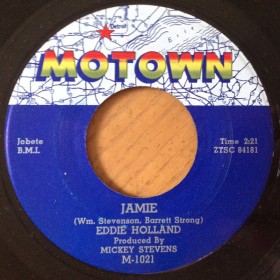 Eddie Holland's biggest hit
When his tenure at United Artists ended, Holland began releasing records on Motown. The first of these recordings, "Jamie", was written by Barrett Strong and Mickey Stevenson. "Jamie" reached # 6 on Billboard's R&B chart and peaked at # 30 on the Hot 100.
But after the release of his first album in the spring of 1962, Eddie's enthusiasm for performing began to fade. He became far more interested in writing than singing, and joined forces with his brother Brian and Lamont Dozier. The first official H-D-H collaboration was "Dearest One", a Lamont Dozier single released on Motown's Mel-O-Dy subsidiary in the summer of 1962.
Eddie kept making records, but he didn't have another hit until late 1963 when the Holland-Dozier-Holland partnership came up with the classic "Leaving Here". H-D-H provided two more charting records for Eddie in 1964, "Just Ain't Enough Love" and "Candy To Me", before he ended his recording career. Eddie Holland would go on to become one of Motown's greatest songwriters, second only to Smokey Robinson in his ability to put together lyrics.
In a recent interview for Songwriter Universe Magazine, Eddie Holland described how the trio came together: "Early on, Brian and Lamont were already working together, and they were very prolific at writing melodies and producing tracks. It was the lyric writing which slowed them down. So I suggested that I join the team as a lyricist, so that their production output would be much higher. With the three of us, we were able to finish many songs and produce more projects."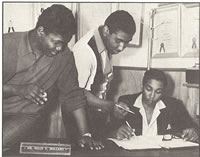 L to R) L. Dozier, B. Holland, E. Holland
Brian and Lamont would start writing the songs on piano. Then with Eddie, they would discuss what the melody and structure should be. Next, Brian and Lamont would begin recording the tracks in Hitsville's Studio A. Their approach was to split the room with Brian working with the drummer (usually Benny Benjamin) and Lamont working with the keyboard players (Earl Van Dyke or Joe Hunter) to show them how to play the track and chords. Lamont also gave the bass lines to James Jamerson, who would often inject his own bass ideas to make the track stronger.
In the Songwriter Universe interview Lamont Dozier went on to explain: "We wanted to guide the musicians, so we could create our own sound. We would never let the band just go in and play the chord sheets. We were very focused on what we had in mind for the productions."
The tracks included the melody and a scratch vocal, but without the lyrics yet. Sometimes they would have a title and some of the chorus lyrics. At that point, the track was given to Eddie who would lock himself away in his townhouse in Detroit and write the lyrics.
Holland revealed in the interview that he often penned the song lyrics from his own experiences, including personal things that were going on in his life at that time. Another source of lyric ideas came from his close women friends. Holland said that he found females to be the most interesting subjects for songs. He would ask questions and they often revealed secrets to Eddie that they usually did not speak about to men. "I got a lot of song ideas from what I learned from talking to women", Holland said.
Eddie Holland followed two basic principles in his songwriting approach. "The most important thing was the feeling. Did the lyric feel right?" The other was, "Is it interesting, and does it draw an emotional reaction?"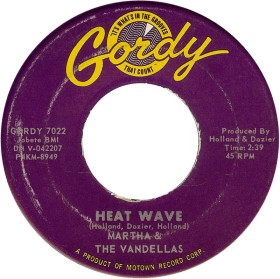 H-D-H's first Top Ten hit
Martha & The Vandellas' "Come And Get These Memories" was a good example of Eddie's great lyric writing, and it was also the first H-D-H production to be a Top 40 hit in the spring of 1963. They then provided Martha & The Vandellas with two consecutive Top Ten hits, "(Love Is Like A) Heat Wave" and "Quicksand". Holland-Dozier-Holland firmly established themselves as the hottest writing and production team at Motown with "Mickey's Monkey" by the Miracles, and topped off a very successful year withTop 40 songs for the Supremes, Mary Wells, and Marvin Gaye.
1964 would prove to be an even bigger year for H-D-H. They produced three consecutive # 1 hits for the Supremes; "Where Did Our Love Go", "Baby Love", and "Come See About Me". H-D-H continued to work well with Marvin Gaye as evidenced by the hits, "You're A Wonderful One" and "How Sweet It Is (To Be Loved By You)". They also started working with the Four Tops and wrote and produced their first big Motown hit, "Baby I Need Your Loving".
H-D-H with the Supremes (Standing) Diana Ross, Mary Wilson, Eddie Holland, Brian Holland (Seated) Lamont Dozier, Florence Ballard
The hits just kept coming in 1965. The Supremes became the biggest female act in Rock and Roll with two more H-D-H # 1's, "Stop! In The Name Of Love" and "Back In My Arms Again". The Supremes' string of five # 1 hits was interrupted by their Top Ten smash, "Nothing But Heartaches", but H-D-H provided Motown's biggest girl group with one more # 1 when "I Hear A Symphony" reached the top of the charts at year's end.
Holland-Dozier-Holland also wrote and produced the Four Tops first #1, "I Can't Help Myself", as well big sellers with "It's The Same Old Song" and "Something About You". H-D-H even had time to provide Martha & The Vandellas with another Top Ten song, "Nowhere To Run".
Their incredible string of successes continued into 1966 with two more # 1 songs for the Supremes, "You Can't Hurry Love" and "You Keep Me Hanging On", and another # 1 for the Four Tops, "Reach Out I'll Be There". There were other significant H-D-H hits that year for Jr. Walker & The All Stars, "(I'm A) Road Runner"; the Isley Brothers, "This Old Heart Of Mine (Is Weak For You)"; the Supremes, "My World Is Empty Without You" and "Love Is Like An Itching In My Heart"; the Four Tops, "Shake Me, Wake Me" and "Standing In The Shadows Of Love"; and Martha & The Vandellas, "Ready For Love".
The last big year at Motown for H-D-H was 1967. They produced two more # 1 singles for the Supremes; "Love Is Here And Now You're Gone" and "The Happening", and narrowly missed a third when "Reflections" peaked at # 2. H-D-H also continued to write and produce hits for Martha & The Vandellas with "Jimmy Mack", and for the Four Tops with "Bernadette", "Seven Rooms Of Gloom", and "You Keep Running Away".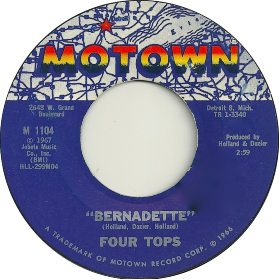 Written and produced by H-D-D
Behind the scenes, however, was a growing dispute with Berry Gordy over profit sharing and song royalties. Things came to a head when Eddie Holland convinced Brian and Lamont to stage a work slowdown. With the issues still unresolved, the trio left Motown in 1968. The loss of its most successful songwriting and production team was a serious blow to Berry Gordy's company. Motown sued for breach of contract and H-D-H countersued. The litigation would drag on for nearly ten years, becoming one of the longest legal battles in music industry history.
In the meantime, Holland-Dozier-Holland started their own labels in Detroit, Hot Wax Records and Invictus Records. Although their labels produced some significant hits: "Westbound # 9" by Flaming Ember, "Give Me Just A Little More Time" by the Chairmen Of The Board, "Want Ads" and "Stick-Up" by the Honey Cone, "Band Of Gold" and "Bring The Boys Home" by Freda Payne, and "Somebody's Been Sleeping" by 100 Proof Aged In Soul, Hot Wax and Invictus never came close to equaling what H-D-H had achieved at Motown.
Lamont Dozier left the H-D-H partnership in the early 1970's to resume his career as a solo artist. Dozier is currently running his own production company and he continues to record as a solo artist.
The Holland brothers continue to run H-D-H Productions with Harold Beatty taking Dozier's place. They even did some production work for Motown artists Michael Jackson and the Supremes during the mid-70's while the litigation was still going on.
In recent years Eddie, Brian, and Lamont joined forces for a one-time-only reunion to compose the score for the Broadway musical The First Wives Club, based on the book and movie of the same name. H-D-H composed 22 songs for the production which opened in 2009.
Holland, Dozier, and Holland were inducted into the Songwriters Hall of Fame in 1988 and the Rock and Roll Hall of Fame in 1990. Four of their compositions have been inducted into the Grammy Hall of Fame: "Reach Out I'll Be There" - 1998, "Where Did Our Love Go" - 1998, "You Keep Me Hanging On" - 1999, and "Stop! In The Name Of Love" - 2001.
Because of their amazing contributions to soul music and rock and roll all over the world, Holland-Dozier- Holland were selected for honorary induction into Michigan Rock and Roll Legends Hall of Fame in 2010.
Five H-D-H compositions have been voted Legendary Michigan Songs: "Baby I Need Your Loving" and "I Can't Help Myself" by The Four Tops, "Heat Wave" by Martha & The Vandellas, and "Baby Love" and "St0p! In The Name Of Love"by The Supremes.
MRRL Hall of Fame: https://www.michiganrockandrolllegends.com/mrrl-hall-of-fame
Video: Watch a video collage of performances of the # 1 hit of the H-D-H classic, "You Can't Hurry Love" https://www.youtube.com/watch?v=7scbdxigicg
Dr J. Recommends: "Heaven Must Have Sent You: The Holland-Dozier-Holland Story" Universal Music, 3 CDs, 2009. This 65 song box set is the best collection of H-D-H material available. As is always the case, there are some classic songs that were not included, but it's pretty hard to argue with what's there. The first two discs are incredible listening.