MRRL Hall of Fame
BURDONS
Details

Category: Inductees
Created: Monday, 17 February 2020 07:47
Written by Gary Johnson
The band formed in the early 1980s in the tiny city of Essexville, where the Saginaw River empties into Saginaw Bay. The Burdons became part of the D.I.Y. (Do It Yourself) musical subculture that began in earnest with the punk rock movement of the 1970s. Instead of the traditional method of reaching their audience through a large record company, the band recorded a highly regarded album of original songs and released it on their own label. They also formed their own publishing company and came up with a novel method of distributing and publicizing their album. Over the years, The Burdons' music and high energy performances saw them attain legendary status in mid-Michigan for their distinctive brand of garage pop.
Founding members Paul Schultz and Jim Davenport started playing music together while attending Essexville-Hampton Junior High in the early 1970s. Schultz came from a musical family. His father, Ken, played the mandolin, and his older brother, Fred, had played bass in The Vibrations, a popular teen band that had backed pop star Freddy Cannon during the opening weekend of the Band Canyon teen club in Bay City.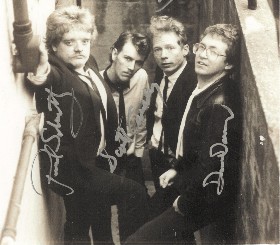 The Burdons (L to R) Paul Schultz, Scott Causley, Jim Davenport, Dave Davenport
Schultz had learned to play guitar with the help of his father and brother, and he had also taken lessons at the Herter Music Center in Bay City. After his parents had bought him his own guitar, an amplifier, and foot pedals for special effects, he invited his classmate, Jim Davenport, to his basement to play music together.
Davenport had started playing drums early on, and he and Schultz began playing as a two-man band. While they were still teens, they played older country & western music with Schultz's brother, Fred, on bass and his father, Ken, on mandolin. Even though they were underage, Jim and Paul played in Bay City bars, including the Oasis and the Bon Ton. They were paid by passing the hat among the bar patrons, and the boys even got to do a little illegal drinking.
After they entered Garber High School. music teacher Pat Ankney took a liking to the boys, and she let them rehearse in the Garber music room. "Her support was invaluable," Davenport recalled. "Especially since we were not part of the music program." They were soon joined by classmate Gregg Billette, who was also taking guitar lessons at Herter's. Shortly thereafter, Billette switched to bass and the trio named their fledgling band The Radio Flyers.
With Ankney's encouragement, Radio Flyers performed before a large crowd at a talent show in the Garber High auditorium. They did a cover of America's "Sister Golden Hair" and received a very positive response from the audience. The band also played lunchtime concerts at both Garber and Essexville-Hampton Junior High. The Radio Flyers became much harder to maintain, however, when Gregg Billette's family moved and he started attending Western High School in Bay City.
A little later, Radio Flyers added Mark Bradford on keyboards. He turned out to be a valuable addition in terms of helping the band line up gigs. Because of Bradford Studio's photographic connection to Bay County schools, he was able to get the Radio Flyers opportunities to play at local school dances. They competed in a Bay County Battle of the Bands held at the Fairgrounds during the summer, but they finished behind another Essexville group called the KMJ Band in the competition.
By 1979, the Radio Flyers came to an end after Bradford left the band and Billette, who had enrolled in an engineering program in college, became less able to play. During this time, Schultz, Davenport were able to tape some of the original songs that Schultz and Davenport had written at the Bay Arenac Skill Center. Jim's father, Frank Davenport, was an instructor there, and he arranged for them to do some free of charge recording in the building's media center studio. Gregg Billette joined them for a couple of the sessions but, in early 1980, tragedy struck when he was killed in a late-night car/truck accident in Bay County.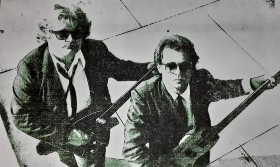 Paul Schultz and Jim Davenport
Not long after Billette's death, Schultz and Davenport submitted one of their songs to radio station WHNN 96. Using 'The Puppies' as their band name, they sent "I'm Losing You", to Michigan Homegrown, the station's Sunday night segment devoted to playing original material by Michigan artists. On January 20, 1980, WHNN DJ played "I'm Losing You" on the air, but DJ Eric Burch announced that The Puppies were from Bay City. Jim Davenport called the station right away, and Burch corrected it on the air saying, "The Puppies are from Essexville".
A few months later, they decided on another name change. Fred Schultz had been a bandmate and mentor to both his younger brother Paul and Jim Davenport, and they decided to call themselves The Vibrations, the name of Fred's former band, in his honor. Davenport wanted to switch from drums to playing bass, so they put an ad in the newspaper for a drummer and found Andy Cabala, who was still in high school. The Vibrations only lasted a few months, and their final appearance with Cabala was on the local cable television telethon on Labor Day to contribute to the Jerry Lewis Muscular Dystrophy Telethon.
In the meantime, Schultz and Davenport continued to compose songs. "I was influenced by The Romantics, The Kingbees, The Clash, and some of the other new bands that were playing rockabilly," Davenport recollected, "and I turned Paul on to that music as we were writing new songs."
In 1981, they decided to use "I Fell In Love", a new tune they had recorded at the Skill Center, to enter an April songwriting competition sponsored by WHNN 96. "The night before the deadline, while I was looking through my personal journal, I came upon a section where I must have been feeling sorry for myself and had written how I was a 'burden' to people in my life," Davenport recalled, "but I had misspelled it as 'burdon'. With time running out, I suddenly thought that 'The Burdons' was a good punk rock name." When Schultz, who didn't know that Davenport was keeping a journal, agreed, they sent in the tape with 'The Burdons', written with a dot in the 'o', as the name of the band.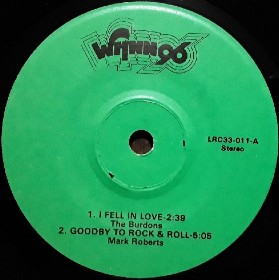 WHNN mini album
The newly-named Burdons were one of the winners in the contest, and "I Fell In Love" was one of four songs selected out of entries from 32 separate bands and individuals from all over the Tri-Cities. It was to be included on a four-song vinyl mini album put out by WHNN 96 and the Records 'N Stuff store, located in the North Pointe Plaza on Euclid Avenue in Bay City.
Before the album could be pressed, however, The Burdons were required to re-record "I Fell In Love". "It was completed with just myself and Paul, and Brad Wieland did the engineering." Davenport recalled. "We did the song at the Wieland Studios in Auburn." Schultz added. "It was in a house without any furniture. The studio where the instruments were set up was in what would have been the living room, and his recording equipment was in an adjoining room."
On September 11, 1981, the mini album was released. "WHNN didn't play "I'm In Love" that many times, but Eric Burch came into the picture and became our friend and manager," Davenport said. "We partied together, and sometimes we'd join Burch in the WHNN studio and help him pick songs for his broadcast."
After winning the songwriting contest, they needed to put together a band for gigs. Paul and Jim decided to put together a four-man group, and they added Scott Ratelle, a former Garber High grad, as a second guitar. They found drummer Scott Causley by putting an ad in the Bay City Times.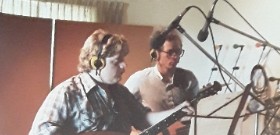 P. Schultz and J. Davenport at Wieland Studios
Scott Causley was three years older than Schultz and Davenport. He was born and raised in Bay City, but he lived on Atlantic Street, no more than a stone's throw from the Essexville border. A natural born drummer, Causley had started banging on cardboard boxes with coat hangers when he was just three years-old. As a result of his early enthusiasm for pounding, his parents bought him his first drum set at the tender age of five. Completely self-taught, Causley's earliest inspiration was Buddy Rich, but by high school he'd become a big fan of Led Zeppelin's John Bonham.
Causley attended Bay City Central High School, but he did not play in the school band, nor did he take any music classes there. Instead, he played in a number of rock bands, the first being The Roadrunners. He then drummed in band called Maiz. During his senior year, he played in a Standish-based group called Middle Earth. Tired of the long drives for rehearsals, he left Middle Earth and was looking to join a local band when he saw the want ad that Schultz and Davenport had placed in the newspaper.
"We really needed a good drummer, so we put the ad in the paper and that is how Scott Causley joins," Davenport recalled. "The first time Scott showed up, he and his drum set fell down the basement stairs at Paul's house. He was a little older than I was and we lived near each other. We had gotten to know knew each other over the years; but the most important thing was how the music clicked immediately with Scott on drums."
"The first gig as The Burdons was in the 7-11 parking lot on the corner of Woodside and Borton along with the KMJ band," Causley recalled. "It drew a big crowd despite not having much advertisement." Scott Ratelle played with them on that and couple other early gigs, but the chemistry wasn't there and he was missing band rehearsals. The other three decided that he had to go, but they left it to Eric Burch to break the news to Ratelle.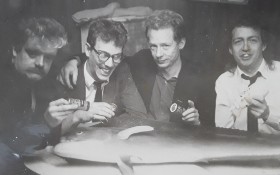 (L to R) P. Schultz, S. Causley, J. Davenport, D. Davenport
Causley owned a van that became very important for transporting the band and its equipment. He had also played in other bands, and he was more experienced playing out-of-town gigs than either Davenport or Schultz.
The Burdons would continue to play as a trio for roughly one year. Their biggest early gig was as the opening band at the Isabella County Fair in Mt. Pleasant, but most of the dates that Burch booked for them at this time were at local bars like Dietzel's Den and the Bon Ton in Bay City. "We started out covering things like "Hang On Sloopy" and "Louie, Louie", along some of our original songs, at the Bon Ton and other Bay City bars," Schultz recalled. "Dietzel's Den, located on the west end of Columbus Avenue, was a biker bar, and they didn't like some of the country songs we had in our set – they wanted nothing but rock and roll," Davenport remembered.
Davenport and Schultz were very serious about writing songs at the time, and they submitted some to Chrysalis Records. The company sent them a letter, but it went on the backburner when they started to play more gigs. "Scott was always pushing to play out more and earn money," Schultz said.
The momentum for the band was starting to build, and they were the recipients of some valuable publicity when were part of the March 6, 1982, Bay City Times article, Who Rocks Best In The Tri-Cities by Tom Henry and Wayne Hearn. The story complimented a Burdons' performance at a recent show at Dietzel's Den, and it also featured a photo of the band on stage.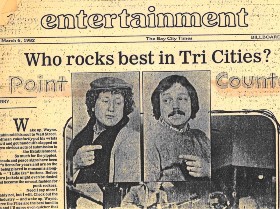 Bay City Times
In the summer, they were again featured in a Bay City Times story, along with the KMJ Band and Mad Dog, that dealt with a benefit concert for the Boy's Club and CORY Place held on the Middlegrounds in Bay City. Causley and Schultz were both mentioned in the article, and Davenport was quoted as the band's spokesman. "We're doing it for the runaways," he said. "The idea is to show them that we're concerned about them. Also, we just enjoy playing and will play anytime we can."
The good press helped land them their most important gig yet, an extended engagement at the Au Sable Inn in Oscoda. They were playing five nights a week and living in rooms above the bar. The Burdons broke their contract, however, after they auditioned and obtained an even better gig with Denny Munger at Saginaw's Fordney Hotel Lounge. Unlike Oscoda, Saginaw was a hotbed for local music, and they followed The Flies at the Fordney, one of the city's early new wave bands. "Munger encouraged us to play our original songs along with covers by punk and new wave artists like The Romantics, Elvis Costello and The Attractions, and The Clash - and drop the country stuff," Schultz recalled.
The Burdons were booked at the Fordney for a four-night gig that ran from September 22nd through the 25th. It was a successful run with packed houses every night, and they were booked for eight more nights in November. Jim called his brother Dave, who was living in San Diego, to tell him the latest band news and invite him to join the band. Dave returned to Michigan in time to watch the band's debut at the Fordney from the audience. "Jim told Dave about the gig at the Fordney, and he came back to Michigan and joined us on keyboards," Schultz said.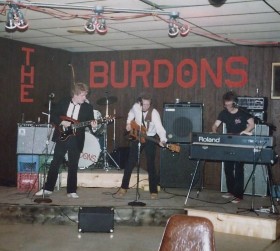 The Burdons
Dave Davenport is almost two years older than his younger brother Jim. Heavily influenced by the music of The Beatles and The Doors, he started teaching himself to play the piano by the age on nine. He also loved to sing, and throughout his years at Garber High School, Davenport was very active in choir and music theater, landing the lead in Godspell during his junior year.
After attending a semester at Delta College on a vocal scholarship, he dropped out of school and joined a theater troupe. Davenport returned to Delta in the fall, but during the summer of 1978, he realized a childhood dream by traveling on a Greyhound bus to California. He stayed with relatives in San Diego until he found an apartment.
Davenport soon found a job at Wherehouse Music in San Diego, made contacts with local musicians, and landed a job playing keyboards in a group called Street Life. His next band, in 1979, was a highly regarded punk rock ensemble called Claude Coma and the I.V.s. Featuring a colorful lead singer, the band released an album called "Art From Sin" and one 7-inch single before disbanding in 1980. No longer in a band, coming back to Michigan to join The Burdons made perfect sense; and Dave played on stage with them at the Fordney for the first time in November of 1982.
From that time on, the band played continuously week after week. "We hooked up with Bob Farmer and his Rose Robert Agency, and he got us gigs at Lili's in Hamtramck and the Old Miami and Traxx in Detroit, The Loop in Grand Rapids, and a host of other music venues around the state for the next year," Dave Davenport recalled.
On October 25, 1983, the band played a Friday Night gig at Rick's American Café in Lansing. After staying the night, they drove to Detroit for their October 26th show at Traxx. Arriving too early to do their sound check, the band stopped near a convenience store to buy snacks while Dave went to the pay phone outside the store to call the representative from Prophet Records who was planning to see their show at Traxx. This seemingly innocent event soon mutated into the most traumatic episode of the band's career.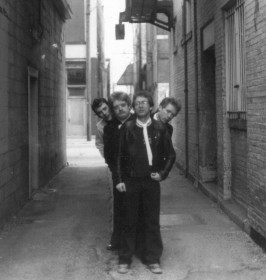 (L to R) S. Causley, P. Schultz, D. Davenport, J. Davenport
As Scott Causley, Jim Davenport, Paul Schultz, and soundman Jeff Todd entered the van, they were approached by two men who struck up what seemed to be a friendly conversation about the band and where they were playing that night. When Dave returned to the van after making his call, he was greeted with a gun through the window and ordered out of the driver's seat.
One of the men drove the van while the other held the gun on them and took all of the money from their wallets. "They even stopped for gas at one point and filled it up with the band's money," Schultz said. "As they were driving around, they were talking about "popping" us, and one of the guys took a pillow from the van, put it over his gun and held it against Jeff Todd," Dave Davenport recalled. "They ended up driving us around for like 45 minutes and dumped us in a rundown section of Hamtramck on a cold day with nothing, not even our leather jackets," Jim Davenport added. "They took everything at gunpoint - our instruments, equipment, stage clothes, and the rented van."
After they were able to find a house that would allow them to call the Detroit Police, they went to the station and filed a report. According to Dave Davenport, when they were interviewed by the officers individually, they were so upset that none of them could agree on the descriptions of the robbers.
The Burdons were still pretty shook up when they finally got to Traxx. They were able to play with borrowed equipment from a band called The Point, but the gig did not go well. Afterwards, they called some friends to come to Detroit and drive them back to Bay City.
"The police called and asked if we had any serial numbers for the stolen equipment," Causley remembered. "Paul had bought a guitar from Herter Music in Bay City, and they had the serial number on file. About a year and a half after the robbery, I got a call from one of the detectives that they had located some of the equipment at a pawn shop in Detroit. I drove down and had to buy back the guitar and a pair of Beatle boots from the robbery. The P.A., drums, and the rest of the equipment were never recovered."
Nothing was insured, so in order to be able to replace their instruments and the other equipment in order to keep going forward, they needed some money in a hurry. Dave Davenport went to the School Employees Credit Union and obtained a $15,000 loan that was co-signed by his father.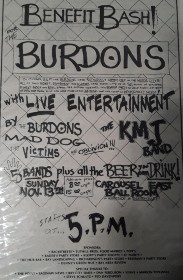 "I was ready to quit after the robbery, but Bob Charlebois called and gave me a pep talk, telling me I was too good to quit," Schultz recalled. "He also helped arrange the Benefit Bash for us, featuring performances by Mad Dog, the KMJ Band, The Burdons and two other bands, at the Carousel Hall in Essexville on November 13th. It was a big success that raised $1,900; and it enabled us to replace our stolen P.A. with a top of the line unit that we purchased from Watermelon Sugar in Saginaw."
The new unit required a professional soundman, so the band put an ad in the paper, and were very fortunate to find Jack Conners. "He was originally from Whittemore, and he was back in Michigan because of his father's health issue and to help him with the family business," Dave said. "Conners wanted to hook up with a band while he was here, and we lucked into having him work with us. He taught us a lot, and he took the band's sound to another level. He was a great guy."
"Conners had gone to school to learn how to be a sound tech, and he had worked with Grover Washington," Paul recalled. "Jack worked for the band and also trained my brother, Joe Schultz, in running the sound. After Jack left to take a job in Nashville, Joe took over as the Burdons' soundman."
By 1984, the band members earning enough money to make a living playing music. Performing their originals mixed with a tasty selection of covers, the band was being booked in venues all around the state by Bob Farmer, the biggest big booking agent in Mid-Michigan at that time. The Burdons were the first band that Farmer booked, and his business grew very fast from that point on.
The year also saw the band appear on the Bay County cable television channel as part of a video produced by Gary Johnson for the Essexville-Hampton Public Schools. Tradition was a documentary about Garber High School's Show Off!, an annual musical program that features performances from current students as well as past graduates. The Burdons' segment included a portion of their cover of The Beatles' "Please Please Me" as well as a complete performance of "Time", an original song that would appear on their upcoming album. Watch The Burdons perform at Garber High in 1984.
Watch The Burdons performing at Garber High in 1984. https://www.youtube.com/watch?v=MUbsQ1M8v50
The most noteworthy event of 1984, and possibly of The Burdons' entire career, was the recording of their eponymously titled vinyl album. "Jack Conners left as the band's soundman earlier in the year to take a job as an engineer at the RCA building in Nashville, and he talked us into going there to record," Scott Causley recalled.
Conners engineered and produced "The Burdons", which contained 13 original songs, at the Polly Fox Recording Studios. "We stayed in Nashville for about a month," Causley said. "We hooked up with some booking agencies there, and they were able to get us some paying jobs. We played a large Homecoming party at Vanderbilt University in Nashville, and we played other gigs to keep us in food money and to pay for an apartment."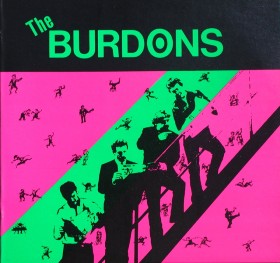 "The Burdons" LP
"The Burdons" album was a triumphant collection of high energy, danceable songs that fit comfortably in the popular New Wave genre; and it clearly demonstrated the band's songwriting chops. One area that Scott Causley wasn't completely happy with involved the sound of the drums. "The drums were set up in the studio for a traditional country sound.," he said. "They had fiber-skinned heads, and the studio wouldn't let me use my own drums on the sessions. The drums in the studio were a little dead sounding – they didn't want the tom-toms ringing or the crack of the snare drums."
The D.I.Y (Do It Yourself) trend first gained popularity during the punk rock movement during 1970s when corporations seemed to be gaining control of the rock and roll business. The national Top 40 ruled at radio stations, and it was becoming increasingly difficult for unknown bands to get signed to a major label or to have their music played on the air.
"The Burdons" album was a prime example of a D.I.Y. release. "All songs were credited to The Burdons rather than the individual composers," Dave Davenport said. "We set up Black Slacks Publishing with the idea that we would share the wealth equally. The name came from the fact that we all wore black slacks and also from the Robert Gordon cover of the 1957 rockabilly song, "Black Slacks", originally recorded by Joe Bennett and The Sparkletones."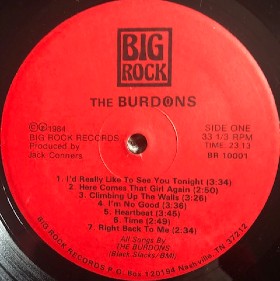 Side One of LP
The band had the album pressed in Tennessee, where it was recorded, and they released it on their own Big Rock record label. In addition, they included an album insert that contained the lyrics to their songs as well as information about the recording. The eye-catching album cover was designed by Jim McFarland, a friend of the band who was an art student at Michigan State University.
The Burdons had a lot to be proud of when they returned to Michigan and hosted a party for family and friends in a room at Sullivan's Restaurant in Saginaw to celebrate the album's release. The evening took and unexpected turn, however, when Bay City Mayor Tim Sullivan arrived and presented the band with a key to Bay City. "It caught everybody by surprise when we he showed up with the key," Causley recalled.
No one knows how Sullivan learned about the unpublicized event, but it was a nice gesture. The key presentation was not mentioned in the Bay City Times, and it was discovered later that Sullivan neglected to record the date of the presentation, the name of the band, or the reason for the award in the skimpy records of key recipients that were kept at City Hall.
Unfortunately, the honor has become somewhat tarnished over the years because of a fabricated story that has become attached to the Burdons' key. It states that the mayor had presented the key to the band rather than to Bay City-born pop star Madonna because they were "more deserving."
Madonna's connection to a key came from Mayor Tim Sullivan's announcement in the Bay City Times in July of 1985 that he planned to present a key to the city to the singer. Sullivan reneged on his offer following a Penthouse magazine announcement that it had purchased, and planned to publish, nude photos of Madonna that she had posed for six years earlier while still a struggling artist. Due to Madonna's celebrity status, the story of Sullivan declining to present her with a key was carried by media outlets all over the country.
Because of the nude photos and the possible negative effect on his campaign for re-election, Sullivan made a political and somewhat prudish decision to go back on his offer to present Madonna with a key. It is important to note that this controversy occurred nine months after the Burdons were given their key.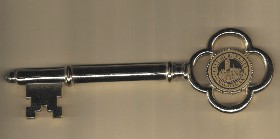 The Burdons' Key to Bay City No one seems to know, or is unwilling to admit, exactly how the Burdons became part of the Madonna/Sullivan story; but it has been repeated by members of the band on occasion, and it has appeared in print at least twice.
In the February 7, 2008, edition of Review Magazine, in an article titled The Burdons: Legends in Time, Robert E. Martin wrote: "Talk about cool, The Burdons were even given Madonna's 'Key to the City' when the Diva thumbed her nose at her old hometown, refusing to return to accept the award. At that juncture, then Mayor Tim Sullivan gave it to The Burdons instead, noting they were 'more deserving'." A simple check of the timeline of events shows that the above scenario couldn't have taken place. The Burdons were presented with their key in November, 1984. The controversy involving Madonna and the key didn't occur until July, 1985.
An even more egregious twisting of the facts was published in The Greatest Bands Series: The Burdons, featured in the July 2, 2015, edition of Review Magazine. Bo White wrote: "When Madonna turned down her key to the city from Bay City mayor Time Sullivan, after going on NBC's The Today Show and calling Bay City a 'dirty, smelly little town', Sullivan gave the key to The Burdons, telling the group they deserved it more than she did." White's account repeats the falsehood that she turned down the key, and then goes on to both misquote Madonna and wrongly link her Today Show appearance from 1987 to Sullivan's 1984 presentation to the Burdons.
Sadly, the story involving the band, the key, and Madonna has been accepted as fact by many and, as a result, it has obscured what was really significant about the band's honor. The band members were recognized for what they had achieved, not for one person's perception of how they compared to another artist. Just as important, it is almost certain that The Burdons were the first Michigan-born rock and roll artists to ever be awarded a key to Bay City.
The mystery as to the source of the misinformation regarding the bogus connection between the Burdons and Madonna was revealed in the September 16 – October 6 issue of Review magazine. While writing about the 2021 Hell's Half Mile Festival in Bay City and Smelly Little Town, the opening night documentary that explores Bay City's indecision on whether to capitalize on its Madonna connection, Robert E. Martin let the cat out of the bag. Martin revealed his source when he wrote: "Indeed, this writer remembers when Dave Davenport of The Burdons phoned him one morning to explain the Mayor had called and asked if the group would like Madonna's key-to-the-city, as they deserved it more than she did."
Dave Davenport also became the de facto business manager of the band following the album's release. "I included Goverment Records, the label for the Claude Coma records in California, in the album insert," Davenport stated. "The strategy was to make it look like the band was connected to the San Diego music scene rather than a small town like Bay City. To promote the album locally, copies were distributed to record stores throughout the Tri-Cities."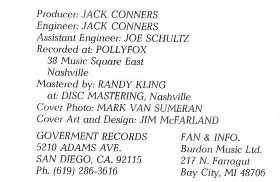 Album Credits
"Big Rock Records was the label created by my first San Diego band, Street Life," he said. "The name came from the fact that we used to rehearse on Big Rock Road in San Diego. I called the band members and asked if I could use the name, and they just gave it to me since no one owned it."
"A friend named Joe Satkowiak helped me pack and mail out albums and promo materials at my house on N. Farragut Street in Bay City. We mailed them out to radio stations around the country that might play some of the album," Davenport recalled. "Then I would call the stations and ask if they were playing it. It was interesting listening to some of the comments. If I got some takers, I would send out more albums with a new listing of radio stations that were playing the album along with some of the more positive quotes. To create interest, I also bought ads in music magazines."
"The calls helped the album get to # 40 on the Alternative Chart in U.S. Rock magazine, the bible of indie music in those days," he said, "We also got to # 1 on three college radio stations: Pittsfield, Massachusetts, Chico, California, and Boise, Idaho. I was trying to set up a tour with booking agencies so that we could play at the cities, but it was too difficult because of the great distances between the cities." The Burdons needed the gigs to make it work, but they lacked the finances and the support of a big record label to pull it off.
The album did help the band get some cool gigs the following year, however, including a summertime party for the Chicago Bears that was held in Traverse City. They would also go on to open for several well-known acts including Humble Pie, Flo & Eddie, ? & The Mysterians, and twice for Cub Koda at Backstreets in Bay City.
The Burdons attempted to record a second album in early 1986, but it did not go well. "The album was supposed to be financed by Aaron Elek III, owner of Capt. Jake's on the Kawkawlin River," Causley said. "He wanted it to be all covers of 60s rock that we had played at this bar. He didn't want any original songs." The band agreed because they didn't have enough money to record an album on their own, and Elek told them that he would pay for it all - studio time, rooms, food and everything else.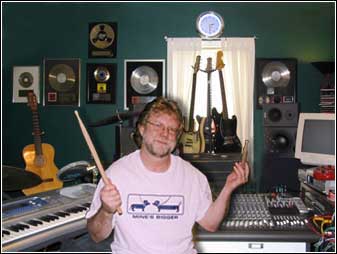 Henry Weck
The recording was started at Henry Weck's Schoolhouse Studio in Ann Arbor. Weck was the former drummer in Brownsville Station, but he was now producing records in his own studio, which was also his residence. Weck was great to work with, Causley recalled. "He let me use his drums, and he liked our cover of Brownsville's 'Let Your Yeah Be Yeah'."
The Burdons also recorded a cover of "For Your Love" by The Yardbirds and an original song called "Candy", that featured lyrics partly inspired by Henry Weck's very attractive live-in girlfriend. It came to an end when Elek abruptly decided to stop paying the bill. Six songs were recorded before the plug was pulled on the project, and they remain unreleased. "The problem with Elek was that he reminded me of Donald Trump in that he loved to boast about his wealth, most of which he inherited from his father," Jim Davenport recalled. "He was a heavy drinker, and he was always blowing smoke up our ass when we played at this bar."
By 1987, cracks had started to form in the band. "I had become frustrated with the fact that we were still playing the same set of songs, and I wanted to do some other stuff," Jim Davenport revealed. "The robbery had also taken a lot out of me, and I was thinking about quitting altogether." Instead, he left the band and did some recording at the Diamondhead Studio in Bay City with a teenaged Donnie Brown. He also played drums in a group with Ziggy Zeitler, John Krogman, and James Colpean in Saginaw.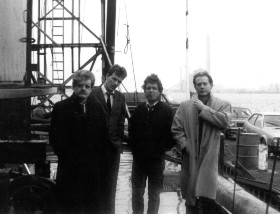 Paul, Scott, Dave & Jim
"Jim left in the late 80s, and Steve "Vinny" McDonell joined the band," Dave Davenport said. "It changed the dynamic of the band, but that was not a reflection on Vinny. The one thing that really changed was that Paul stopped writing music and became a little gun shy about playing the band originals."
"I grew up in Essexville, and I started out on guitar in a duo with my friend Mark "Makko" Neering, McDonell recalled. "I had met Makko in Boy Scouts and we became friends. I called him to see what he got for Christmas and he said he received a drum set. I told him that I had a guitar and amp, and after Christmas dinner my dad drove me and my gear over to his house."
"Later on, we met the Stagray brothers, Jim and Tim, who were better guitar players; and I was switched to bass. This was the start of the Kohoutek Metropolis Jilt (a.k.a. KMJ) Band. The name was the result of smoking pot on the lunch hour while we were in junior high," McDonell revealed. "At our first gig, we played at somebody's party where we stole all the dad's beer and it just sort of fell into place after that."
"KMJ never made any recordings, and we didn't play many originals. We were a cover band that played songs by The Stooges, MC5, Black Sabbath, and Alice Cooper – stuff that no one else played," McDonell recalled. "The Burdons played a lot more gigs because, for the longest time, KMJ was unbookable in clubs and bars. Everyone wanted to hear "867-5309/Jenny" and we were playing "Kick Out The Jams," he said. "When I joined The Burdons, we worked almost non-stop for the first four years. It was really something. We only had four or five weekends off per year."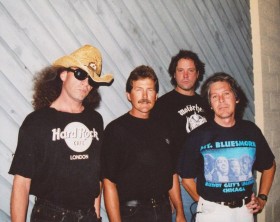 KMJ Band (L to R) "Vinny McDonell, Bob Charlebois, "Makko" Neering, John Hebert
During that time, Dave Davenport had been attending Central Michigan University. After he had earned his B.S. in Computer Science and Math, he left the band and took a job with State Farm Insurance in Illinois. His last gig with the band was on New Year's Eve night in 1990. Looking back he said: "When I left, we weren't playing as much and we weren't doing many originals. Paul had a great voice and Jim had a great stage presence. Scott was a riot to play with, and he'd often add some different things to a song."
Jim Davenport returned to the band at that New Year's Eve gig, but he played rhythm guitar since Vinny McDonell was still on bass. Four years after Dave Davenport left the band, Bob Charlebois joined on keyboards. Along with his brother Joe, Charlebois had played in a hard rock power trio called Mad Dog for over ten years until the band called it quits in 1983. Charlebois had been the lead guitarist and vocalist in Mad Dog, but he had also played keyboards on occasion.
In 1977, Mad Dog recorded an album of original material at the Glen Arbor Rolling Mills Recording Studio in Northern Michigan. Titled "617", the album was named for the warehouse at 617 Marquette Street in Bay City where the band rehearsed and composed their songs. Much like The Burdons would do seven years later, Mad Dog put the album out on their own Fish Head label, distributed the record themselves, and promoted it by relentlessly touring and visiting radio stations around Michigan.
"Bob Charlebois joined KMJ after Mad Dog broke up in 1983," Vinny McDonell remembered. "Members of the KMJ Band were renting a house on Dean Street in Bay City that was right around the corner from the house where Bob and Joe Charlebois were living. Bob would come around on Sunday morning with his homemade beer and his guitar, and we would spend the day jamming and getting looped."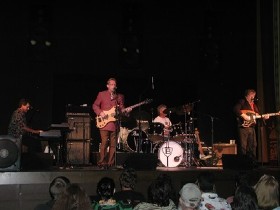 Burdons at Central High
"Paul Schultz was sick of playing without keyboards after Dave left," Charlebois recalled. "I had started playing keyboards in Mad Dog, and I played mostly keyboards in The Burdons after I joined in 1995. Near the end, I played more guitar and gradually added lead vocals to spell Paul."
"By 1996-97 things started to slow down for The Burdons" Vinny McDonell said. "My leaving was very amicable, and those guys are still very good friends of mine. It was time to do something else, and I got back with Makko and we got some new people to reform KMJ."
In the late 1990s, the four original Burdons reunited to record a live CD titled "Penny Arcade". It was named after the building it was recorded in; and the album was dedicated to the memory of their longtime soundman, Joe Schultz, who had recently passed away. We hadn't played together for a while and were a little under-rehearsed," Causley remarked. "I was happy with it," Dave Davenport said. "I think it captured the fun of a Burdons' gig."
As the Burdons moved into the 21st century, the band was not quite playing as often as in the past. "We still did a lot of gigs," Bob Charlebois said. "We played the Dockside, the car show in Frankenmuth, the State Theater, the Friendship Shell, and a lot of gigs at O'Hare's on Midland Street."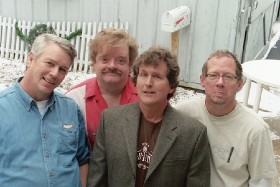 (L to R) S. Causley, P. Schultz, B. Charlebois, J. Davenport
"I started playing some of my own tunes after joining The Burdons," Charlebois said. "The songs were from the Bare Bones Blues Band that I had recorded but never released. Paul had left the band for a while when there was an illness in his family; and Scott, Jim, guitarist Jeff Parks and I did the Bare Bones recordings in about 2006. Some of those songs were performed later on with The Burdons."
Charlebois was playing in The Burdons, the KMJ Band, and the Bare Bones Blues Band during that period. In 2008, he did a show on New Year's Eve show with The Burdons and the KMJ Band alternating sets. Charlebois left The Burdons, however, after his name was not mentioned in an interview that Jim Davenport and Paul Schultz did in 2015 for the Bay Area Review. "I felt disrespected after playing in The Burdons for twenty years," he explained, but I'm open to playing with them again in the future."
The key to the city presented to the band by Tim Sullivan along with the guitar that was recovered by the Detroit Police after the robbery both became part of the display for the Michigan Rock and Roll Legends Hall of Fame at the Bay City Motor Company in 2010. After the BCMC went out of business in 2019, the display was moved to Scotty's Sandbar, located at 1201 Evergreen Drive on the Middle Grounds in Bay City.
In 2012, a photograph and a brief paragraph on The Burdons was included in Legendary Locals of Bay City, a book written by Ron Bloomfield, the then-director of operations and chief historian of the Bay County Historical Society.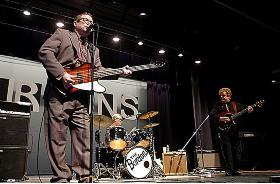 J. Davenport, S. Causley, P. Schultz
All of the present and former members of the band are still playing music, and Dave Davenport, Jim Davenport, and Scott Causley are doing some recording. Scott Causley has also been playing live music on a regular basis. He is the drummer in the Rhett Yocum Blues Band, and he and Bob Charlebois play weekly at Scotty's Sandbar in their band, Bluesmobile.
"The Burdons only play now on special occasions, maybe twice a year," Scott Causley said. "Now that Dave is retired, he joins the band whenever possible."
"At the Burdons reunion gigs, I'm smiling from ear to ear. It's so much fun," Dave Davenport revealed. "The Beatles had this saying in Hamburg, Germany, to "mach schau" (make show), and The Burdons always put on a show," he said. "We didn't worry about mistakes because we were a great team. When it came time to sing songs, we didn't have any ego issues. We generally sang what we wrote, and the performances were always in the best interest of everybody there."
In 2020, The Burdons joined Madonna, and over 100 other artists and individuals, as official members of the Michigan Rock and Roll Legends Hall of Fame.
MRRL Hall of Fame: https://www.michiganrockandrolllegends.com/mrrl-hall-of-fame