MRRL Hall of Fame
CLIFF BRAMLETT
Details

Category: Inductees
Created: Sunday, 10 June 2012 03:49
Written by Gary Johnson
The city of Detroit has produced a wealth of guitar players over the years. Some have achieved worldwide fame, but most have played their music in relative obscurity. Although he would best fit in the latter category, Cliff Bramlett's guitar had a significant role on a couple of very memorable Motor City recordings during the early 60's. But those magic moments on vinyl would prove to be not only his first studio releases, but also his last.
Cliff Bramlett was born on June 18, 1943 in Delray, a neighborhood located at the southwest corner of Detroit. His family home was near a largely industrial area of the city and was bordered on the south by the Rouge River. Bramlett's father had migrated north from South Carolina for work and landed a job at the Allied Chemical plant. Bramlett's mother was a housewife, who cared for her four children; Cliff, his older sister, and two younger twin brothers.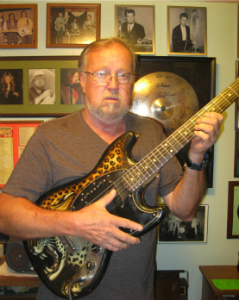 Cliff Bramlett
In 1950, the family moved to the suburb of Allen Park. Although the roads were not yet paved, it was a more family-friendly community with lots of kids to play with. It was in Allen Park that Cliff first got interested in music. He became fascinated with the upright bass after watching musicians playing the instrument on the family's new television set.
Bramlett found an old Gretsch guitar with only two strings that his father had tucked away in the house, and he began to experiment with it. His journey into music was helped along by his sister's boyfriend, Bob Makley, who collected blues records and often brought them over to the house to play on her portable phonograph. Bramlett first started with the guitar in an upright position like a bass, playing along with the records of John Lee Hooker, Jimmy Reed, and Bo Diddley. As time went on, he began strumming the old Gretsch like a guitar, still with only two strings.
Since most the blues records he accompanied featured a simple three chord progression, Bramlett was able to pick up enough skill to convince his father to have the other four strings put on the guitar. Since neither he nor his father knew how to tune the instrument, Cliff experimented with the tuning until he found something that sounded good. In this way he accidentally discovered the open D tuning used by most bluesmen, including those early influences he had heard on records.
Bramlett's parents divorced when he was 13-years-old. His older sister was married by this time, so Cliff stayed with his father while his twin brothers went to live with their mother. His father worked a swing shift at the chemical plant – six days on, two days off, resulting in Bramlett spending a lot of time alone. The experience taught him how to be self-sufficient at an early age, however, and gave him ample opportunity to experiment with his guitar.
Completely self-taught on the instrument, (he never took a guitar lesson in his life) Bramlett began playing guitar with friends in the basement of his home. The following year, his mother bought him a Silvertone electric guitar from Sears. It was an inexpensive model, but Bramlett loved it. His brother-in-law showed him how to plug his new guitar into the speakers on the television, and Bramlett would lie on his back and play his guitar through them until his father bought him a small amp.
His love of black music and leather jackets made him something of an outcast at Allen Park High, however. Unhappy in school, Bramlett quit as soon as he could and started working odd jobs to make some money.
Cliff's passion for the guitar soon led to a different kind of opportunity. Bramlett had begun composing a few instrumentals, and a friend of his sister invited him to bring his guitar to a party where he would be paid in drinks. Bramlett was a big hit, and soon found himself hanging out with groups of older guys at the Burger Box Drive-In on Telegraph Road, where word would usually spread about a party. At these house parties, Bramlett would be supplied with alcohol as he played guitar while seated on his amp.
As word about him spread, Bramlett was also invited to play at parties composed of mostly blacks and Hispanics. The rivalries between the different groups sometimes led to fights or "rumbles" as they were called back in the day. Bramlett remembered one such occasion in which a few carloads of guys showed up at a party looking for a fight. Bramlett was playing while seated on his amp during the fracas, and heard one of the combatants yelling "Don't hurt the guitar player; he's playing at my party tomorrow!"
Bramlett was living pretty large for a teen just dropped out of high school. He had met some of members of The Larados, a popular Detroit doo-wop group, and backed them on guitar at several of the parties. Bramlett also had a girlfriend who was 21, and she squired him around town in her pink and black '55 convertible.
In 1960, Bramlett was introduced to the underground world of Detroit's after-hours drinking establishments, known as "blind pigs", by a black guitarist named Willie Fleming. Fleming often played in the blind pig owned by his father on Fort Street. The elder Fleming operated a car wash next door in which he distilled the bootleg liquor that he sold at his establishment.
During that year, Bramlett participated in his first recording session by playing rhythm guitar on two of Fleming's songs at a small garage studio in Detroit. Acetates of "Pedro Shimmy" b/w "Night Street" were recorded but never released.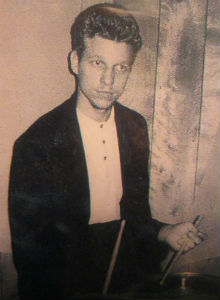 Joe Cyers
After several years of playing for drinks at house parties and blind pigs, Bramlett started his professional career in 1961 by using a fake I.D. to land a brief paying gig with a band at the Scenic Inn on Fort Street near Outer Drive. He used this experience to land his next job at the Autorama car show in Detroit. It was there that he met drummer Joe Cyers, a Dearborn native who shared his love of the blues. Billed as Cliff & Joe, Bramlett and Cyers soon found a steady gig playing at the Escape Lounge in Detroit.
Cyers was friends with members of The Royal Playboys, an all-white Dearborn band that was rehearsing for a recording session with a black vocal group from Detroit called The Dynamics. Cyers drove to the jam session to hang out with his buddies, and he invited Bramlett along.
Although the Royal Playboys had already successfully backed the Dynamics on the 1962 single, "Delsina" b/w "So Fine", they were not having much luck trying to work up an arrangement for a new Dynamics' composition called "Misery". The major issue was the all-important lead guitar part on the song. After many failed attempts to come up with what the Dynamics were looking for, Bramlett was offered the chance to sit in and try his hand. Bramlett's blues-based lead sealed the deal, and he was hired to play guitar at the Dynamics' recording session for both "Misery" and "I'm The Man" at the United Sound studio in Detroit. The recordings were done through Fox Records, one of the city's small independent labels with an office on West Grand Blvd.
Cyers also played on the session because Lou Guido, the regular drummer for the Royal Playboys, had suffered a broken leg. Bramlett remembers that they had worked with the Dynamics on the songs for roughly a month, so the groups were very well rehearsed before the session. Six songs were recorded at the date that was engineered by Danny Dallas.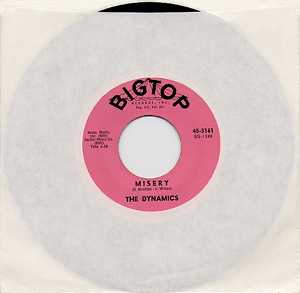 "Misery" 45
The first two to be recorded were "Misery" and "I'm The Man". "Misery", with Bramlett's piercing lead, Cyer's steady beat, a blistering sax solo by Stan Petriw, and incredible vocals by the Dynamics, is doo wop meeting soul on the mountain top; and it is high energy Motor City R&B at its best. The flip, "I'm The Man", is also a classic. This side showcases Cyer's drumming and features a very cool Bramlett guitar solo.
Next up were two instrumentals composed by Cliff Bramlett, "Goodbye Bo" and "Happy Hours". "Goodbye Bo" is Bramlett's homage to one of his major influences, Bo Diddley. The record starts out quoting Diddley's 1959 hit "Crackin' Up" before blasting into high gear with nods to the "shave and a haircut, two bits" riff made famous on his classic Chess and Checker recordings of "Bo Diddley", "Who Do You Love?" and "Hey Bo Diddley". Two other songs were recorded that day featuring vocals by both Bramlett and Cyers, but were never released.
The guitar playing on the "Goodbye Bo" instrumental is equal to anything Duane Eddy or Dick Dale issued during this time period, but very few people seemed to realize that it was Cliff Bramlett. The first problem was that the song had to be released under The Royal Playboys name in order to get the session paid for and the record released. The second difficulty had to do with the fact that the song was released on the tiny DoDe label. This almost guaranteed limited distribution despite the fact that the song was a sizeable hit in Detroit. "Goodbye Bo" spent four weeks on WKNR's Classic Top 30 Survey, peaking at # 18, and one week at # 29 on CKLW's Big 30 Survey.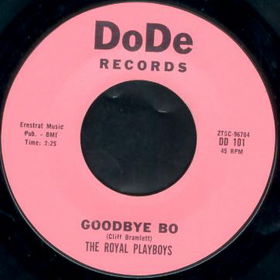 "Goodbye Bo" 45
"Misery" was another matter entirely. It was picked up by Big Top Records, the label of both Del Shannon and Johnny and The Hurricanes. It was issued in the fall of 1963 and became an immediate hit in Detroit. The song spent all of November in the Top Ten of WKNR's Classic Top 30 Survey and did not drop out of the chart until the following month. "Misery" also did well nationally, spending a total of ten weeks on the charts and peaking # 44 on the Billboard Hot 100.
The song also got airplay overseas, especially among the youth group in England known as "Mods". Pete Meardon, the young manager of The Who, was trying to break the band in England by marketing them as a Mod band. It was Meardon who suggested that The Who change their name to the Mod-inspired High Numbers and record two R&B flavored songs that would appeal to their target audience. In 1964, Meardon took the melody of "Misery" and changed the lyrics to reflect current Mod fashion, titling it "Zoot Suit". He also claimed sole songwriting credit for himself, and the plagiarized song became one side of the High Numbers' first single.
Since "Zoot Suit" was not a hit in England, and was not issued in the United States until it appeared on the soundtrack of the 1979 film Quadrophenia, the plagiarism issue was never resolved. Bramlett was not even aware of it until 2004, forty years after "Zoot Suit" was recorded.
But back in late 1963 and early 1964, Bramlett and Cyers were basking in the glory of playing on two hits that were on Detroit radio. Bramlett remembers that he was a passenger in Cyers' Corvette when they heard "Misery" come on the radio for the first time. They whooped it up, and rolled down the windows as they played the song full blast. Looking back nearly 50 years, Bramlett recalls what a great thrill it was watching the song climb the charts in Detroit. He says that it's hard to put into words how much it meant to get a song on the radio in the early 60's.
In a recent phone interview Bramlett reminisced that customers would come into the Escape Lounge with copies of "Misery" for the duo to autograph, but that he and Cyers only played live with The Royal Playboys and The Dynamics one time. It was at a high school dance shortly after "Misery" had become a hit in Detroit. The session at United Sound would also be the only one in Cliff Bramlett's career.
Although the DIY (do it yourself) ethic of self-sufficiency is usually associated with the punk rock movement of the late 70's, Bramlett was most certainly an early adherent. Besides being self-taught on guitar, he also managed his own career by lining up gigs, hiring and firing musicians, and dealing with the financial end of being in a band. Although admirable, the lack of a manager/promoter and the absence of any meaningful promotion may have cost him a chance to further his recording career by not fully taking advantage of the success he had with "Misery" and "Goodbye Bo".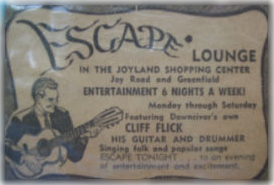 Bramlett performing as "Cliff Flick"
After Bramlett and Cyers split up, Jimmy Lee MacGregor was brought in on drums. The owner of the Escape Lounge only knew him as Cliff, despite his being something of a local celebrity because of "Misery". Since the club owner didn't know Bramlett's last name, he advertised the new duo as Cliff "Flick" and his drummer. Not lacking a sense of humor, Bramlett began using Flick as his stage name and introduced MacGregor as "Flucker". Meanwhile, Joe Cyers recorded another single with The Dynamics in 1965, and then joined with the other two members of Joey Day and The Dares to record as Wombat.
By 1965, Bramlett was married with a family to support so he was working a full-time day job and playing music in clubs at night. After the Escape Lounge gig dried up, Bramlett was contacted by Coleman Taylor, owner of a club called the Blue Castle, and offered a job. Bramlett asked Paul Hinz to join the group as a second guitarist, and thus began the 20-year run of Cliff and the Classics as one of the Detroit area's most popular nightclub/bar bands.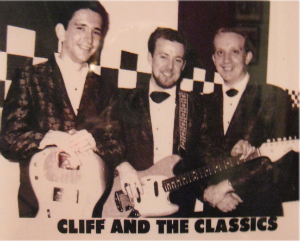 Bramlett (center) with the Classics
The band played at the Blue Castle for three years, and then moved to the 007 club in Delray where they spent another two years packing the club every night. Despite their popularity, Cliff and The Classics never recorded. The band went through a number of personnel changes over the years until Bramlett finally called it quits in 1984.
Later that year with his marriage on the rocks, he was talked into coming out of retirement by his daughter Kelli and step-daughter Ronda who wanted to be in a band. With the girls handling the vocals, and the addition of four new musicians, the seven-member group would be the final edition of Cliff and The Classics. Coleman Taylor, a great friend of Bramlett's since the Blue Castle days and called "Uncle Coleman" by both Cliff's daughters and granddaughters, hired the band for its final gigs at his new club, the Tonky Honk.
After closing the book on Cliff and The Classics, Bramlett was invited to join The Reflections. The group was composed of Tony Micale, who sang lead on the Relflections' hits "Romeo & Juliet" and "Poor Man's Son" in the 60's, as well as former members of The Larados and The Latin Counts; but Cliff declined the offer. Instead, Bramlett spent the next four years caring for his father who had suffered a stroke.
Following his father's death in 1988, Bramlett visited Florida for the first time. After experiencing the sunshine, he sold everything in Michigan and moved to Florida permanently. Long interested in art, he bought a screen printing business down there and ran it for the next 18 years.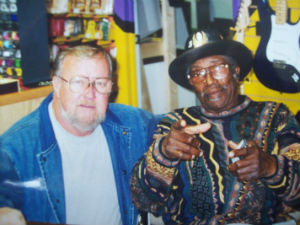 Bramlett with Bo Diddley
Bramlett suffered a stroke in 2000. He has made a remarkable recovery over the past twelve years, but he says he still has some problems with spelling and his memory. His daughter Kelli lives next door to him in Inverness, Florida, and she has been a very important part of his recovery. Besides helping him negotiate the digital world of computers, emails, and Facebook, she helped him rekindle his interest in the guitar after being paralyzed on his right side by the stroke. Although he had only about 70% feeling on his right side, he was able to accompany Kelli on one of their old favorites, the Everly Brothers' version of "Let It Be Me". It made Bramlett realize that playing the guitar again was great therapy for him. Bramlett now has a pacemaker, but he lives alone and is self-sufficient, still embracing that DIY ethic that he grew up with in Detroit.
Cliff Bramlett was inducted into the Michigan Rock and Roll Legends online Hall of Fame in 2012. His most famous recording, "Misery" by the Dynamics, was voted a Legendary Michigan Song that very same year.
MRRL Hall of Fame: https://www.michiganrockandrolllegends.com/mrrl-hall-of-fame
Listen to Cliff Bramlett's stellar guitar playing on his composition of "Goodbye Bo" https://www.youtube.com/watch?v=4UUxBjQUFEQ