MRRL Hall of Fame
FRIJID PINK
Details

Category: Inductees
Created: Wednesday, 26 June 2013 07:30
Written by Gary Johnson
Frijid Pink was one of the most successful of the many hard rock bands emanating from Detroit in the late 60's and early 70's. They were the first rock group from the Motor City to chart a Top Ten single, 1970's "House Of The Rising Sun", and the first to have their self-titled debut LP crack the Top Twenty on Billboard's Top Albums chart. The band would chart one more album and two singles before the original band line-up underwent some significant changes in personnel.
The Frijid Pink saga began in Allen Park, a suburb of Detroit located in the southern part of Wayne County. Composed of tree-lined streets and neat brick houses, the city was closely associated with the Ford Motor Company. Many of the auto company's offices and facilities are still located within the city limits as is the Uniroyal Tire, the world's largest sculpture of a tire. The city's main roadside attraction was previously a Ferris wheel at the 1964 World's Fair in New York. The structure, which is 80 feet tall and weighs 12 tons, was moved to Allen Park in 1966.
Rick Stevers grew up in seemingly idyllic Allen Park, the son of a police officer. Stevers said that "going through elementary school and junior high with my father a cop was a bitch. I wore glasses and my old man was a cop; back in those days you couldn't get much worse than that". He revealed that this combination made him a frequent target of bullies and often resulted in him "walking blocks out of the way so I could get home without getting my ass beat".
Rick's interest in music started with his grandfather who gave him a small phonograph when he was three-years-old. Rick would listen to music for hours and wore out several copies of a Nat "King" Cole record his parents had purchased. He loved the violins on the record and this carried over to rock and roll through the string-drenched productions of Owen Bradley on many of Brenda Lee's biggest hits.
Since Rick's parents didn't even have a radio in the house, his introduction to rock and roll came at the houses of his older cousins. There he immersed himself in their record collections which included the classic recordings of Elvis Presley, Buddy Holly, Gene Pitney, and the Everly Brothers. Stevers started playing instruments in elementary school and was a drummer in in both the marching bands and concert bands in high school.
Tom Harris' home situation was very different from Rick's. His family came from Alabama and music was an important part of the family dynamic. Harris moved to Allen Park when he was two-years-old. Every Sunday the family would gather for what they called "pickin' and grinnin'" sessions at his grandparents' house.
Like Stevers, Harris started playing music in the school band in elementary school. Although his teacher wanted him to try the saxophone, Tom says he "wanted to play the clarinet in the woodwinds section because that's where all the girls were". His dad bought him a guitar and at the age of thirteen, and he was invited to jam with his neighbor's band. They needed a bass, so they took two strings off his six-string guitar and painted it black. Harris became a bass player from that point on.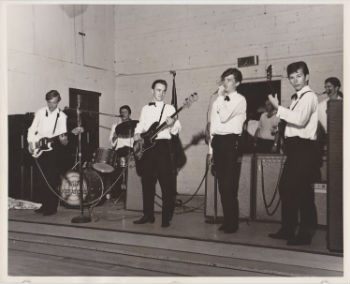 Detroit Vibrations (L to R) Cary, Dayton, Rick Stevers, Tom Harris, Bill O'Reilly, Tim Machnik, Dan Mason
The Detroit Vibrations started in 1964 in the Stevers' basement. They were basically a teen R&B band that covered the Motown hits as well as the releases of many other popular artists of the day. Besides Stevers and Harris, the original members were Billy O'Reilly (lead singer), Cary Dayton (lead guitar), Tim Machnik (rhythm guitar), all from Melvindale High, and Dan Mason (keyboards) from Taylor High. The young band was managed and transported to gigs by Rick's parents, Clyde and Clara Stevers, along with Tom's sister Judy Harris and her husband Marv Wilson.
Both Tom and Rick were avid record collectors, especially after they formed the Detroit Vibrations. Being a cover band that played the current hits, they anxiously awaited new releases so that they could be the first group in the neighborhood to play it. Back in the days before there were cuing arms on record players, the band members would try to figure out the lyrics on the newest hits by lifting the needle off the 45, write down some words, and then try to put it back at the same spot so they could continue the laborious process of obtaining the lyrics for the entire song.
The hottest Allen Park rock and roll venue for teens was The Chatterbox. The Detroit Vibrations were soon the kings of that scene and the champions of many early "battles of the bands" held at the club. The winner of each battle would earn the right to play the club that weekend, and the Detroit Vibrations played twenty-three weekends in a row at one point. Local television deejay Robin Seymour was a friend of the club's owner, and that connection led to frequent highly prestigious appearances by the band on Seymour's popular teen dance television program, Swingin' Time.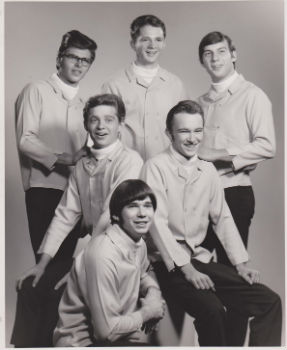 1966 lineup (top row) Rick Stevers, Dan Mason, Gary Thompson (bottom) Bill O'Reilly, Dan Yehley, Tom Harris
The first personnel changes in the Detroit vibration occurred in 1966. Rick Stevers recounted how it all went down: "Gary Thompson and Kelly Green (a.k.a. Tom Beaudry) were from Wyandotte High. They showed up at a gig one day at the Chatterbox in Allen Park and approached my dad and said 'We're a lot better than the guys you got on stage'. So we tried them out and they ended up being in the group. "We let Tim Machnik go. He really wasn't doing the job, didn't care about playing guitar, and just wanted to look good for the babes. As for Cary Dayton, I believe it really came down to his father who was pretty controlling and just didn't want him in a band". After operating with two lead guitarists for a short time, the band's management cut loose Billy O'Reilly. Guitarist Dan Yehlely also played in the band briefly, but he was forced to leave the group when he was drafted into the Army. Yehley was sent to Vietnam and killed in an enemy ambush just two weeks into his deployment.
The Detroit Vibrations were getting so much work that Stevers had to drop out of the high school band in his junior and senior years because he didn't have the time to participate in the homecoming parades and all the other required activities. His band director, Lincoln Naumoff, made sure Rick still received his varsity letter for band, however, because he knew Rick was pursuing his music career outside of school. Naumoff was a talented music teacher who supported his students in and out of school. He later did the lead sheets for Frijid Pink's first three albums and even wrote a score for the Melvindale High Marching Band's performance of "Sing A Song For Freedom", one of Frijid Pink's three charting singles.
According to Stevers: "We were pretty good, but we were playing backyard parties, teen clubs, and sometimes two shows a day at The Chatterbox - one for kids with no alcohol, then one at night for the over-21 crowd with alcohol. We were still the Detroit Vibrations when the decision was made to play originals. One of the driving factors of going with original songs was Kelly Green and Gary Thompson joining the band. It made for an interesting combination as Harris and I were more R&B and Green and Thompson were more rock".
This new direction precipitated a name change for the band, but what name to choose? Clara Stevers got the ball rolling when she suggested 'frosted pink' after seeing the pink paint in both Dan Yehley's and Rick's hair and on their clothes after painting the family bathroom. That didn't exactly fly with the macho young men in the band since it was quite fashionable at that time for women to have their hair frosted, but the idea didn't completely go away.
The solution to the dilemma came as the band's four managers were discussing ideas for the new band name on a Friday night in the Stevers' kitchen over a bottle of Canadian Club. When 'frosted pink' was brought up again, Judy Harris suddenly changed it to 'frigid pink' after staring at the Stevers' Frigidaire refrigerator. Clyde Stevers then suggested using the 'j' instead of the 'g' because it was both different and looked German; and a classic band name was created.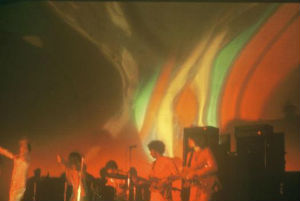 Frijid Pink at the Harbor Lights 1967
The Detroit Vibrations officially changed its name to Frijid Pink in 1967 at the Harbor Lights – a movie theatre turned concert venue. It hosted big name acts like Kenny Rogers and the First Edition and the 4 Seasons. The band had its own light show and fog machine and decided to do the change on its big stage during its second set. The set opened with their cover of the Vanilla Fudge version of "You Keep Me Hanging On" and with fog enveloping the stage, the band came out in new pink satin and velvet outfits. The design, patterns, and sewing of the flashy new Frijid Pink apparel was completely done by Judy Harris and Clara Stevers.
Besides ruling the stage at The Chatterbox, The band regularly appeared at a variety of teen dance clubs in the area including The Hullabaloos in both Ann Arbor and on Ford Road near Telegraph, The Pumpkin in Westland, and The Inferno in Flat Rock. The Mummp was another popular teen club gig. It was located in the Northland Mall in Oakland County. The venue was formerly the Northland Playhouse. The Amboy Dukes were the house band at The Mummp for a time.
Because of their foundation in R&B, Frijid Pink was often called upon to back some of the bigger name acts who would appear at the teen clubs promoting their recent releases. They played behind a number of well-known black performers during the 60's including The Four Tops, The Parliaments, The Dynamics, The Contours, and The Falcons.
It was their ability to back other artists that led to Frijid Pink's first recording contract. They got an opportunity to be part of the ALSAC show at Cobo Hall, Danny Thomas' all-star benefit for St. Jude's Hospital. Neil Diamond, Bob Seger, and many others played at the prestigious affair. Jerry Jaye was another of the scheduled performers. He had charted two recent country/pop hits, "My Girl Josephine" and "Let The Four Winds Blow", but his backing band didn't show up in time for his appearance.
Jaye's manager asked Frijid Pink if they could back Jaye. The band agreed, and went backstage and did a couple of quick run-throughs of the two songs. The actual performance went so well that Jaye asked them to become his new backup band. They couldn't take the job because both Harris and Stevers were still in high school, but Jaye's manager was appreciative of what they had done for his artist and told them to record something and send him the tapes.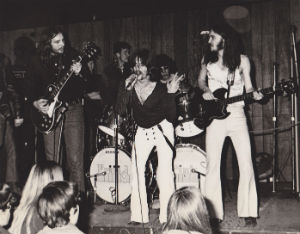 Frijid Pink (L to R) Gary Thompson, Kelly Green, Rick Stevers, Tom Harris
Frijid Pink recorded an album's worth of songs at the Pioneer Studio in Detroit. The band had bought several blocks of studio time, but they were so well rehearsed that they had time left over in the session. The band was asked if they had anything else ready to record, and they tried a hard rock version of the old folk blues "House Of the Rising Sun", recorded in 1937 by Georgia Bell Turner, covered by Bob Dylan on his debut album, and updated in 1964 by The Animals for their only # 1 hit single.
Prior to the recording session, the fuzz-drenched arrangement had only been worked on by Stevers and Thompson. It was Thompson's idea to do the cover, not as a recording but as a song to be played in the band's live set. With twenty minutes left in the session, Stevers, Thompson, Harris, and Green did a quick run-through and then recorded "House" in just in one take.
The tapes eventually reached the desk of Walt McGuire, the President of London Records. Frijid Pink was then signed to Parrot Records, an American division of London Records that had been started in 1964. Parrot had several important acts including The Zombies, Them with Van Morrison, Tom Jones, Lulu, Savoy Brown, Engelbert Humperdinck and The Moody Blues.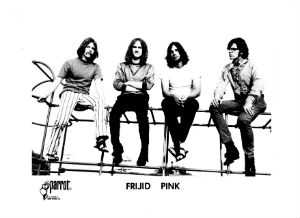 (L to R) Green, Harris, Thompson, Stevers
Frijid Pink was then flown to New York to finish recording what was to become their first album at Media Sound Studios. "Tell Me Why", backed with "Cryin' Shame", was Parrot's choice for the first single to be released in advance of the album. Issued in 1969, it was a blast of grungy Motor City hard rock that fit right in with the recent releases by the MC5 and The Stooges. It was popular in Detroit and north along the I-75 corridor, but the single might have been a little too raw to gain much airplay outside of the state.
Parrot's second try was the power ballad "God Gave Me You", backed by another rocking number called "Drivin' Blues". Although arguably more radio-friendly than "Tell Me Why"; "God Gave Me You" was also doing little business outside of Michigan, when fate intervened.
Stevers was dating the daughter of Paul Cannon, the program director at WKNR, and took the studio tapes of the band's recordings over to get his opinion. He played Cannon short snippets of each song to give him an idea of what they had in the can. "House Of The Rising Sun" was the last song on the tape, and Stevers shut it off after just a few seconds and started rewinding since it wasn't intended for release. Cannon stopped him and told him play more of the song that was recorded as an afterthought. Recognizing its hit potential, he suggested that the band's management immediately call Parrot; and advised them to have the company pull "God Gave Me You", and put out "House Of The Rising Sun" in its place.
Three weeks later Stevers was making out with Linda Cannon in her parents' driveway when they were interrupted by the dreaded knock on the window by her father. Called into the house and thinking he was in trouble; Stevers was greeted instead with the sound of "House Of The Rising Sun" blaring out of the Cannon family radio. The song was on its way to becoming a massive hit.
"House Of The Rising Sun" debuted on Detroit's WKNR the first week of January, 1970, and would spend the next two months on the 'KEENER' charts. It hit the Billboard Hot 100 on February 7th and would remain on the national chart for the next 13 weeks, peaking at # 7, and earning Frijid Pink the first gold record ever awarded to a Detroit hard rock band. The song was an international sensation as well, reaching # 3 in Canada, # 4 in the United Kingdom, and spending an incredible eleven weeks at # 1 in Germany.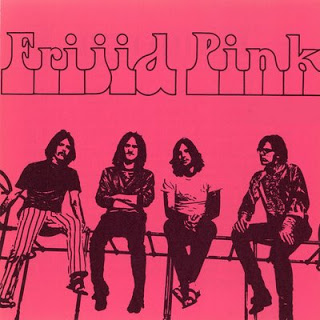 Parrot released the band's first album, "Frijid Pink", in the wake of the singles' success. Graced with a striking day-glo pink and black cover, the LP debuted on the Billboard Top 40 Albums chart on March 7th, and would spend a total of 13 weeks there, peaking at # 11. The LP, which included the earlier singles along with their hit cover of "House", still holds up today as one of the stronger albums to come out of the Detroit rock scene at that time.
Everything changed after "House Of the Rising Sun" hit. Frijid Pink was on the road constantly. They traveled with six guys in a Ford LTD, sometimes driving hundreds of miles to get to the next gig the following day. They were making lots of money but had no time to spend it. Stevers said that both he and Harris had stacks of uncashed checks in their dresser drawers during that amazing first year of success.
Although Frijid Pink had played at the Grande Ballroom and at a slew of Michigan festivals, they spent less time in Detroit after the success of "House Of the Rising Sun". As a result they never really became part of the Detroit rock band clique. Because their bookings were done by Willard Alexander out of Chicago, they were seldom included in the package shows in Michigan on which bands like SRC, Frost, MC5, the Bob Seger System, the Amboy Dukes, and the Stooges would all play the same venues, booked by local promoters like Brass Ring or Mike Quatro.
According to David Carson's Grit, Noise And Revolution: "the band toured Australia and Canada, as well as the United States, including an impressive date at Unganos in New York. An article in Creem said Frijid Pink had experienced an "overnight rise," and that everyone in Detroit seemed surprised. While the "5", the Stooges, Frost, and other Detroit bands were having problems selling records away from home turf, Frijid Pink had seemed to come out of nowhere and go international."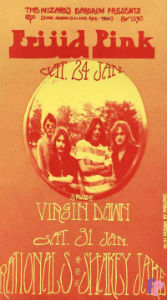 Although there was no apparent jealousy from the other Michigan bands at the time, Frijid Pink still suffers from their outsider status today. They were included in David A. Carson's book but they were not interviewed for the Louder Than Love documentary about the Grande Ballroom; even though a brief segment of "House Of The Rising Sun" was used on the film's soundtrack. In addition, Frijid Pink was barely mentioned in Steve Miller's book, Detroit Rock City, an oral history of Detroit's hard rock scene, despite the fact that they were the first Detroit rock band to break big outside of Michigan.
Frijid Pink once again appeared on Swingin' Time to perform "House Of The Rising Sun" and were presented their gold record by host Robin Seymour. In the summer they appeared on Upbeat, the syndicated musical variety show produced in Cleveland. The band performed their big hit and repeated being presented their gold record, but this time it was done by the Upbeat's host, Don Webster.
Having a big hit can also land you on national television. Frijid Pink took part in an early video for a syndicated musical variety series called Something Else, hosted by comedian John Byner. The band was flown to a small mining town outside of Reno, Nevada, to shoot the scenes. It was the first time any of them had ever been on an airplane. They filmed all day long in the ghost town during which Stevers claimed they "froze their asses off". Being Michigan boys, none of the band realized how cold it got in the desert once the sun went down and didn't bring any warm clothes. Shots in the mining town were then mixed with scenes of Frijid Pink lip-synching to the recording of "House Of The Rising Sun" for the actual broadcast.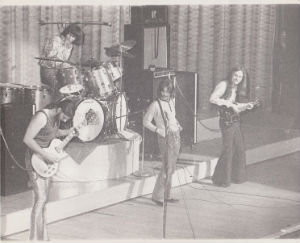 Frijid Pink on stage
The band had debuted their new single, "Sing A Song For Freedom", during their appearance on Upbeat. The song was released in advance of the new Frijid Pink album due for release later in the year and was backed by "End Of The Line", a song that had been issued on their first LP. Despite a push by Parrot, the newest Green/Thompson composition did not come close to matching the sales of "House" and peaked at # 55 on the Hot 100 in the summer of 1970.
Frijid Pink returned to Detroit in the late summer and performed at the first of the "People's Ballroom" benefit concerts at the Grande Ballroom for MC5 manager and political activist John Sinclair who had been sentenced to ten years in prison on a marijuana charge in 1969. Other acts performing on the bill included the MC5, the Up, Detroit featuring Mitch Ryder, and Third Power.
"Defrosted", Frijid Pink's second album, was released in the fall. It was no match for their debut. Perhaps the group needed a little more time to work on their follow-up because the songs just didn't measure up to those of "Frijid Pink"; and although "Sing A Song For Freedom" was included, their sophomore effort didn't contain a knockout song like "House Of The Rising Sun". In addition, the album cover art, which pictured the band inside a giant ice cube, was lackluster compared to their first album. To top it off, Parrot committed the blunder of printing the wrong last name for bass player Tom Harris in the album credits. "Defrosted" was a sales disappointment and only reached # 149 on Billboard's Top Albums chart.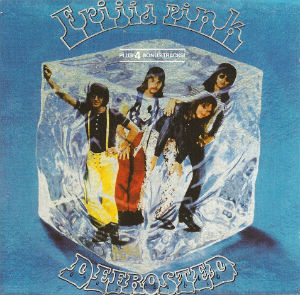 The band took to the road again to support "Defrosted". Harry Phillips, formerly of the band Catfish, was added on keyboards to bolster the band's live performances. One of their strangest shows on the tour involved playing for President Richard Nixon, who supposedly was a fan of their version of "House Of The Rising Sun". Prior to their performance, the FBI came to Allen Park and investigated the band to see if they were safe enough to play with the President in attendance.
Don Costa did "Exodus" with his big band as an opener for the show attended by Nixon. Frijid Pink had also been playing the song live and closed the show with a hard rock version of "Exodus" that brought down the house. Their cover of the song was released many years later on the "Frijid Pink, Frijid Pink, Frijid Pink" album. Afterwards, Costa gave the band compliments for their version and later bought Stevers his first card to get into the Playboy Club in Chicago. Sammy Davis Jr. was also there, and when he discovered that Stevers was blind in one eye, Sammy invited Rick to a party on his personal yacht.
In an attempt to regain their momentum in record sales, Frijid Pink released a non-album single in December, 1970. Harry Phillips suggested they do a cover of Elvis Presley's first big hit, "Heartbreak Hotel". Phillips came up with the crucial keyboard part but before they could record the song, they had to get permission from Tree Publishing, the company that published Elvis' hit in 1956. That turned out to be relatively easy since Tom Harris' cousin, Buddy Killen, was not only an important figure in the music business but was also one of the owners of Tree Publishing.
The band's cover of "Heartbreak Hotel" is great for the same reason as their cover of "House Of The Rising Sun". Instead of trying to imitate the original version, the band turned the song on its ear by turning a moody mid-tempo blues ballad into a hard rocking rave-up. The single was only a minor hit, reaching # 72 of Billboard's Hot 100 early in 1971, but it was big in Europe and would have been a welcome addition to the tepid "Defrosted" album.
Frijid Pink had just released a new single in 1971 called "Music For The People" when in Stevers' words, "the shit hit the fan". The gospel-styled song prominently featured the keyboards of Harry Phillips and boasted the backing vocals of Thelma Hopkins and Joyce Vincent Wilson, who by the end of the year would join Tony Orlando as Dawn. It was a big departure for Frijid Pink and original group members Thompson and Green apparently did not like the new direction.
The band was staying in a hotel in East St. Louis with a gig scheduled the following day at a big college two states away. The next morning, as they were preparing to depart, Thompson and Green could not be found. The pair had left during the night without telling anyone and hitchhiked to Detroit. The pair then took a plane to New York and the offices of Walt McGuire, head of London/Parrot Records. Thompson and Green reportedly declared themselves the stars of Frijid Pink and demanded a new drummer and bass player. McGuire not only turned them down but also informed them that they were in breach of contract and that the band was through at Parrot Records.
Gary Thompson and Kelly Green were described by Stevers as "hard to work with", but their leaving not only derailed the tour and killed any hopes for the "Music For The People" single, but also cost the band its record label. Thompson and Green would go on to form Bullfrog in the wake of departing Frijid Pink, but that band produced nothing of significance. Thompson and Green are, however, still receiving royalty checks from the first two Frijid Pink albums because they are listed as the composers of most of the albums' songs. Stevers and Harris, on the other hand, never thought to insist on composer credit for their contributions and earn nothing in songwriting royalties.
The two remaining original members of Frijid Pink weathered the storm and auditioned new musicians. They eventually came up with a lineup that included Harris and Stevers along with keyboardist Larry Zelenka, Jon Wearing (formerly of the Tidal Waves) on lead vocals, and Craig Webb on guitar and vocals. Now signed to Lion Records, a subsidiary of MGM, this is the group that recorded "Earth Omen" in 1972. By this time the band's management had also changed. The road had taken its toll on the marriage of Judy Harris and Marv Wilson and they dropped out after their divorce, leaving Clyde Stevers in charge.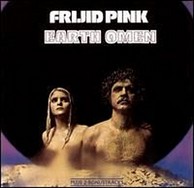 The change in band personnel was reflected in the new material; and many of the songs were written during casual jam sessions while sitting on the floor of Stevers' apartment. The album was recorded in the Osmond Brothers studio in California. "Earth Omen" was a commercial flop, however. Looking back, it may have been a little ahead of its time; and it was certainly different from the first two albums which may have confused or even disappointed Frijid Pink's original fan base.
When it came to the all-important promotion of "Earth Omen" Stevers stated: "Lion dropped the ball, didn't push it, didn't give it to the reps to push in the music stores. They didn't do anything. It was just left to lie and rot. It was unfortunate because there were some good songs on it. The sound of the music was cleaner, easier to listen to, and more progressive than the other stuff we had done to that point". Equally disappointing were the singles "Lazy Day" and a cover of "Go Now", featuring the backing vocals of Hopkins and Wilson, released in the wake of "Earth Omen".
Although it difficult to find today; the "Earth Omen" album has gained respect over the years. Julien Cope's Head Heritage site reassessed "Earth Omen" and declared it: "a magnificent opus, fully heavy progressive rock of the highest caliber... In short, one of the most polished rock albums of 1972-73, and definitely one of the most overlooked".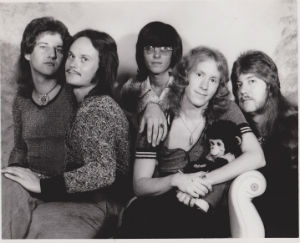 Frijid Pink mid-70's (L to R) Art Wolfe, Larry Zelenka. Rick Stevers, Jon Wearing, Craig Webb
It would be three years and a lot of road miles before Frijid Pink would record its next album, 1975's "All Pink Inside", on Fantasy Records. Tom Harris left the band during this time. Looking back, Harris feels that he was kind of pushed out by manager Clyde Stevers who was "looking for something else". He was replaced on bass first by Art Wolf and then Larry Popolizio. Jon Wearing was badly injured in an auto accident and was succeeded by Joe Baker on lead vocals. This lineup disintegrated after the "All Pink Inside" album failed to chart. Tom Harris would go on to form Fortress which became a very successful bar band, playing covers of classic rock and working 6-7 days a week.
Although they had not recorded a hit since 1971 and now contained only one original member, Frijid Pink was still a big name; and the band continued to tour through 1979. The last Frijid Pink lineup that went out on the road in the 70's was composed of Rick Stevers on drums, along with three former members of another band managed by Clyde Stevers called Outer Drive; Bob Gilbert on guitar and vocals, Terry Stafford on bass and vocals, and Ray Knapp on keyboards and vocals.
After this version of Frijid Pink ground to a halt, Rick Stevers felt it was time to step away. He played in a bar band for a time and then took a steady job with Jeep Truck Engineering in Toledo, Ohio.
In 1993, the rock and roll bug bit again as Arlen Viecelli and Ray Gunn joined up with original members Stevers and Harris. Although this lineup showed a lot of promise, Rick Stevers claimed it didn't work out because manager Clyde Stevers didn't set up any jobs for the band and the members weren't making any money.
Clyde Stevers owned the rights to the name Frijid Pink. In 2001 he made another attempt to put a new Frijid Pink lineup together and record an album. Rick Stevers remembered: "My old man threw these people together, never heard of them before, never saw them before. We started to work on some new original stuff and I'm seeing what's going on and I didn't like it. He got a monotone, baritone country singer and that just doesn't work in Frijid Pink. He also got a guitar player named Randy Mack, and it was going to turn out to be the Randy Mack show because everything was lead guitar. And I told those guys, 'It isn't working and if you hang with this, and if you don't get a contract signed with my old man, he's gonna screw you!' I dropped out at that point and he (Clyde) went and grabbed a drummer from another old-time band and recorded this trash (an album called "Inner Heat") and then tried to go out on the road as Frijid Pink. I think they had one job booked on the west side of the state. Of course they couldn't even do "House Of The Rising Sun", so the booking agent said he couldn't book them anymore".
Clyde Stevers passed away a few years ago. He had originally registered Frijid Pink in his name because Rick wasn't old enough. The name was supposed to go to Rick when he turned 21, but it never happened. His father told him that he could have the band name back when he died, but then Clyde left it in his will, along with Frijid Pink's publishing company, to Rick's sister. Rick said he "spent several years and a lot of money getting my own damn band name back". He also set up a new publishing company since the relationship with his sister is rocky at best.
Rick Stevers started reviving Frijid Pink in 2006. He explained his motivation to the Toledo Free Press: "We had a lot of fans and it's a great name. I decided I wanted to put a band back together and do what I had the opportunity to do the first time, which was to make some really, really good music".
He tried to get Kelly Green back in the group so that there would be more than one original member, but that didn't work out. He has since recruited four new members; Rick Houke on vocals and guitar, Brent Austin on bass and vocals, Chuck Mangus on keyboards and vocals, and Rick Zeithaml on lead guitar and lead vocals. Stevers said that the new lineup is "stable, steady, no egos – they work together well".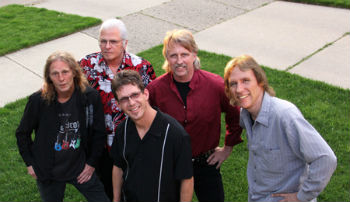 Frijid Pink 2013 (L to R) Brent Austin, Rick Stevers, Rick Houke, Chuck Mangus, Rick Zeithami
The band is also recording. Their first project was rerecording some old tracks for a CD called "Frijid Pink, Frijid Pink, Frijid Pink" that was released on the Repertoire label in 2011. The four-song Frijid Pieces EP came out in 2012, and it's for sale on the Frijid Pink site and at the jobs they play. Stevers says their sets are 90% originals, along with the signature "House Of The Rising Sun" and a couple of covers like "Tobacco Road" and "Stormy Monday". The current lineup has 12 recently composed songs ready for a new album to be titled "Made In Detroit".
In 2014, Frijid Pink signed with Dynasty Records. "Made In Detroit" was released the same year. Containing eight new originals highlighted by "Take Me Back", "Promises", and "Slip Away", along with three re-recorded versions of songs featured on the Frijid Pieces EP, the album is a welcome addition to the Frijid Pink catalogue.
There is still some legal wrangling among record companies over the rights to "House Of The Rising Sun" and the other early Frijid Pink releases, but none of this will probably benefit the original members of the band. What seemed glamorous to the public has fallen victim to lawyers and the legal system. Judy Harris, who has returned as the band's manager, said it best during an interview: "We had a tough life. Everybody thinks that entertainment and show business and making it big is so easy. It's not. You sacrifice a lot, you give up a lot. It cost me my marriage. There's always a price to pay and it's not always money".
As for the other original members: Kelly Green still lives in Michigan, but has had some health problems and recently underwent a quadruple bypass; Gary Thompson lives in Grosse Isle and is still playing guitar; and Tom Harris is currently playing bass in a covers band.
Frijid Pink was voted into the Michigan Rock and Roll Legends online Hall of Fame in 2013. The band's biggest hit, "House Of The Rising Sun", was voted a Legendary Michigan Song in 2009.
MRRL Hall of Fame: https://www.michiganrockandrolllegends.com/mrrl-hall-of-fame
Video: Watch Frijid Pink perform "Sing A Song For Freedom" on this vintage video from 1970: https://www.youtube.com/watch?v=XXBuKlUUv9w
Dr. J. Recommends: "Frijid Pink" 1970. Reissued by Repertoire Records in 1991.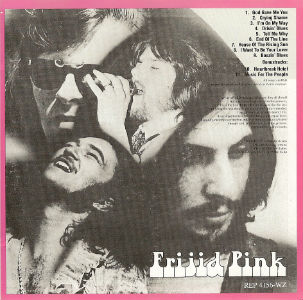 Frijid Pink's self-titled debut is the essential recording by the band. It contains their signature tune, "House Of The Rising Sun" plus the group's first two singles, "Tell Me Why" and
"God Gave Me You". The Repertoire reissue also contains two interesting non-album bonus cuts. Their cover of Elvis Presley's first big hit, "Heartbreak Hotel", was Frijid Pink's last charting single in early 1971. The reissue also includes the "Music For The People" single that was out when the original lineup shattered while on tour later in the year. This song includes the backing vocals of Thelma Hopkins and Joyce Vincent Wilson, who would go on to join Tony Orlando in Dawn.