MRRL Hall of Fame
GALAXIES (a.k.a. Danny and the Galaxies)
Details

Category: Inductees
Created: Friday, 02 June 2017 08:00
Written by Gary Johnson
Formed in Ironwood, a mining town located in in the northwest corner of Michigan's Upper Peninsula, the Galaxies were the first rock and roll band to emerge from the region's iron-rich Gogebic Range. The group's debut single was one of the earliest productions by a Top 40 recording artist who would go on to greater fame as a Grammy-winning record producer in Los Angeles and Nashville. Although the Galaxies would become the first U.P. band to release a single on a national record label, the group splintered before reaching their vast potential.
Ironwood is the westernmost city in Michigan, situated on the same line of longitude as St. Louis, Missouri, and is one of the few cities in the state to be located in the Central Time Zone. Ironwood is located near the Wisconsin border in Gogebic County. The origins of Gogebic (pronounced "go-GIH-bik") are murky, though they are almost certainly rooted in a Native American language. One suggestion is that it was named for the Lake Gogebic, whose name in turn came from the word "agogebic", which meant "a body of water hanging on high", referring to the lake's high elevation.
The discovery of vast deposits of iron ore combined with the arrival of the railroad in the area resulted in the opening of several large mines and the development of the lumbering industry and the influx of immigrants mainly from Sweden, Germany, England, Italy, Poland, and Finland.
Ironwood, MI - early 1950's
Hurley, Wisconsin, is separated from Ironwood by the Montreal River and is the birthplace and home of the only surviving member of the Galaxies, Andy Abraham. Both he and Christine (Gygi) Sullivan, widow of the Galaxies' lead singer Danny Sullivan, remember Hurley as a tough logging town that had strip clubs and prostitutes that serviced the miners, loggers, hunters, and other adventure seekers in the area.
By the time that Christine graduated from high school in 1960, the town had lost some of its notoriety. She said that there was a book written about the scandalous reputations of both Hurley and Hayward, another logging town in northern Wisconsin, called Hurley, Hayward, and Hell. The title was supposedly taken from a train conductor's call back in the day of "All aboard for Hurley, Hayward and Hell" for the logger and miner passengers who were seeking whiskey and loose women in two of the region's wildest cities.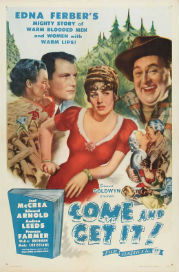 Come and Get It poster
Pulitzer Prize-winning author Edna Ferber based her 1935 novel Come And Get It on Hurley's early logging days in Wisconsin. A movie of the same name was made in 1936. It was directed by Howard Hawks and William Wyler and starred Edward Arnold, Frances Farmer, and Joel McCrea. The film also featured the Civil War-era song "Aura Lee", the melody of which was used for "Love Me Tender", Elvis Presley's # 1 hit in 1956.
Andy Abraham had a somewhat unusual upbringing. His mother, was a tavern owner in Hurley and opened Nora's Bar in 1940. Abraham, who was born in 1942, and his six siblings lived upstairs. Nora Abraham was a tough lady who smoked a cigar in her bar, but was very kind-hearted outside of her workplace. Andy Abraham remembers that his mother was "crazy about music and always had a piano in the house". She made sure that Andy and his brother took piano from a young age and insisted that they also take tap dance lessons.
Tap dance recitals in costumes of top hats and tails were Andy Abrahams's introduction to performing in front of an audience. The recitals were where Abraham first met his future bandmate in the Galaxies, Danny Sullivan, when they were both pre-teens. Sullivan, who was born and lived in Ironwood, also took tap lessons and danced at the recitals with his sister Diane.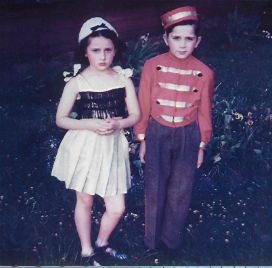 Diane and Danny Sullivan dance recital 1948
Abraham's biological father left when he was a child, and he was brought up by his stepfather who had a logging camp that he would operate every day. Andy was just ten-years-old when he started working in the woods with his stepfather. They would haul loads of pulp for a paper mill to a railroad boxcar on the first run and then mining timber to shore up the underground mines in Montreal, Wisconsin, located 5 miles southwest of Hurley. The Montreal Mine was part of the Gogebic Range and, at one time, was the deepest iron ore mine in the world.
Rock and roll first came to the Hurley-Ironwood area via the radio. Teens like Andy Abraham and Danny Sullivan tuned in to WLS out of Chicago for the Dick Biondi Show. Inspired by what he heard, Abraham's first record purchase was "Rock Around The Clock" by Bill Haley And His Comets. From there he went on to purchase the latest hits by Elvis Presley, Little Richard, and the recordings on the Sun label of Carl Perkins, Johnny Cash, and Jerry Lee Lewis at the Johnson Music Store at 126 W. Aurora in Ironwood. Johnson's doubled as an appliance store where you could buy hot water heaters, toilets, washers and driers, and televisions, as well as musical instruments and the latest rock and roll hits.
In a recent MRRL interview, Andy Abraham stated that Ironwood's local station WJMS was "pretty progressive for being that far north." Besides broadcasting rock and roll, the station had a regular band called the WJMS Barnyard Ramblers that played live on Saturday mornings, sponsored by the Brookdale Dairy. Abraham said that the group played mostly country music, but they were versatile and also performed some early rockabilly tunes. Andy got to know the band members, especially the guitar players, and watching the Barnyard Ramblers planted the seed that eventually led to Abraham joining his first band.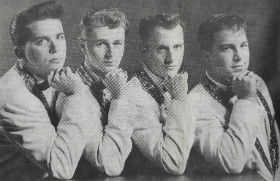 The Galaxies (L to R) Danny Sullivan, Greg Winn, Bernie Michelli, Andy Abraham
That opportunity would present itself just across the Montreal River in Ironwood in 1958. Ironwood native Greg Winn received a guitar for his birthday during his junior year at St. Ambrose High School. Winn had attended the seminary as a youngster, intending to become a priest, but changed his mind and returned to Ironwood. The area had a lot of good guitar players and teachers and Winn picked up some basic chords and taught himself to play. Things started to come together when his classmate and good friend, Danny Sullivan, also got a guitar.
Greg Winn was interviewed years later about his time in the Galaxies by Jim Oldsberg for his Lost and Found magazine. Oldsberg's resulting article, Ad Libbing with The Galaxies, offers the best account of the band's formation. "We started a band called the Halfbeats", Winn told Oldsberg. "Our original drummer's name was Jerry Gregory, one of our classmates. He had one drum, a snare, which he borrowed from the high school. He could keep a beat, but there wasn't much he could do with only a snare. He soon lost interest and dropped out." *
Winn and Sullivan then recruited Denny Galka from nearby Hurley as their second drummer; but they need a bass player to round out the band. Danny Sullivan ran into Andy Abraham, who was a sophomore at J. E. Murphy High School in Hurley, told him about the band, and mentioned that they were looking for another guy. Abraham had started out on piano and had no trouble switching to electric bass after taking some lessons from a local musician.
"Denny Galka was a very successful teenage entrepreneur in his own right," Abraham told Oldsberg. He ran his own record hop dances known as 'Spinner Sanctum'. They were mostly in northern Wisconsin. Our first public performance, at a teen dance, was with him at the Hurley Memorial Building. Denny took 50% and wanted to split the other 50% with the rest of us. It was obvious then that we couldn't do too much with him." *
Dick "Nite Train" Williamson
"Dick 'Nite Train' Williamson, an established disc jockey from Bessemer, Michigan, also ran record hops," Winn told Oldsberg. They asked Williamson to be their agent/manager which led to Galka leaving the band. Williamson then brought in drummer Bernie Michelli to replace Galka. Michelli, who was eight years older, was also from Bessemer, which was located ten miles east of Ironwood, and had drummed in jazz, polka and country bands, as well as for strippers in Hurley. "We were his first rock band," Winn stated; "but as far as experience went, Bernie was by far the most well-rounded musician of the four of us." *
The band had uniforms for their first gig with Williamson as their manager. They knew a seamstress in Hurley who made them pink puffy-sleeved blouses complete with a cummerbund, worn over black slacks. They were still billing themselves as the Halfbeats but were looking for a new name. Williamson suggested 'The Galaxies' from the new Ford Galaxie. The company had put out the model in early 1959 in a marketing attempt to appeal to the excitement surrounding the Space Race between the United States and Russia. The band was unanimous in accepting the new moniker.
"The first real dance I remember us playing was in Ashland, Wisconsin, just south of Lake Superior. We only knew 20 songs, which we had to play over and over," Winn told Jim Oldsberg. "We played whatever was popular on the radio, but people often compared our style to Buddy Holly, Gene Vincent, and Eddie Cochran. I thought we sounded most like Vincent." "Dan Sullivan was incredible," Winn recalled; "he was able to listen to a song twice and have all the lyrics and performer's style memorized." *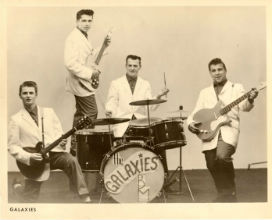 (L to R) G. Winn, D. Sullivan, B. Michelli, A. Abraham
Andy Abraham had this to say about the Galaxies' lead singer: "Danny Sullivan was a totally unassuming kind of person. If you were his friend, you were his friend period. I liked everything about him right off the bat. On stage, he was a female magnet. They were attracted to him immediately. He was a showman, and would get down and lay on the floor while performing."
The Galaxies regularly rehearsed in the basement of St. Ambrose Church in Ironwood which had a stage. The band also had a regular gig in the Ironwood Memorial Building, which could hold a 1,000 people for a dance. It was at these dances that the band tried out their new songs and stage routines.
They started writing their own songs right away because they knew that original songs were important if the band was the be successful in rock and rock and roll. Buddy Holly and Chuck Berry were early role models. Danny wrote on his own at home. Andy also wrote at home on the piano; while Greg Winn composed with both Sullivan and Abraham and contributed several guitar instrumentals.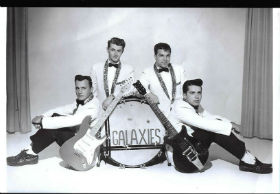 The Galaxies
Because of the young ages of Winn, Sullivan, and Abraham, the band was prevented from playing in bars. They played mostly high school hops or community dances to which teenagers would come. Most every town in the north had some sort of auditorium with a stage at one end of it; and Dick Williamson booked the Galaxies for dances all over the Upper Peninsula, northern Wisconsin, and as far west as Minnesota.
The Galaxies had no idea that Williamson was going to be such as dynamo as their manager, but he was a well-known radio personality at WJMS and had a show six nights per week. He had quite a following, and got a lot of young people to come to his dances. Williamson also brought national acts to Ironwood including Conway Twitty, Dale Hawkins, Buddy Knox, and Jimmy Bowen; and that's how the Galaxies first met the man who produced their first 45.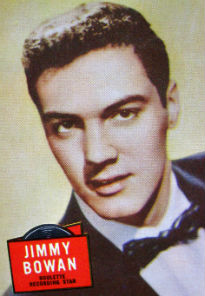 Jimmy Bowen began as a teenage recording star in 1957 with his hit, "I'm Sticking With You". The song was originally released as the flipside of Buddy Knox' # 1 hit "Party Doll", a song co-written by Knox and Bowen and recorded with their group, the Rhythm Orchids. "I'm Sticking With You" became a big hit on its own, selling over one million copies; but Bowen's singing career was not a successful as that of Knox, and he wanted to move into record production instead.
The Galaxies opened for Jimmy Bowen at a gig in Ironwood on June 20, 1959. He was impressed with the band, told them about the Kay Bank Studios in Minneapolis, Minnesota, and gave the Galaxies the phone number and address.
Before the band recorded with Bowen, they had another brush with a famous musician named Charles "Chuck" Connor at a gig at the Tristate Fair in Superior, Wisconsin, during the summer of 1959. Connor was the drummer in The Upsetters, Little Richard's outstanding band. In the fall of 1957, while on a tour of Australia with fellow rock and roll stars Eddie Cochran and Gene Vincent, the plane they were flying on experienced some difficulty on its way to Sydney. At the end of his performance that night, Richard saw a bright red fireball flying across the sky above him. Although it was explained to him that it was was the launching of the first artificial Earth satellite Sputnik 1, Richard was deeply shaken by the two events, and took them as a sign from God to repent from performing secular music and his wild lifestyle.
Upon returning to the United States, Little Richard shocked the music world by quitting rock and roll at the height of his popularity and devoting himself to God and gospel music. The Upsetters were left to fend for themselves, and that is how Charles Connor eventually found his way to Superior, Wisconsin, where he met the Galaxies. Always friendly and able to get along with other musicians, Connor sat in on drums for a few memorable sets with the Galaxies at the Tristate Fair.
Jimmy Bowen was very anxious to get into record production and encouraged the Galaxies to record with him at the Kay Bank Studios, a recording facility located at 2541 Nicollet Avenue in Minneapolis. Daniel Heilicher and his brother Amos started a business together in the 1930s, distributing and stocking jukeboxes. In 1954, they founded the Soma Record label ("Amos" backwards), and started producing records in cooperation with Vernon Bank, owner of Kay Bank Studios.
Some significant recordings were made at Kay Bank and released on the Soma label over the years: Bobby Vee and The Shadows with "Suzie Baby" in 1959, the Fendermen released "Muleskinner Blues" in 1960, and the Castaways' "Liar, Liar" from 1965 were all on Soma. Although the songs were released on other labels, Dave Dudley recorded "Six Days On The Road" and the Trashmen recorded "Surfin' Bird" at Kay Bank. In addition, Chad Allen and the Expressions (later renamed the Guess Who) came down from Canada and recorded their classic "Shakin' All Over" at Kay Bank Studios.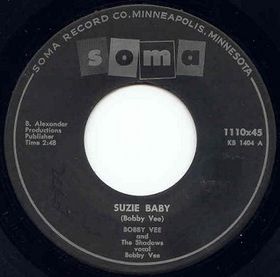 Being from small towns in the Upper Peninsula, it was quite an experience traveling to their first recording session in September of 1959. "It was a big deal to make the long trip down to the Twin Cities; spend the night in a hotel on our own; wander the streets and look up at the 20 or 30 story buildings (nothing was over 2 or 3 stories in Ironwood), and get to work in a 'real' recording studio with a national star," Winn recalled. "It was a blast!" *
Prior to the Galaxies' first recording session at Kay Bank, they sometimes featured a singer named Mel Nikula at their gigs. Nikula worked for WDMJ-TV, the Upper Peninsula's first television station. Although he was not a rocker like Danny Sullivan, Nikula was an effective ballad singer and was invited to accompany the band to the session in Minneapolis.
"The Galaxies spent six hours in the studio that day with Jimmy Bowen and C. W. Kendall who helped out with the musical direction. The band recorded four of their original tunes. First off was the incredible Sullivan-penned rocker, "If You Want To Be My Baby". Danny Sullivan's vocals were a cross between Eddie Cochran and Gene Vincent with a little Elvis thrown in for good measure. Greg Winn's energetic Gibson lead guitar work on the tune and on his own instrumental composition of "Ad Lib" were fabulous, while Andy Abraham and Bernie Michelli tied everything together on bass and drums. The two other songs recorded that day were written by Abraham; "I Want To Rock" with Andy on lead vocal, and the ballad "Love Has Its Ways" which featured Mel Nikula." *
"Jimmy Bowen worked out all the accompanying paperwork, and the Galaxies paid him for his services as producer as well as the cost of the studio time. They also picked up the tab for the pressing of the 45 rpm. Because they were on a limited budget, only 300-500 copies of the record were pressed. "If You Want To Be My Baby" backed with "Ad Lib" was released on the band's own Darbo label. (Darbo came from Jimmy Bowen's wife's name, Darlene Bowen)." *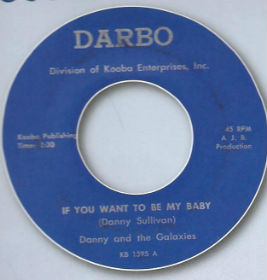 Darbo 45
Dick Williamson advised the band to change their name to 'Danny and the Galaxies' on the "If You Want To Be My Baby' a-side of the disc because he felt that it would be easier to sell the band if one of the members was highlighted. Since Danny Sullivan was the singer and also had a very strong stage presence, he was the logical choice. Listen to "If You Want To Be My Baby" https://www.youtube.com/watch?v=wECpg2QX1C4
Unfortunately, Jimmy Bowen seemed to lose interest in the Galaxies after the session for a variety of reasons. His long partnership with Buddy Knox was coming to an end as was his recording contract with Roulette Records. He didn't use his music industry contacts to help the band get signed to a national record company that could have promoted and distributed the single. Instead, Bowen signed with a new label and continued his singing career for a few more years. In the early 1960s, Bowen moved to Los Angeles and was hired as a record producer by Frank Sinatra for his new label, Reprise Records. He would go on to produce hits for Dean Martin, Sammy Davis Jr. and Dino, Desi, & Billy; along with Sinatra's # 1 hit "Strangers In The Night" which won three Grammys in 1967, including Record of the Year for Bowen.
In the early 1970s, Bowen moved to Nashville where he enjoyed great success producing Glen Campbell, Conway Twitty, Kenny Rogers, Hank Williams Jr., the Oak Ridge Boys, Reba McEntire, and Garth Brooks. Bowen also revolutionized the way music was recorded in Nashville, introducing digital technology and modernizing the way instruments were recorded and mixed.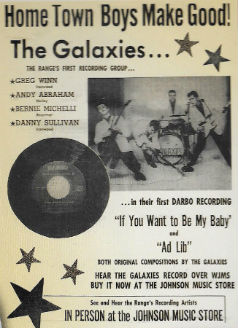 While Bowen went on to fame and fortune, things were quite different for the Galaxies. "We never made a penny in royalties from the record," said Greg Winn. "What little we made came from selling small quantities of discs ourselves, off the stage. Neither song ever got played on the air in Minneapolis, but both were aired in our hometown." *
In an advertisement in the Ironwood Daily Globe, the band was pictured under the banner 'Home Town Boys Make Good!' Area residents were invited to hear the record over WJMS-AM 590 and attend a live afternoon performance at Johnson Music Store by 'the Range's first recording group'. The Darbo record also earned the Galaxies a gig at the ornate Ironwood Theatre, built in 1928. The movie palace presented two complete band performances at 7 and 9pm along the thrilling 1959 motion picture Speed Crazy, starring Brett Halsey. All seats were 75 cents. **
Greg Winn remembered the performance. "Dan Sullivan was a good-looking Irish/Italian kid trying his darnedest to sound like Elvis. At the Ironwood Theatre, Dan sang Ricky Nelson's "Lonesome Town". He laid down on the front of the stage, and they hit him with a blue spotlight. There were probably some girls there that night that wet their pants! I only sang two solos in the band – one was Dorsey Burnette's "Hey Little One". Andy Abraham sang the Little Richard songs; he had a higher voice than Dan's." *
Bernie Michelli was the only member of the band that was married in 1959, and his wife, Marilyn, often traveled with the Galaxies and sold records at the gigs. "Danny had a beautiful voice," Marilyn told the Daily Globe in 2007. "Danny was the one that could've gone places." On the road, Marilyn said that Dick Williamson often pretended that she was his wife, telling the band, "you can't have one of the Galaxies married." ***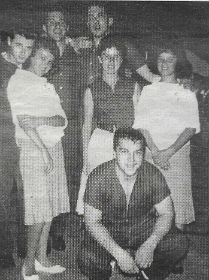 Galaxies and fans
Putting on a good show was an important part of the Galaxies' appeal. Bernie Michelli was featured in a lengthy drum solo during which their manager and the other members of the Galaxies took away his drums one by one, leaving "Gene of the North" (Michelli's nickname taken from his musical idol, the great drummer Gene Krupa) with only his drumsticks. Greg Winn would leap from the stage, tethered by a 50-foot guitar cord and land on his knees or climb on Andy Abraham's shoulders and play guitar solos behind his head. ***
These were the days when bands strove to look different from their audience. In 1959, the Galaxies added another uniform of bright white sport coats with short-sleeved red shirts and red pants. Greg Winn told Jim Oldsberg that the first time they wore the new uniforms was memorable. "We played the first set in the pink and black outfits," Winn said. "Before the start of the second set, we closed the stage curtains and got into place behind them. The curtains opened to reveal us in those bright red and white outfits. The kids were mesmerized. That night I don't think we could have done anything wrong." *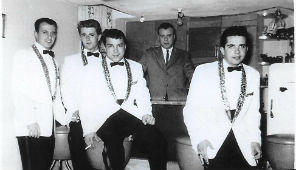 (L to R) B. Michelli, G. Winn, A. Abraham, D. Williamson, D. Sullivan
Always stylish, the Galaxies' other costumes ranged from cardigan sweaters with wide gray and black stripes, to peach satin shirts, and white tuxedo jackets with green sequined lapels. **
Having a record out was an important factor in getting gigs, and Dick Williamson booked them as far away as Duluth, Minnesota, as well as Madison, Milwaukee, and Green Bay, Wisconsin. The Galaxies also appeared on television several times – The Johnny Sax Show in Green Bay and a Bandstand-type program in Duluth on which they played live rather than lip-synching.
Williamson was also instrumental in eventually getting the Galaxies a record deal. He knew John O'Brien, the regional distributor for Guaranteed Records, who was based in Milwaukee. It was through this connection that the Galaxies got a contract with the New York record label to release a second single.
Guaranteed was a subsidiary of the Carlton Records label. Carlton had enjoyed a great deal of success in 1958 and 1959 with Jack Scott who had charted 8 songs in the Billboard Hot 100, including the Top 40 hits: "My True Love", "Leroy", "With Your Love", "Goodbye Baby" and "The Way I Walk".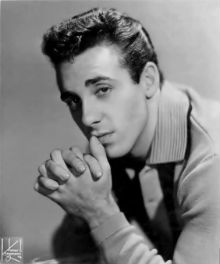 Jack Scott Carlton Records
Guaranteed's big artist was Paul Evans who had charted three Top 40 singles in 1959 and 1960: "Seven Little Girls Sitting In The Back Seat", "Midnite Special", and "Happy-Go-Lucky-Me".
Dick Williamson had a New York connection because a girl from Ironwood that he knew, Julann Wright, was married to Merv Griffin. Williamson hoped to use his Merv Griffin connection to see if he could get the Galaxies on American Bandstand. Unfortunately, Dick Clark was one of the main targets in the congressional hearings surrounding the payola scandal at the time, and the possibility of the Galaxies appearing on the program got lost in the turmoil encircling the investigation of the Bandstand host.
"When we signed with the people at Guaranteed, Dan and Dick flew to New York. The rest of us stayed behind. I was the leader, but Dan went because he was the singer," Winn told Oldsberg. "We were told that the contract that Jimmy Bowen had set up for us was illegal. Bowen had lost interest in us, anyway, so we figured the Guaranteed deal would be just the shot in the arm the band needed." *
The Galaxies recorded their one and only single for Guaranteed at the Kay Bank Studios in Minneapolis in 1960. The a-side was "My Tattle Tale (I'm Gonna Tell My Mommy On You)", a frantic rocker that lasted just 1 minute and 36 seconds, written by Sullivan and Winn. Danny Sullivan's lead vocal is similar to Eddie Cochran's and Greg Winn provides both the falsetto voice in the song and a driving guitar solo. Andy Abraham's bass is also prominent in the mix. The flipside was an instrumental version of the Abraham-penned song called "Love Has Its Way" that the band had first recorded with Bowen at their first session. Listen to "My Tattle Tale" https://www.youtube.com/watch?v=JXNmq5VghEU
When the second 45 was issued, Johnson Music Store promoted the event with another ad. 'The (Gogebic) Range's own Galaxies flew to New York to make this hit record and signed a record contract with Carlton Record Corp., a national house of record hits! We're for them, the teenagers are for them…we all wish them well,' the copy boasted. The ad urged readers to 'be the first to hear and buy this new record.' **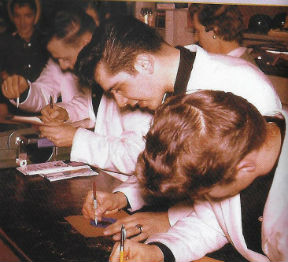 Signing autographs at Johnson Music
The Galaxies made another appearance at the store where they autographed copies of the record on request. Copies of "My Tattle Tale" were enclosed in a sleeve which asked record buyers to join the Paul Evans Fan Club, although the Galaxies had a national fan club of their own. In the accompanying news story, the Ironwood Daily Globe reported that "My Tattle Tale" was in the 'Top 60 record hits in the Milwaukee area.' The newspaper also noted that the Galaxies 'have been busy lately making personal appearances in Detroit and Milwaukee.' **
Throughout 1960 and most of 1961 the Galaxies rode high locally on the success of being a national recording group. They played at the Eagles Club in Milwaukee in 1960, sharing the stage with Della Reese at the fifth annual Millie Awards. They were the opening act at a Conway Twitty concert and played at a fund-raiser for U.P. Senator Joe Mack, but they weren't making much money. Greg Winn claimed that in 1960, he made just under $1,000. *** That might be fine for a high school student, but in 1961, Winn married his high school sweetheart Lucia and now had to think about supporting a wife, and Danny Sullivan had met Christine Gygi.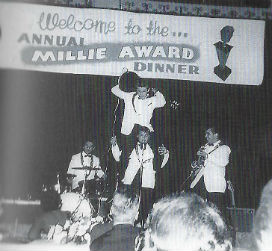 Galaxies perform at the Millie Awards
Christine was born in Ironwood in 1942 but grew up in Gile, Wisconsin, a tiny town north of Hurley. Her family was of Swiss descent and her father worked in the Cary Mine, one of the largest iron mines in the Gogebic Range. Christine attended St. Mary's Catholic Grade School with Andy Abraham through the 8th grade in Hurley, before joining him for the next four years at the town's J. E. Murphy High School.
She was a rock and roll fan and bought records by Buddy Holly and Elvis Presley at the Johnson Music Sore in Ironwood. Christine started dating Danny Sullivan in 1960, the year she graduated from high school. There was an immediate attraction between her and the singer who had graduated in 1959.
They were already talking about marriage when Danny and Dick Williamson flew to New York to meet with Carlton Records, and the couple married in 1961 at St. Mary's Church in Hurley. Their first child, Sue, was born the following year.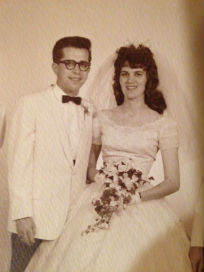 Danny and Christine's wedding
The marriages were the reason Andy Abraham quit the band in 1961. "Everyone was getting married," he told the Daily Globe in 2007. "You can't be a rock-n-roll band when you're married." *** Interviewed by MRRL in 2017, Abraham said that leaving the band was a mistake on his part. "I didn't realize that something like what we had in the Galaxies doesn't come around very often."
The Galaxies carried on with a new bass player named Denny Soltis while Abraham enrolled in college. The band traveled to Minnesota to compete in the Duluth Portorama Battle of the Bands and won the first-place trophy – the winner was determined by the applause from a crowd of over 3,000 music lovers. ***
The next blow came when Greg Winn decided to leave in late 1961 and moved to Wausau, Wisconsin. Sullivan, Michelli, and Soltis carried on as a trio for a time, but it just wasn't the same, and the band came to an end in 1962.
Winn then moved to Racine, Wisconsin, where he worked as a computer tech for NCR. He transferred to the Twin Cities four years later and continued to work in computers as a tech instructor and tech writer. At one point, he was working full-time while taking a full course load at the university of Minnesota as a music theory major. Winn, who fathered four children with his first wife and one more with his second, moved back to the Ironwood area in 1999. He played piano and organ in a number of local churches until his death from cancer in 2014. *** Listen to Greg Winn and the Galaxies on the instrumental "Ad Lib" https://www.youtube.com/watch?v=rUBAf2qkK_Y
Dick Williamsom moved to Calfornia shortly after the Galaxies broke up. He died there in 2010, the result of a fall.
Bernie Michelli stayed behind in Bessemer. He and Marilyn had four children, and he had a good job with the city's water department. He also kept the Galaxies name going, playing weddings with new members well into the 1970's; but it was a pale imitation of the original band, and this version never recorded. Bernie died of cancer in 2007.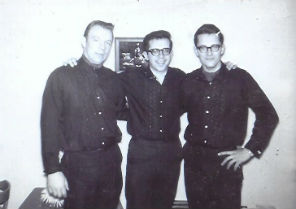 Three of a Kind 1964 (L to R) Wally Cegieski, Danny Sullivan, Dick Klamerus
Danny Sullivan and his family moved to Wausau and took a job at the A&P store. He formed a new band called Three Of A Kind, shortly thereafter, with Sullivan on guitar and lead vocals, Wally Cegielski on steel guitar, and Dick Kamerus on drums.
In 1968, Danny, Christine, Sue, and Dan Jr., who was born in 1964, moved to Eau Claire, Wisconsin, so that Danny could attend barber school. While there, he formed another band called the Knott Brothers. The following year, Danny and family moved back to Wausau and he put together a new version of the Knott Brothers and recorded a single on the Page Records label, "Stick Out Your Cans, Here Comes The Garbage Man" backed with "I Know This Hurt by Heart".
Sadly, Danny Sullivan suffered from manic depression; but effective treatment of the condition was still in the early stages, and the medications prescribed by doctors in 1970 were not always effective in treating the disorder. In a 2017 interview with MRRL, Christine said that "the medication Danny was on at the time of his death really took him down, but we didn't realize it." It was during one of those very dark periods that Danny took his own life.
Danny Sullivan's final resting place
After Danny's death, Christine and the children moved back to Gile where she had the support of both her family and Danny's parents. In the late 1970's, Christine married Kenny Forslund, an area school teacher.
Andy Abraham returned to music in 1964 when he joined a band called Frank Martinez and The Pharomen. The group recorded one single for the Soma label; and both songs, "Jeanette" and a new version of "Love Has Its Way", were penned by Abraham. He later picked up the pedal steel guitar and played in rock, country, and jazz bands all over the United States and Canada.
He met his wife in California, and they owned and operated a restaurant called The Rainbow in Olympia, Washington, that specialized in ethnic food and live jazz. Abraham and his wife produced many shows at the venue and were part of the West Coast jazz circuit for fifteen years.
In 1992, Abraham moved back to Wisconsin; his mother was near death and his marriage was failing. It was shortly after moving back that he reconnected with Danny Sullivan's son, his widow Christine, and one of Danny's sisters at Nora's Bar, the tavern his mother owned for over 50 years. The bar is still in the Abraham family, now owned by Andy's brother Mike and his sister Margaret who operate it under its original name.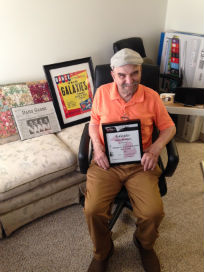 Andy Abraham
Dan Sullivan Jr. has been a champion of the Galaxies' legacy for many years, giving him the chance to learn more about the father he lost when he was very young. When his grandmother, Rosie Sullivan of Ironwood, died, Dan Jr. inherited all of the memorabilia she had saved from her son's musical career.
He has been collecting Galaxies' materials ever since, and he has put them to good use in a museum display for Andy Abraham that he put together at the Iron County Historical Society Museum in Hurley. Sullivan is also planning an exhibit at the Ironwood Area Historical Society Museum for Greg Winn and his father, as well as one for Bernie Michelli at the Bessemer Area Heritage Center.
The Galaxies came in first place in the 2017 online vote for the Michigan Rock and Roll Legends Internet Hall of Fame with more 400 votes more than either of the other two inductees. It was the largest vote margin in the history of the MRRL Hall of Fame.
MRRL Hall of Fame: https://www.michiganrockandrolllegends.com/mrrl-hall-of-fame
Sources:
* "Ad Libbing with The Galaxies" by Jim Oldsberg. Lost and Found – A 50's/60's Rock & Roll 'Zine. Minnesota/Wisconsin issue 1993.
** "Galaxies Courted National Fame" by Steve Seymour. Rock 'n' Roll Grafitti, Sept. 29, 2010
*** "50's Galaxies Rocked The Range" by Diane Montz. Ironwood Daily Globe, April 7, 2007.
MRRL Interviews with Andy Abraham, Dan Sullivan Jr., and Christine (Gygi) Sullivan.