MRRL Hall of Fame
JIM LEACH (a.k.a. Jimmy Hollywood)
Details

Category: Inductees
Created: Saturday, 21 June 2014 04:53
Written by Gary Johnson
Long before he went on to fame and fortune as James St. James, radio's top Hollywood reporter, Jim Leach was an important behind-the-scenes figure in Michigan rock and roll. During the 60's and 70's he served as a writer, publicist, promoter, band manager, songwriter, record label owner, music publisher, DJ, and club owner before moving to California for good in 1980. Because of his many contributions to the state's musical legacy, Leach was selected as the Michigan Rock and Roll Legends online Hall of Fame's 2014 Honorary Inductee.
Jim Leach was born in Saginaw at St. Luke's Hospital, the same hospital Stevie Wonder was born, on October 7, 1945. He grew up in Bridgeport, a small city located near the I-75 expressway about 7 miles southeast of Saginaw.
While he was still a little boy living in Bridgeport, there was a radio personality called Jimmy Fiddler who had a program that was broadcast live from Hollywood. When Fiddler came on the radio, Leach used to go and sit with his mother, Dorothy, and listen to the show. As a result, she started calling him her "Little Jimmy Hollywood" at the age of five. Thirty years later, his mother's nickname would start him on the pathway to an exciting new career.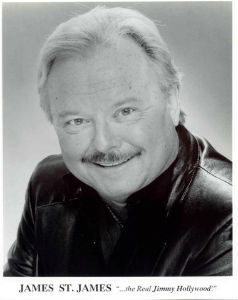 Jim Leach (a.k.a. Jimmy Hollywood) 2014
He first became interested in rock and roll music in Bridgeport in 1956 while his father, Eddie, and older brother, Jerry, were building the family home. His brother had a transistor radio and let young Jim listen to a new song called "Heartbreak Hotel" by a singer with the unusual name of Elvis Presley. Leach was hooked on rock and roll from that point on, especially after seeing Presley perform a few months later on the Ed Sullivan Show. His rock and roll tastes later expanded to include Little Richard, Chuck Berry, Johnny Cash, and Buddy Holly.
Another early musical influence was Billboard magazine. Each week, Dorothy Leach would stop by Howard's Music Center, owned and operated by Johnny Howard, and pick up the last week's copy of Billboard and bring it home to Jim. In addition, his interest in rock and roll was heightened by listening to Saginaw's top AM radio stations and DJs; WSAM with Ken Clark and WKNX, featuring Bob Dyer.
Leach was the youngest of three children; and he went to elementary school, played Little League baseball, and attended Bridgeport Junior High through 9th grade. On weekends, his mother would take him to Saginaw and they would spend entire Saturdays there – having lunch and attending a movie at the beautiful Temple Theatre. Saginaw seemed like a very large city when compared to tiny Bridgeport and he loved going there; it had a vibrant and bustling downtown shopping area with all kinds of interesting stores and places to visit.
After his parents divorced, Leach moved to Saginaw with his mother. They lived in a house on S. Jefferson on the city's east side, and Jim attended Saginaw High School. It was where he first met Rudy Martinez, later to become famous as the lead singer of ? and the Mysterians.
The Saginaw River divided the town along racial lines during the early 60's. The east side of town contained a mix of Hispanic, African-American, and Anglo-American families and was served by Saginaw High School. The west side was almost entirely white, and students attended Arthur Hill High School.
Jim Leach at WSAM-AM radio
His first experience on the radio was at WSAM during his sophomore year at Saginaw High. DJ Ken Clark gave Leach a job there as an intern. Jim was 15 and Clark paid him $1 a night plus five 45's per week (DJ copies) for working Friday and Saturday nights with Clark at Saginaw teen dances held at the Moose Club, Elk's Club, and the Saginaw Auditorium.
Leach got to do a little DJ work for the first hour and then Clark would appear on-air for two hours and Jim would serve as his go-fer. The dances with Clark were broadcast live on WSAM, so they were Jim's first on-air experiences. He finished the dances as the DJ after Clark went off the air each night.
Jim then got a job as a librarian at WSAM. This eventually led to him doing a Saturday afternoon show called 1400 Teen Street. He played records and the two-hour program featured teen reporters who came on to talk about upcoming events at their respective high schools. Besides his on-the-job training at WSAM, Leach also took courses in radio at Saginaw High and eventually earned the Radio Award plaque in 1963 at his high school graduation.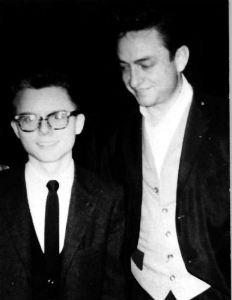 Meeting Johnny Cash in Saginaw
Leach's job at WSAM, along with a family member who had connections with the Saginaw Auditorium, enabled him to meet and be photographed with one of his early musical heroes, Johnny Cash. Leach was only 15-years-old, but was already writing in his own journal when he met Cash for the first time.
Several years later, when Leach was working for Billboard, he got back stage again at the Saginaw Auditorium to meet Johnny Cash in his dressing room. But when he knocked on the dressing room door, a young John Ritter answered. His father, Tex Ritter, was on the same bill that night.
Ritter directed Jim to the dressing room next door. Johnny Cash answered his knock with a glass of Jack Daniel's in his hand, wearing only a shirt and and a pair of white Jockey briefs. June Carter was also in the dressing room, they were not married yet, and she was ironing his pants. Cash offered Leach a drink and granted him a "brief" interview.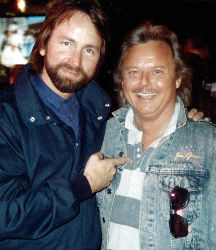 With John Ritter in Hollywood
Afterwards, Leach went back to meet Tex Ritter and his son John, again answered the door. Years later, Leach and John Ritter would become acquaintances in Hollywood and Ritter would always say to him, "It's because of me that you met Johnny Cash". Strangely enough, Johnny Cash and John Ritter would both die within the same 24-hour period in 2003.
Shortly after Jim enrolled at Central Michigan University as a journalism major, he discovered that Billboard magazine was planning to start a college bureau and that they were looking for correspondents from various colleges. He applied and got the job. Leach was also writing for the campus newspaper, Central Michigan Life, as a sports reporter. That led to an intern program through Booth Newspapers and invaluable stints at the Bay City Times, the Saginaw News, and the Mt. Pleasant Daily News.
He got started in the rock and roll business through his press card from Billboard. Leach loved the music and covered any artist who came into the area. Most often the opening act would be a local band, and he remembered writing Billboard and telling them that the Saginaw Valley area was teeming with talent. The magazine told him to keep a file on the bands and the music being produced in the area.
Fortunately, someone in at Billboard in New York City made a mistake that paid off big for Jim. They were supposed to send him a press card with the title 'Central Michigan University' - the campus he was assigned to cover. Instead, 'Central Michigan State' was printed on his press card and Leach used the title to cover events state-wide including the Beatles arrival in Detroit. That got him backstage in August 1966 along with writers from both the Detroit Free Press and the Detroit News.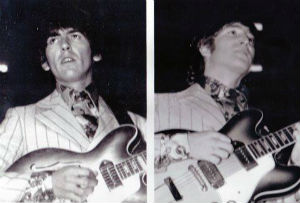 Photos of George Harrison and John Lennon taken by Leach in Detroit
Leach met the Beatles' manager, Brian Epstein, who invited him to take photographs. He was doing intern work at the time for the Bay City Times with staff photographer Leonard Falce, and Falce loaned Jim a camera. Incredibly, Epstein encouraged Leach to go out on the stage to shoot photos while the Beatles were performing. After the concert, which also included performances by the Cyrkle and Bobby Hebb, Epstein asked if he would like to meet "the Boys". Jim was then led back to the dressing room and was introduced to each of the Fab Four. He ended up doing a story about the encounter that was published in the Bay City Times.
Jim still wasn't sure what he wanted to do with his life, but Central Michigan's intern program allowed him to keep working with music and bands. He also got on campus radio through WCMU – the college's official station that broadcast from the tower at Warriner Hall. Although he wasn't paid, he received class credit and could eat for free at the student union. Leach was assigned to play dinner music on the station – mostly classical or instrumental artists like Percy Faith and Hugo Montenegro. Leach was fired, however, for brazenly playing the Four Tops' "I Can't Help Myself" instead of the station's usual fare.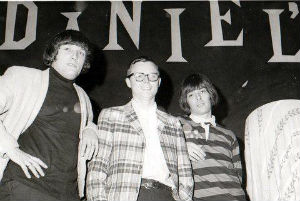 Dick Wagner, Leach, and Terry Knight
His Billboard press card had the distinct advantage of giving him both credibility and instant access to rock and roll bands, both national and local. He and Dick Wagner went back to the days when the Bossmen were playing in the Saginaw area at a club called The Village Pump. Leach started to do some publicity and promotion for the band. He attended some of the Bossmen recording sessions as well as some early by the Frost, the band Wagner formed after the break-up of the Bossmen.
Leach and Wagner, two young guys who were both trying to establish themselves, often butted heads over decisions; but Wagner was a big influence on the first band Leach would manage - the Bells Of Rhymny, later known as the Cherry Slush. Wagner wrote about their relationship in a chapter from his book, Not Only Women Bleed, Vignettes From The Heart Of A Rock Musician.
Rock and roll was one of the primary reasons Leach went into teaching. He had the summers and weekends off so he could still work with the bands. He had two minors, speech and political science, that were a good match with his journalism major. He heard about the five-year program at CMU wherein students could teach for a semester then go back to campus. They were paid 50% of a regular teacher's pay the first year and it went up to 75% the second semester that you taught.
When he started working in the Buena Vista school district as a student teacher, the high school didn't even have a newspaper. By the time he left, ten years later, the U-Knighted Press (named after the school's mascot) was rated the # 1 high school newspaper in the country. The fact that he worked with bands also increased his 'cool quotient' among the students.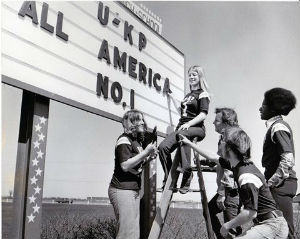 Leach (center) with Buena Vista High's # 1 student newspaper staff
Leach first became friends with Rudy Martinez (a.k.a. Question Mark) at Saginaw High where Martinez was one grade ahead of him. Martinez had always into music, and as soon as Jim heard the recording of "96 Tears" made at the Schiell Studio in Bay City, he knew the song had commercial potential. Leach worked on the promotion of the song with Lilly Gonzales, the Mysterians' manager and one of the owners of the Pa Go-Go label on which "96 Tears" was first released. Leach successfully promoted the record to WSAM as well as Bob Dell at WTAC and Bob Dyer and Dick Fabian at WKNX. It seemed like you couldn't turn on your radio in the Saginaw Valley during the summer of 1966 without hearing "96 Tears".
The record was eventually leased to the Cameo-Parkway label for national distribution. Leach said The Mysterians went with Cameo-Parkway because they had an orange label, and orange was Question Mark's favorite color. Leach also claims that the city of Cleveland, Ohio, was very important in breaking "96 Tears". When the news spread that it was breaking big in Cleveland, the orders started really rolling in at Cameo-Parkway.
Neil Bogart was the Cameo representative who signed ? and the Mysterians. While Bogart was in Michigan, he was tipped off by Question Mark to some of the other talented artists in the state, and he signed Terry Knight & The Pack, The Rationals, and Bob Seger & the Last Heard to Cameo-Parkway.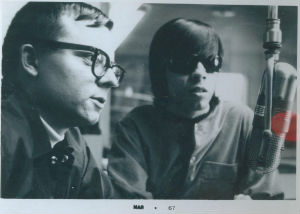 Leach with Question Mark on the radio in 1967
It was Neil Bogart who presented the gold records to ? and the Mysterians in Saginaw after "96 Tears" reached # 1 on Billboard's Hot 100 in late October of 1966. It was also Bogart's first gold record as a Cameo-Parkway promo man. After Cameo-Parkway went out of business, Bogart made a fortune with his own Casablanca label in the 70's featuring multi-platinum artists like the rock band KISS, and pop/disco artists including Donna Summer, the Village People, Giorgio Moroder, and Cher.
Although "96 Tears" was a big local hit, Leach felt the Saginaw radio stations didn't promote the local groups like they should have. In a recent phone interview, Leach stated that "96 Tears" was not # 1 in Saginaw – it only got as high as # 2. Jim felt this made it more difficult for him to promote the song in other cities since it wasn't # 1 locally. Leach said that the only area band he represented that had a # 1 hit on Saginaw radio was the Zoo with their song "Walkin' In The Country"
Jim Leach parted ways with ? and the Mysterians following an unfortunate event that tarnished the reputation of the band. He was promoting ? and the Mysterians to Tiger Beat and other teen magazines in New York when he learned that a prominent band member had made the national wire services after getting caught sniffing glue in a roadside park between Saginaw and Bay City.
The person who witnessed the incident and notified the state police was a fellow teacher at Buenea Vista High School. He had stopped at the park to use the restroom. When he came out, he saw three young people in a van who appeared to be sniffing glue. Leach said that there were some on the Buena Vista staff who didn't like the fact that he was considered the "cool teacher" who didn't wear a tie every day; and the resulting negative publicity for the band he represented became an opportunity to put him in his place.
The next Monday he was called into the superintendent's office and told he could either teach or make a painful decision about the band. Leach was in a tough spot. He was still on the five-year program, and he was a rookie teacher. It was the Vietnam era, and teachers weere granted deferments. If he quit teaching, he would most likely get drafted; but if he stayed, he could no longer be associated with the band.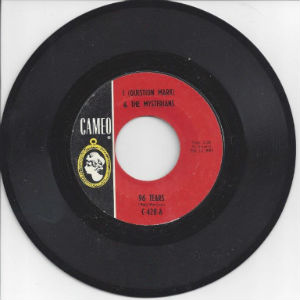 Art Hauffe is Jim's nephew. Leach had already started working with ? and the Mysterians when his sister Nancy started urging him to do something with her son's band, the Bells of Rhymny. He first saw them perform at Daniel's Den in Saginaw and was impressed with their potential. Leach especially liked their drummer, Dick Coughlin, and guitarist Gene Bruce. He also felt that Danny Parsons was a good singer and his nephew Art was a solid bass player. Guitarist Mark Burdick was the fifth member of the band.
He and Vivian Bruce worked together as co-managers for the Bells Of Rhymny and formed a company called Vim Enterprises. Vivian Bruce was the band's house mother. Her son, Gene, was in the group and they practiced in her basement. She made food for the band members and invested a good deal of her own money into stage outfits for the band.
Jim did the actual management – doing the legwork, meeting the booking agents, and arranging the recording sessions. Leach wasn't that impressed with their first record, "She'll Be Back" b/w "The Wicked Old Witch", done with Dick Wagner. He felt it wasn't even close to "96 Tears", but he was very impressed with the Bells' version of the Byrds' "Feel A Whole Lot Better" that they played at Daniel's Den.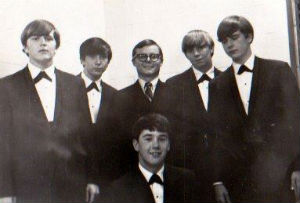 Bells of Rhymny a.k.a. Cherry Slush: (standing L to R) Dan Parsons, Dick Coughlin, manager Jim Leach, Art Hauffe, Gene Bruce (seated) Charlie Woodward
Besides investing his time and name in the band, Leach did most of the driving – since none of the band members had a driver's license yet. Band dads, Art Hauffe Sr. and John Coughlin, also helped to drive the band to wherever they were booked to play.
One memorable gig occurred at Band Canyon in Bay City. The teen nightclub was located on River Road at the southern edge of Bay City and was managed by a former Marine. The Cherry Slush was basically the house band at Frank Patrick's Daniel's Den, but they were appearing at Band Canyon as the opening act for the Amboy Dukes. Patrick's favorite song was "Mr. Spaceman" by the Byrds, and the Cherry Slush had to perform it at every gig they played at the Den. Sparks flew, however, when lead singer Danny Parsons dedicated the song to Frank Patrick while onstage at Band Canyon. The venue's manager pulled the plugs and kicked the band off the stage in the middle of their set. After the band and Leach retreated to the dressing room, the ex-Marine came charging in and threw Leach against the wall all the while yelling that they don't promote Daniel's Den at Band Canyon.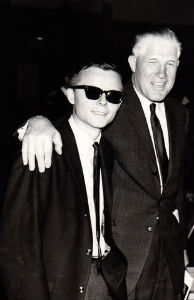 Leach with Gov. George Romney 1967
While he was working with his bands, Leach's connection with the journalism program at Central Michigan landed him a summer job as press aide to Michigan governor George Romney. The year was 1967, and Romney was seriously considering a run for president.
Although Leach was basically a glorified go-fer, he traveled a good deal with the governor. Often times, Romney's son, Mitt, also traveled with him. George Romney was a big sports fan and every morning he'd ask Leach about the previous day's Tiger game – who pitched, who hit home runs etc. One day, after Leach gave him the details of the Tiger game, Romney turned to Mitt, who had no clue about sports, and asked "Why can't you be more like Jimmy?"
"I Cannot Stop You" was the song that seemed destined to take the Cherry Slush to the next level. The song was written by Dick Wagner, and he also produced the band's recording at the tiny Audio Sound Studio in Cleveland. Shortly after recording "I Cannot Stop You", the band changed their name from the Bells Of Rhymny to the Cherry Slush after stopping at a dairy in Rose City and seeing a sign on the wall advertising a 'cherry slush' as the special of the day.
Leach got the band signed to the Coconut Groove label in Mt. Morris, and "I Cannot Stop You" was first released by that company. When the record showed signs of becoming a national hit, the Cherry Slush signed with U.S.A. Records in Chicago. The U.S.A. connection came as the result of Leach's legwork in trying to get DJs to play "I Cannot Stop You". While this was happening, the band experienced its first personel change when Charlie Woodward replaced Mark Burdick. When Woodward later enrolled in college, his replacement was Brian Bennett.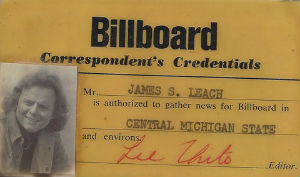 Billboard press card
Jim's Billboard press card was very useful in opening doors to see program directors. As a result, Jeff Katz and Jerry Kasenetz of Super K Productions were interested in the record along with several other companies. U.S.A. was a young label who had already enjoyed some big hits with the Buckinghams, and the company seemed like they would be the best choice to push the song.
U.S.A. Records was located at 3121 S. Michigan in Chicago – the same address Al Capone lived during his reign in the Windy City. There were two front doors, and when Leach walked in one, it looked as though he had interrupted a meeting of the Mob. He asked for U.S.A. Records and was told it was next door. There he met with Bob Monaco who represented the Cryan' Shames and the Buckinghams and Bill Trout who handled the American Breed. They seemed like good guys and they took him upstairs to show him Al Capone's pink bathtub. At the time of Prohibition, it was the only pink tub in Chicago. Even though there were numerous red flags, Leach and the Cherry Slush went ahead and signed with U.S.A. and "I Cannot Stop You" was distributed nationally.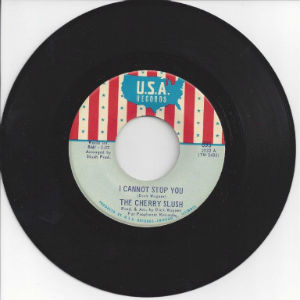 Although "I Cannot Stop You" charted, U.S.A. turned out to be a very poor choice. The band's second single, the glorious "Day Don't Come", was recorded at the Chess Studios and featured the Chicago Symphony.
"Day Don't Come" sounded like a sure-fire hit and was tabbed as a top pick in important music magazines like Billboard, Cash Box, and Record World. Leach felt more confident in that record than he did with "96 Tears", but the single was inexplicably put on the shelf by U.S.A. which was apparently more concerned with laundering money than producing hit records. Shortly thereafter, U.S.A. filed for bankruptcy and the Cherry Slush found themselves without a record label.
Leach left his management position with the Cherry Slush after the "Day Don't Come" disappointment and decided to go off on his own. He set up a publishing company, Beowulf Music; then he and Brian Bennett from the Cherry Slush put together a second company called Brian James Music. Shortly thereafter, Leach started his own Chivalry Records label. Both the 'Beowulf' and 'Chivalry' names came from Leach's experience as a high school English teacher.
Chivalry's first single was the Cherry Slush's cover of "Birthday" by The Beatles. The flip was the old Byrds' number "Feel A Whole Lot Better" – the same song that attracted had Leach to the band several years before. Both songs were produced by Leach and recorded with Dave Kalmbach at the Great Lakes Recording Studio in Sparta, Michigan.
The single was issued as by 'The Slush' because the band now thought Cherry Slush was a 'bubblegum' name. They felt that shortening their name to the Slush indicated that it was still the same group of guys, but that they had grown up and their music was now a little more harder-edged. Unfortunately, their version of "Birthday" was beat out by the Underground Sunshine, whose cover of the song reached # 26 on the Hot 100 after it was pushed by Dick Clark on American Bandstand.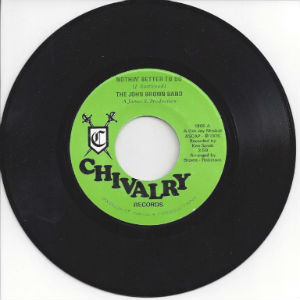 Although Chivalry was a comparatively small record company, the label put some quality singles by an impressive roster of Michigan artists. Besides The Slush, Leach worked with and recorded the Zoo, Magic, Spring Fever, and Saginaw – a trio that played coffee houses. Chivalry also put out 45's by bands such as A.C.T., Karizma, and the John Brown Band. Leach considers the John Brown Band's "Nothing Better To Do" to be Chivalry's best release. The song was co-written and produced by Leach, and it was recorded at United Sound in Detroit with some of the members of Johnnie Taylor's band. All of Leach's Chivalry records were pressed at the American Record Pressing plant in Owosso, Michigan.
At the dawn of the disco era, Leach opened a popular dance hall in Saginaw called the Platter Palace. It was located in the old Timber Town bowling alley on the corner of Sheridan and Williamson. It drew a predominantly black crowd and was very successful for a couple of years with Leach serving as the club DJ. He then moved over to the Stein Haus in Frankenmuth and installed their entire sound system along with the lights and the mirror ball. It was a big money maker during a time when bands were pricing themselves out of many bars and clubs.
It's not often that a person has the opportunity to meet the artist who first inspired you, and Jim Leach had that special chance when Elvis Presley appeared in concert in Saginaw in April of 1977, just four months before his untimely death. Through a friend of a friend, Leach became acquainted with Charlie Hodge, a member of Elvis' entourage. Hodge arranged for Leach to have 15 minutes with Presley aboard his jet, the Lisa Marie, at Tri-City Airport.
Leach had his camera, notebook, and tape recorder for his big interview and was just starting up the steps of the Lisa Marie when a bag of Big Macs flew over his head. He heard Elvis inside the plane yelling "How many f**king times do I have to tell you I don't want that sauce on my Big Macs! Whatever the f**k you have planned for me is over!" The incident ended Leach's interview before it had even begun, but he now wishes he would have thought to pick up the bag of discarded Big Macs. He could have made a killing selling them on Ebay.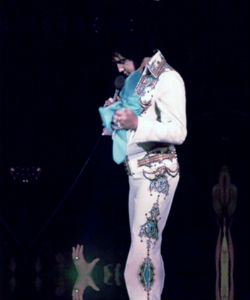 Leach's photo of Elvis Presley taken in Saginaw in 1977
In 1978, as he got more deeply involved with Chivalry Records, the Platter Palace, and other activities, Leach decided to leave teaching. After a decade in the classroom, he felt he had achieved his goals of starting a journalism program, a school newspaper, and a yearbook at Buena Vista High School.
Later that year Leach moved to California. He returned to Michigan for about a year to run Pete Hauffe's campaign for judge. Pete is Art Hauffe's cousin; he and Jim had grown up together and were the closest of friends. It was during this time that Leach ran the disco at the Stein Haus in Frankenmuth.
Leach returned to California in 1980 and has been there ever since. He stumbled into the Jimmy Hollywood gig while he was writing a syndicated column for the Booth Newspapers about Tinsletown news and gossip called Hollywords. It ran in the Saginaw News and some of the other papers that Booth owned in Michigan. Leach's business partner was J.C. McKenzie. McKenzie had a club in Essexville, Michigan called Unkle Dunkle's, and later took over the Stein Haus after Leach moved back to California.
McKenzie's dream was to move out to L.A., but once there he was having trouble finding a gig. Over lunch at Wendy's, he told Leach that he had decided to go back to Saginaw to work at WSAM. McKenzie was a fan of Leach's column, and floated an idea for Jim to call the station once a week and talk about Hollywood news. It was a "light bulb" moment. If one station was willing to pay for Leach's Hollywood report; why not hundreds of stations? The James St. James /Jimmy Hollywood character was born!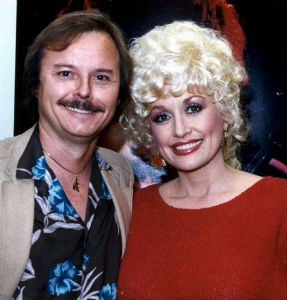 Leach with "96 Tears" fan Dolly Parton
Leach gives full credit to his mother for the rebirth of the Jimmy Hollywood name. He used to have Dorothy come to California for a visit each year around Thanksgiving. Leach lived at an apartment complex with soon-to-be-stars Victoria Principal, Joe Pesci, Michael Richards, and Pat Sajack. One day while they were sitting around the pool, his mother asked Leach to bring her some tea. While he was leaving, she said "There goes my little Jimmy Hollywood"; and his childhood nickname suddenly took on a new life.
Leach claims that Joe Pesci got the idea for the title of the Jimmy Hollywood movie in which he co-starred with Christian Slater, from both Jim's childhood nickname and watching Leach and McKenzie try to hustle the idea of presenting Hollywood news on the radio. The film was eventually written and directed by Barry Levinson and released in theatres in 1994.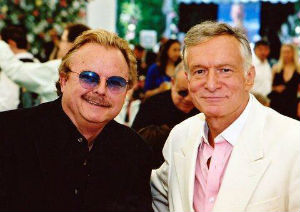 Jimmy Hollywood and Hugh Hefner
Although it took Leach and McKenzie nine months before they sold their very first show, James St. James Hollywood is now syndicated all over North America. Leach has successfully blended timely information with exclusive first-hand interviews and interesting features into a program that has been enjoyed by millions of people. On October 13, 2014, they will celebrate the 30th anniversary of the show.
Although he has been out of the Michigan rock and roll scene for over three decades, his connections sometimes reappear - even in Hollywood. Leach has a photo of himself and Hugh Hefner taken while they were discussing "96 Tears". He says that Hefner told him that he thought "96 Tears" was the greatest garage rock song.
Jim Leach with his gold record for "96 Tears"
Jim also has a photo of he and Dolly Parton taken after someone told her he was involved with "96 Tears". She confessed that "96 Tears" held a special place in her heart because the first time Dolly and her husband made love, they had it playing on the record player. She revealed that because the automatic changer wasn't down, the song played over and over while they were in bed together.
Leach comes back to Michigan each year to play in what is humorously called the Gag & Vomit golf tournament with 30 or so friends. Although he lives and works in California, he says that Michigan will always be home. Both of his parents are gone; but Jim has a brother, Jerry, who lives in Midland and a sister, Nancy, who now lives in Naples, Florida.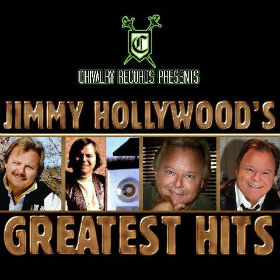 "Jimmy Hollywood's Greatest Hits" CD
Leach's latest project has a very definite Michigan rock and roll connection. He has rounded up recordings from some of Saginaw's best bands of the 60s and 70s for "Jimmy Hollywood's Greatest Hits" . Several, including 45s by The Cherry Slush, Magic, and The Zoo, were released on his Chivalry label and appear on CD for the first time. "Jimmy Hollywood's Greatest Hits" is available for download on iTunes, Amazon, Apple Music, and Rhapsody just to name a few.
Many years ago, Jim Leach came up with a motto: "Don't sleep through your dreams." Those words were an inspiration to him during his adventures in Michigan rock and roll, and they continue to play an important role in his life and career today.
MRRL Hall of Fame: https://michiganrockandrolllegends.com/index.php/mrrl-hall-of-fame